Q. I always have trouble knocking over barrels. What am I doing wrong?
A.
Most of the time this is a result of not using your inside leg (the leg closest to the barrel) to control your horse. Many riders will rubber band their feet in and then lift their leg at the barrel. All this does is allow the horse to drop his shoulder and hit barrels.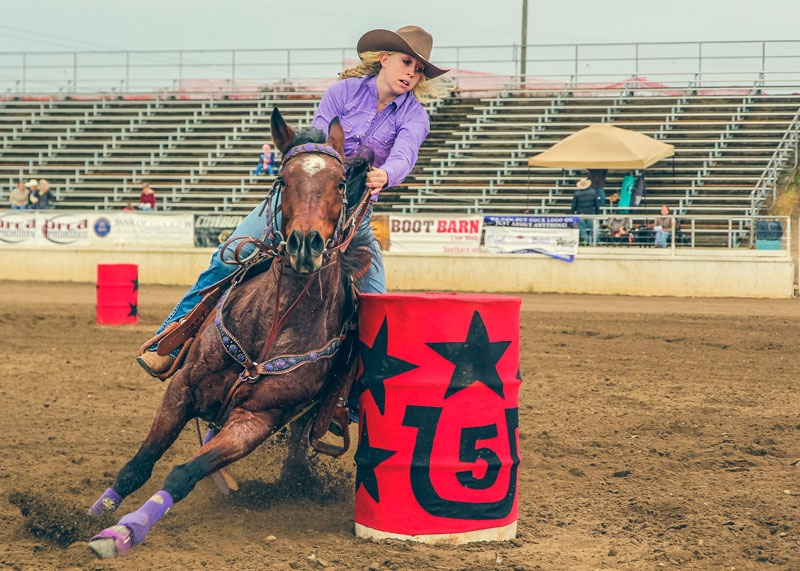 The proper approach is to have control of your horse's head, neck and shoulder prior to the turn. This is accomplished by applying inside rein pressure while actively using your inside leg (spur) to lift your horses shoulder while rounding his body.
Another reason for hitting barrels is that your pocket may be too large. I like to use three to five feet on my approach into the turn (distance between my horse's shoulder and body from the barrel). This distance is determined by the size of your horse. Larger horses need more room going in.
Before the turn, I gather my horse with both hands on the reins. If you use one hand, you are more likely to encourage your horse to throw his hip out, drop his shoulder and hit a barrel. Slowing down too early for the turn will also result in hitting barrels because it takes your horse's momentum away. I like to gather the reins and prepare for the turn 5 to 10 feet before the turn, depending on the size of my horse. The larger your horse, the more time you need to prepare for the turn.
Make sure you have schooled your horse about yielding from leg pressure as to flex from the rib cage when going around a barrel. You need to be able to control every part of your horse before you can expect him to run a barrel pattern with ease.