Q: My horse has spent his life in the show ring. I'd like to take a year off from competing and just ride on the trails. But even though my horse is very mellow, he's never been on the trails. What are some ways to help make our trail time fun and safe?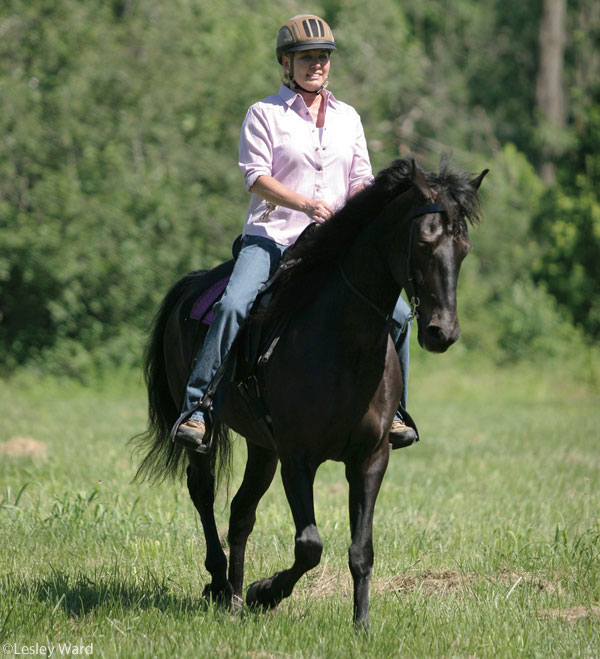 A: It's a wonderful idea to let a show horse take a vacation from competition. It often improves their outlook on life and can reduce the wear and tear on their body. Riders also benefit, because they get a chance to connect with their horse on a different level. Yet not every show horse transitions easily to being a trail horse.
Though show horses get exposed to all sorts of stimuli, from banners and water trucks to loud speakers and golf carts, the environment is pretty consistent from showground to showground. Out on the trails, however, the scenery is constantly changing. And, unlike the show scene, there are very few other horses out on the trails. Many veteran show horses feel vulnerable without the comfort of "the herd". With all this in mind, here are a few suggestions.
First, before you head off on the trails, make sure your horse doesn't have a bundle of excess energy. A show horse used to regular work is a fit athlete, and if he's been standing around for a few days he could become a handful out in the open. Consider giving him a turnout or a brief longe.
Second, keep your safety in mind. Wear a helmet and appropriate boots, choose sturdy tack and start out slowly. Don't plan to circumnavigate the countryside on your initial adventure. Choose a short, uncomplicated trail (perhaps one leading from your stable) and buddy up with another rider who's mounted on a calm, experienced trail horse that can serve as your horse's mentor. Introduce challenges like crossing water or using a bridge in a step-by-step method. Don't overwhelm your horse with new tasks. Next, watch for signs that your horse is beginning to meltdown mentally. If he begins to wind up, becoming anxious and tense (like jigging instead of walking or repeatedly spooking), then stop your ride and try again another day. Gradually build up the length of your trail rides as his confidence improves.
Finally, remember that each time you ride your horse you're training him, even on the trails. If you allow him to pick up the wrong lead, trot too fast or otherwise ignore your aids, those acquired bad habits may come back to haunt you when you do return to showing.