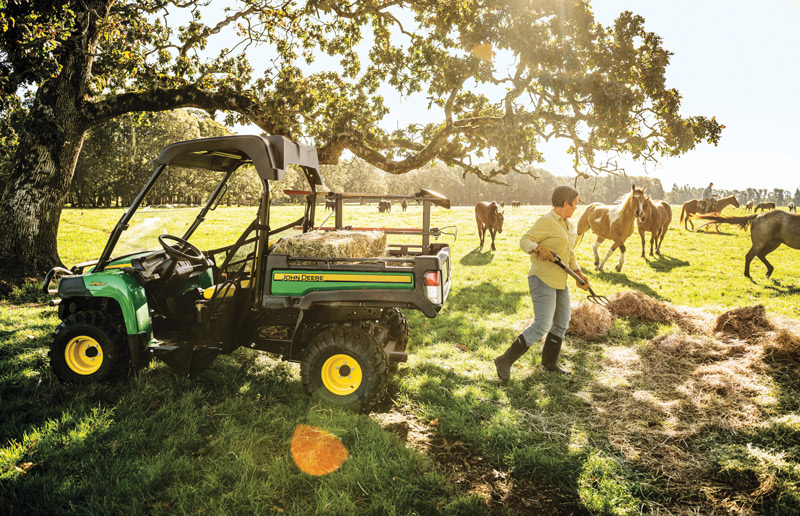 Once upon a time, the typical horse farm needed little more than a single trusty tractor to handle most of the jobs and tasks around the farm. Tractors are still the go-to machine when you need power for big projects, but for many modern-day tasks, tractors are giving way to utility terrain vehicles (UTVs) and all-terrain vehicles (ATVs) on horse farms.
While UTVs can't match the strength of a tractor, their smaller size and great versatility allows you to easily travel across many acres and accomplish a wide variety of jobs. Check out these 2020 options.
John Deere Gator
The HPX615E was built for farm and construction work. This UTV comes standard with four-wheel drive, a pickup-style tailgate, and real dumping cargo box with 16.4 cubic feet and 1,000 pounds of storage capacity.
www.deere.com
---
Bobcat UV34
The gas-powered UV34 features a 900-watt stator for use with a snow blade and other electric-powered accessories. The cargo box, constructed of a composite interior, handles up to 1,250 pounds and 15.6 cubic feet of materials or supplies. The UV34 features an increased tow rating, improved ground clearance, all-wheel drive and service access. A diesel version is also available.
www.bobcat.com
---
Polaris Ranger 1000
This new UTV model offers more usable low-end grunt for towing and hauling heavy loads on your horse farm. It can tow up to 2,500 pounds and carry 1,000 pounds in the cargo bed. Other features include a more rigid chassis and a total of 18.4 gallons of interior storage space.
www.polaris.com
---
Intimidator Classic Series
Power options include a 750-cubic-centimeter Kohler gas engine (cargo bed capacity: 1,200 pounds; towing: 2,100 pounds); a 48-volt brushless electric (cargo bed capacity: 700 pounds; towing: 1,500 pounds) or a 1,000-cubic-centimeter Kohler diesel engine (cargo bed capacity: 1,200 pounds; towing: 2,100 pounds). Other key features include bench seats for up to three adult passengers and a full-size bed.
www.intimidatorutv.com
---
Mahindra Retriever 750
The all-new Retriever comes in single-row, crew and long-bed models in gas and diesel powertrains. Towing capacity is 2,100 pounds; cargo capacity, 1,200 pounds.
www.mahindrausa.com
---
Kubota Sidekick RTV-XG850
The gas-powered Sidekick can travel up to 40 miles per hour. The bed can move 1,000 pounds and tow up to 2,000 pounds on flat terrain.
www.kubotausa.com
---
KIOTI K9
The KIOTI K9 2400 and K9 2440 offer a diesel engine with top ground speed of 31 miles per hour. The K9 2400, pictured here, features an all-metal bed, with a 1,102-pound bed capacity, a standard spray-in liner and an optional hydraulic dump kit. All K9 models feature a towing capacity of 1,300 pounds and a payload capacity of 1,750½ pounds, allowing for a full range of towing and hauling capabilities.
www.kioti.com
Or Try an ATV on Your Horse Farm
There are other vehicles besides UTVs to help you get around the farm, including all-terrain vehicles (ATVs). These have handlebars as opposed to the steering wheel in a UTV.
Polaris Sportsman 450 H.O.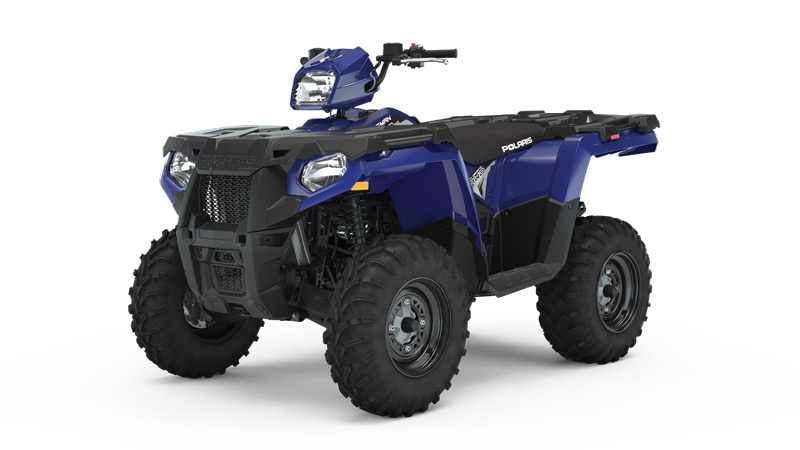 This ATV features 8 gallons of sealed storage and a hitch receiver. It boasts a 1,200-pound towing and 485-pound payload capacity and a combined 270-pound front and rear rack capacity. A utility package upgrade is available.
www.polaris.com
Suzuki KingQuad 500AXI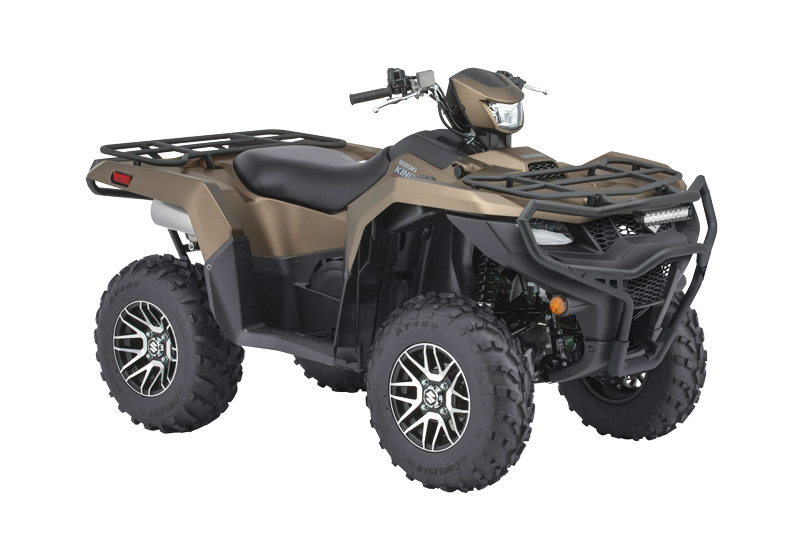 The 500AXi features towing capacity up to 1,322 pounds and a rider-selectable two- or four-wheel-drive driveline. A receiver-type trailer hitch mount makes it easy to select the type of equipment to be moved, along with winch-ready mounts for easy installation. Other features include multiple storage compartments and steel-tube cargo racks.
www.suzukicycles.com
This article about ATV and UTV options for horse farms appeared in the November/December 2020 issue of Horse Illustrated magazine. Click here to subscribe!