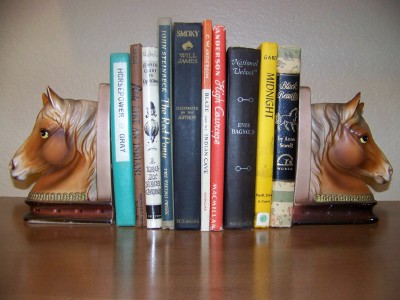 Back in 2006, in honor of
Horse Illustrated's
30th year, the editors compiled a list of 30 favorite horse books. What's your favorite horse-related novel or non-fiction book? Leave us a comment at the end and share your thoughts!
For 30 great horse movies, click here.

For 30 great horse songs, click here.
Here are 30 great horse books.

Just Horses: Living With Horses In America
By Margot Page
Beautiful images capture the spirit of the horse from quirky publisher Willow Creek Press.

Gypsy From Nowhere
By Sharon Wagner
Wendy meets Gypsy, a filly who needs Wendy as much as Wendy needs her.
Happy Horsemanship
By Dorothy Henderson Pinch
This child's guide to equitation, written from a horse's point of view with charming, humorous illustrations.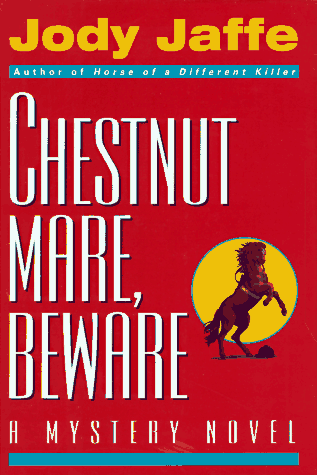 Chestnut Mare Beware
By Jody Jaffe
Reporter Nattie Gold and her show hunter Brenda Starr take on a murder mystery exposé in Virginia hunt country.
Heads Up, Heels Down
By C.W. Anderson
A classic introductory riding guide.

Saddle Club Series
By Bonnie Bryant
Horse-loving best friends share enough riding adventures at Pine Hollow to fill more than 100 books.

Riders
By Jilly Cooper
File also under "trashy novel"—a guilty pleasure about show jumping, scandal and seduction.

Secretariat:  The Making of a Champion
By William Nack
This 1975 biography of Triple Crown Winner Secretariat was updated in 2002.

Ride Like an Indian
By Henry V. Larom
Native American wisdom helps a pair of dude ranch misfits.

Hunter Seat Equitation
By George H. Morris
The Bible, written by the master of the sport.
National Velvet
By Enid Bagnold
A teenage girl wins a horse in a raffle, trains it, and rides it in the Grand National steeplechase.

The Black Stallion
By Walter Farley
Shipwrecked on an island together, an Arabian horse and a boy bond.  Once rescued, they go on to win a match race against the top Thoroughbreds in the nation.
A Leg at Each Corner
By Norman Thelwell
Nothing is cuter, or more mischievous, than a Thelwell pony in the hilarious cartoon "guide to equitation."

Seabiscuit

By Laura Hillenbrand
Modern day masterpiece about the small colt who became an American racing legend when the country needed him most.

Misty of Chincoteague
By Marguerite Henry
At the annual Pony Penning roundup, Misty becomes the beloved pet of two children and a beloved icon of horse loving children everywhere.

Summer Pony
By Jean Slaughter Doty
Ginny brings a pony home for the summer, but shaggy, spotted Mokey is not the sleek show pony she envisioned.
A Very Young Rider
By Jill Krementz
Who didn't want to be Vivi Malloy in the '70s?  Follow Vivi and her pony Ready Penny on the A-circuit, in photos.

Hank and Chloe
By Jo-Ann Mapson
An urban modern western with romance between a hard-headed horsewoman and a mild-mannered professor.
The Stone Pony
By Patricia Calvert
JoBeth spends time with her late sister's horse, Riono, and learns she and her sister weren't as different as she thought.

K

limke on Dressage
By Reiner Klimke
The master of dressage illustrates the ideal development of a horse through the levels.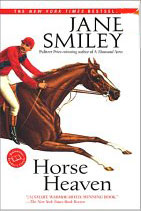 Horse Heaven
By Jane Smiley
This character-driven novel takes the reader on a wild ride from California to Kentucky to Paris with the high stakes game of horse racing.

Old Bones the Wonder Horse
By Mildred Mastin Pace
The true story of 1918 Kentucky Derby winner Exterminator.

The Horsemasters
By Don Stanford
A group of young riders pursue British Horse Society certification in England and bond over the grueling experience
Odds Against
By Dick Francis
We selected this one for its hero, the one handed jockey turned private investigator Sid Halley.

Ruffian, Burning from the Start
By Jane Schwartz
The life and tragic end of the filly who captured America's heart in the mid 1970s.

Smoky the Cowhorse
By Will James
Smoky survives the hardships of life on the range, partners up with cowboy Clint of the Rocking R Ranch, and even serves a brief stint as a rodeo bronc.

My Friend Flicka
By Mary O'Hara
A young boy struggles to please his domineering father and finds solace in gaining the trust of a filly.

Centered Riding
By Sally Swift
Creative visualization for better riding.

True Unity
By Tom Dorrance
The first and last word on natural horse training, from one of the men who started it all in modern times.
Black Beauty
By Anna Sewell
Told straight from the horse's mouth, Black Beauty's tumultuous life in Victorian England. One of the first books to deal with the welfare of the horse.