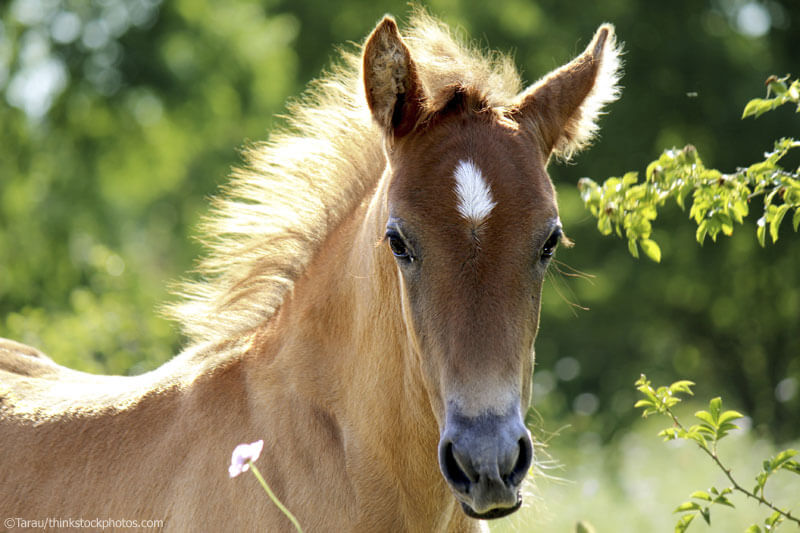 Have a favorite horse song that didn't make the list? Click "Submit a Comment" below and tell us about it!
Here are 30 great horse songs.

Appaloosa
By Gino Vanelli
'70s Canadian crooner sings:
"Appaloosa, runnin' wild in the dead of the night
Appaloosa, you're the message of love and light."
Crazy Horses
By Osmonds Bros.
Rock out in early '70s with wild equines.
One Trick Pony
By Paul Simon
"He's got one trick to last a lifetime, but that's all a pony needs."
Pony
By Kasey Chambers
"When I grow up I want a pony
I'm gonna ride her from dusk til dawn."
Mr. Ed theme song
"A horse is a horse
Of Course, of course!"

Who's Gonna Ride Your Wild Horses
By U2
Not really about horses, but cool nonetheless.
Live Like Horses
By Elton John
"Someday we'll live like horses
Free reign from your old iron fences."
Pullin' Back the Reins
Like closing the barn door after the horse is already out, pulling back on the reins does no good when what you're looking for—in this case lost love—is already gone.
A Horse in the Country
By The Cowboy Junkies
Equestrian escapism at its finest, longing for the freedom to ride off into the sunset. "Someday we'll saddle up, and the two of us will ride away."
Let That Pony Run
By Pam Tillis
 "She got a divorce and a chestnut horse."  It goes to show you can ride out heartbreak.
Back in the Saddle Again
By Gene Autry
Anyone who's ever taken a fall knows this one all too well.
Pony Boy
By Bruce Springsteen
Who wouldn't want to be the Boss' hoss? "O'er the hills and through the trees/We'll go ridin' you and me."
Strawberry Roan
By Marty Robbins
Country great sings: "I know there are ponies that I cannot ride/There's some of them left, they haven't all died."
Wild Horses
By The Rolling Stones
While horses drag Garth, the Stones can't be budged.
Wildfire
By Michael Martin Murphey
"She ran calling Wiiiiiiiiild -fire …" Dare you not to get this one stuck in your head.

Bring on the Dancing Horses
By Echo & the Bunnymen
Liverpool pop group tells us: "Bring on the dancing horses/Wherever they may roam."
Beer for my Horses
By Toby Keith and Willie Nelson
Not what we'd recommend personally, but the guys say: "whiskey for my men, beer for my horses."
Black Horse and the Cherry Tree
By KT Tunstall
The new theme song for frustrated horse shoppers?  "I said no, no, you're not the one for me."
Run for the Roses
By Dan Fogelberg
As much a Derby Day classic as My Old Kentucky Home
Chestnut Mare
By The Byrds
Hard to catch? An elusive red-headed mare is "always alone, never with the herd"—one man's yearning for a beautiful wild mare.
Heavy Horses
By Jethro Tull
Heavy Horses by Jethro Tull.
 A tribute to working draft horses, their "iron-clad feather-feet pounding the dust."
Tennessee Stud
By Johnny Cash
"The Tennessee Stud was long and lean
The color of the sun and his eyes were green."
Rider in the Rain

By Randy Newman
Wild Horses
By Prefab Sprout
Northern England pop group uses metaphors, "through the rails, I spied your pony tail …"
Three Horses
By Joan Baez
The three horses in this tune—white, red and black—represent the past, present and future.
The Old Gray Mare
Traditional
I Ride an Old Paint
By Arlo Guthrie
A cowboy classic:
"Tie my bones to the saddle and turn our faces to the west
And we'll ride the prairie we love best."
Wild Horses
By Garth Brooks
"Wild horses just stay wild, and her heart is all I  break
Wild horses keep dragging me away."
Commanche The Brave Horse
By Johnny Horton
Ode to the only survivor of the Battle of Little Big Horn.
Horse With No Name
By America
We think this horse deserves a name by now! "la la la, la lalala, la la la …"
We've also compiled 30 great horse books and 30 great horse movies.
This article about the best horse songs is a web exclusive originally published in December 2006 for Horse Illustrated magazine. Click here to subscribe!