It's National Day of the Cowboy! Yippee-ki-yi-yay!
In honor of this day, we decided to spend a little time remembering one of the all-time greatest Western movie stars—and King of the Cowboys—Roy Rogers. There are so many reasons to like Roy. His movies were filled with excitement, mystery, and plenty of cowboy-style crooning. They were also mostly family-friendly and thousands of children spent their Saturday afternoons watching the incredible adventures of Roy Rogers and Trigger.
Here are four facts about the King of the Cowboys, plus one about his golden palomino.
1. His real name was not Roy Rogers
When he got his first contract with Republic Pictures, the studio was not satisfied with his birth name. They felt it wasn't rugged enough for the cowboy character they had in mind, so the first thing they did for their new star was dream up a new name for him. That name was Roy Rogers; "Rogers" after famous comedian Will Rogers, and "Roy" just for lyrical, alliterative purposes.
So, what was his rejected given name?
Leonard Franklin Slye.
2. He's an inspiration to introverts everywhere
You may think that to be successful in movies, you need to be outgoing and extroverted. But Roy Rogers proved otherwise. In his Leonard Slye days, he was a very shy and sensitive young man who dropped out of night school in his teens because his classmates made fun of him, and he almost missed his first chance to perform on the radio when he was seized by stage fright. But he didn't let his shyness stand in the way of what he wanted to do, and he became one of the most popular movie stars of all time.
3. He graced the silver screen for over 50 years
Roy Rogers was a remarkably prolific actor. He acted in at least two (sometimes as many as eight) movies every year from 1935 to 1951, and starred in the vast majority of them. From 1951 to 1957, he and Dale Evans starred together in The Roy Rogers Show. His involvement in movies waned after 1951, but he still appeared occasionally in films and on television through 1984. For ten years (1942 to 1952) he was one of the most popular Western stars in the country.
4. He was married three times
While his name will be forever linked with that of his third wife, Dale Evans, Roy Rogers actually was married twice before. His first marriage was in 1933 to Lucile Ascolese, but it ended quickly in divorce. His second marriage was in 1936 to Arline Wilkins, and the couple had two children, Linda Lou and Roy, Jr., (known as Dusty). They also adopted a daughter, Cheryl. Arline died in 1946 after the birth of Dusty.
After Roy and Dale married in 1947, they had one daughter, Robin, and adopted four children, Marion, Dodie, Sammy, and Debbie. Dale also had one son, Tommy, from a previous marriage.
Of course, we have to include a bonus fact about Roy's inseparable sidekick, Trigger: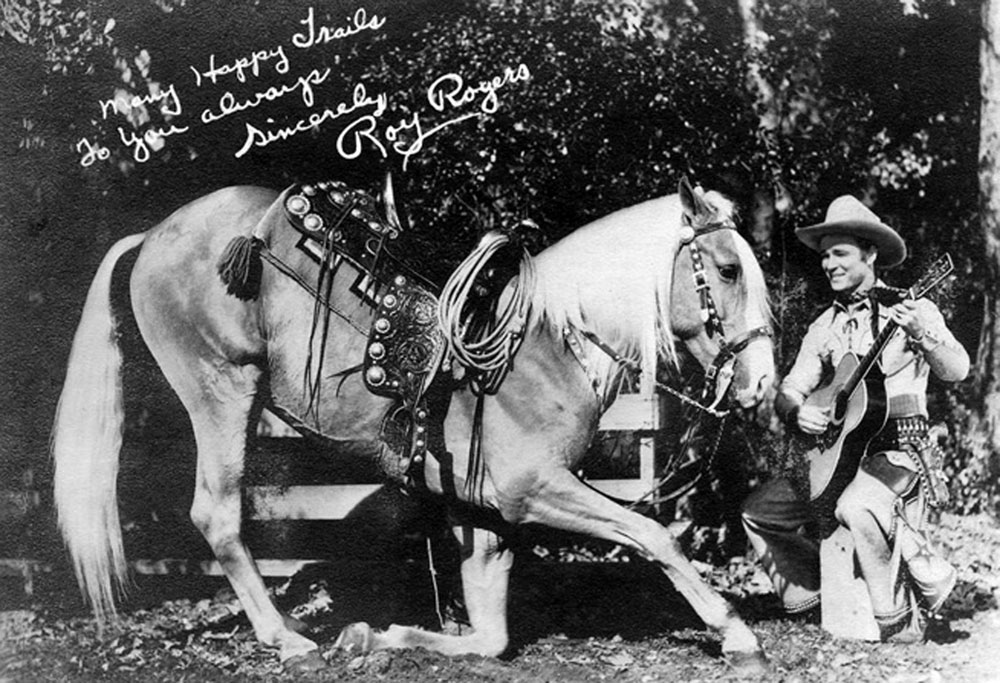 1. Trigger's movie career began without Roy
The talented palomino colt who would eventually become Roy Rogers' Trigger began life as "Golden Cloud," and began his incredible career in the 1938 film, The Adventures of Robin Hood. He was ridden by Olivia de Havilland, who played Maid Marian. "Golden Cloud" (soon renamed Trigger) was offered as Roy's movie mount shortly thereafter, along with four other equine actors, and according to anecdotes; Roy knew immediately that Trigger was a very special horse. Over 31 years of life, Trigger starred alongside Roy in almost ninety films, 100 episodes of The Roy Rogers Show, and innumerable personal appearances. Now that's what we call a dedicated actor.
---
Samantha Johnson is a freelance writer and the author of several books, including The Field Guide to Horses, (Voyageur Press, 2009). She raises Welsh Mountain Ponies in northern Wisconsin and is a certified horse show judge. Follow her on Twitter: @miraclewelsh.