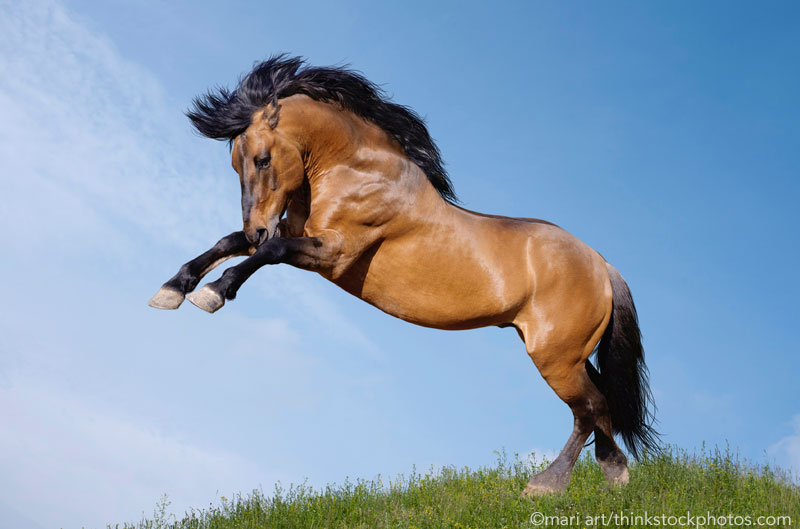 We all love watching horse movies, but after hundreds of them, we start to notice the flaws as well as the fun. Of course, we continue to love them even when they make us affectionately cringe from time to time. I've come to embrace this aspect of horse movies, especially if you watch for all the often-repeated clichés. Some of my favorite equine flick flaws include:
1. Overuse of whinnying
I don't know about your horses, but mine don't whinny non-stop. In movies, horses whinny constantly. They can barely move without whinnying. They even whinny while eating. The worst part is, I think they are only about three actual recordings of whinnies in existence, and all movies share them and use them over and over. But my biggest whinny pet-peeve? Rearing and whinnying together. I've never actually seen a horse do both at once. Except in the movies, where it happens every day. Which leads me to number two…

2. Rearing
Sometimes in movies, rearing is just funny; it's just a natural part of a well-trained horse: "Gol-ly-jinx, she's sure full o' spunk today, huh Pa?" At these times, rearing isn't a problem. On the other hand, sometimes rearing is the scary sign of a horse with an untamed heart, in which case it will rear and rear and rear, all by itself, unprovoked, in the middle of a corral. All the cowboys and trainers with decades of experience will just shake their heads ("crazy maverick!") and wonder how they got saddled with such a problem horse (we wonder, too). But eventually, someone (usually a young person) will find a connection with the whinnying, rearing animal and, despite stiff warnings from their elders ("Don't get any closer—he's loco!"), ride off into the music without a bridle or any other method of control. Rearing problem fixed.

3. Human-like intelligence
I forgive this one on Roy Rogers movies ("Run Trigger! Go find Dale and tell her to meet me at the old abandoned mine!") because they're generally supposed to be lighthearted and because Trigger's "character" is supposed to be highly intelligent. I'm tougher on movies that are clearly supposed to be realistic, like My Friend Flicka (1943). This movie features "Banner," a black (naturally) stallion who is so smart, he runs around instinctively helping the cowboys move a huge herd of horses across the range. Naturally, there is a stampede, and when the entire whinnying, panic-stricken herd runs towards the edge of a rocky cliff (maybe the cowboys should've given it a wider berth?), it's up to level-headed Banner to charge ahead and prevent the silly mares from plunging to their demise. Like many movies from this era, Flicka suffers a bit from storylines that don't go anywhere and are later dropped; Banner is rewarded for his intelligence and bravery by being written out of the rest of the movie.
4. Impossible athleticism
There's a climax of one Roy Rogers movie in which the stagecoach with Dale tied up in the back is on fire and the team of twelve whinnying Mustangs pulls it at a full gallop (I think they had to get to the border in time to stop the bank robbery, or something) for what feels like thirty minutes or forty minutes. I mean, these horses don't stop. I know it was really filmed in pieces, probably spread out over several days, but didn't the guys piecing the footage together think it was even a little unrealistic?
Or consider Spirit: Stallion of the Cimarron (2002). After spending most of the movie bucking off cavalry men and outrunning loose locomotives that are rolling down a mountainside (?), Spirit ends with a dramatic climax where our lead buckskin must outrun more cavalry men who are chasing him through a rocky gorge. In the end, instead of being leg-weary from his five-mile sprint, Spirit makes a desperate, last-chance leap across a canyon that must be pushing 75-feet wide. Great ending, but hard to believe. Okay, I'll give Spirit a break since it's a cartoon. 🙂
What are your favorite horse movie pet-peeves?