A recent talk by Petrine Day Mitchum, co-author of Hollywood Hoofbeats, revealed some fun facts about one of the most famous movie horses of all time. Trigger was the equine sidekick of singing cowboy Roy Rogers. The iconic pair graced screens both big and small in the 1940s and 50s and share a sidewalk square with their prints side by side in the cement outside Grauman's Chinese Theatre in Hollywood.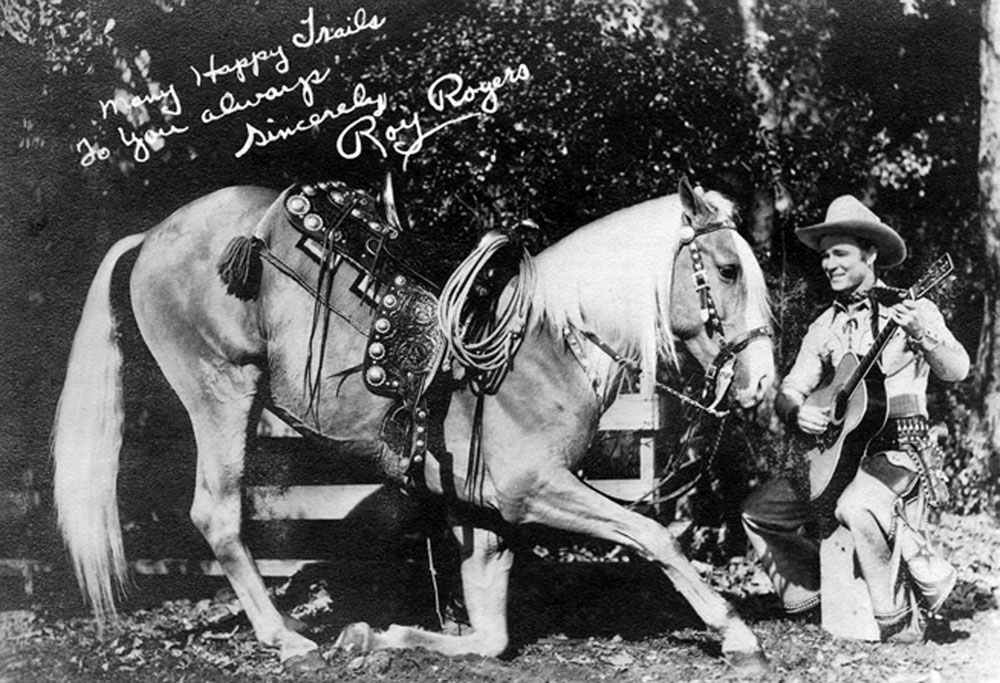 With his distinctive palomino coat and flowing flaxen mane and tail, Trigger inspired a love of horses in many Baby Boomers, fueling the dreams of wannabe cowboys and cowgirls. In his long-running career, Trigger had 82 movies and 100 TV episodes to his credit. Trigger also had his own Dell comic book series, Roy Rogers' Trigger.
Here are a few things to know about Trigger:
Trigger's original name was "Golden Cloud."
Trigger was a registered palomino. His sire was a Thoroughbred and his dam believed to be a Quarter Horse mix.
Trigger was a stallion, but he was never bred. Rogers was afraid that the horse would find that occupation more interesting than movie work!
Trigger had some backup help for dangerous stunts, as well as personal appearances. Famous doubles for golden horse included Little Trigger, a Morgan identifiable by his four white stockings and slightly narrower blaze. Trigger Jr., a Tennessee Walking Horse registered as Golden Zephyr, also had four white stockings and a blaze. (The original Trigger has one sock on his left hind, and a wide blaze.)
Roy Rogers was known as the "King of the Cowboys;" Trigger was billed as "The Smartest Horse in the Movies" for his repertoire of tricks, including his signature vertical rear. Famed Hollywood horseman Glenn Randall was his trainer.
Trigger died in 1964 at the age of 33. He was preserved and remained on display for fans at the Roy Rogers-Dale Evans Museum for many years. After the museum closed in 2009, the stuffed and mounted Trigger was auctioned off and sold to RFD-TV for $266,500.
Find out more about Trigger and other big-screen equine stars—from the silent movie era to the new millennium—in the updated edition of Hollywood Hoofbeats, by Petrine Day Mitchum with Audrey Pavia (Lumina Press).