Photos by Shelley Higgins, Sarah Miller and Kim MacMillan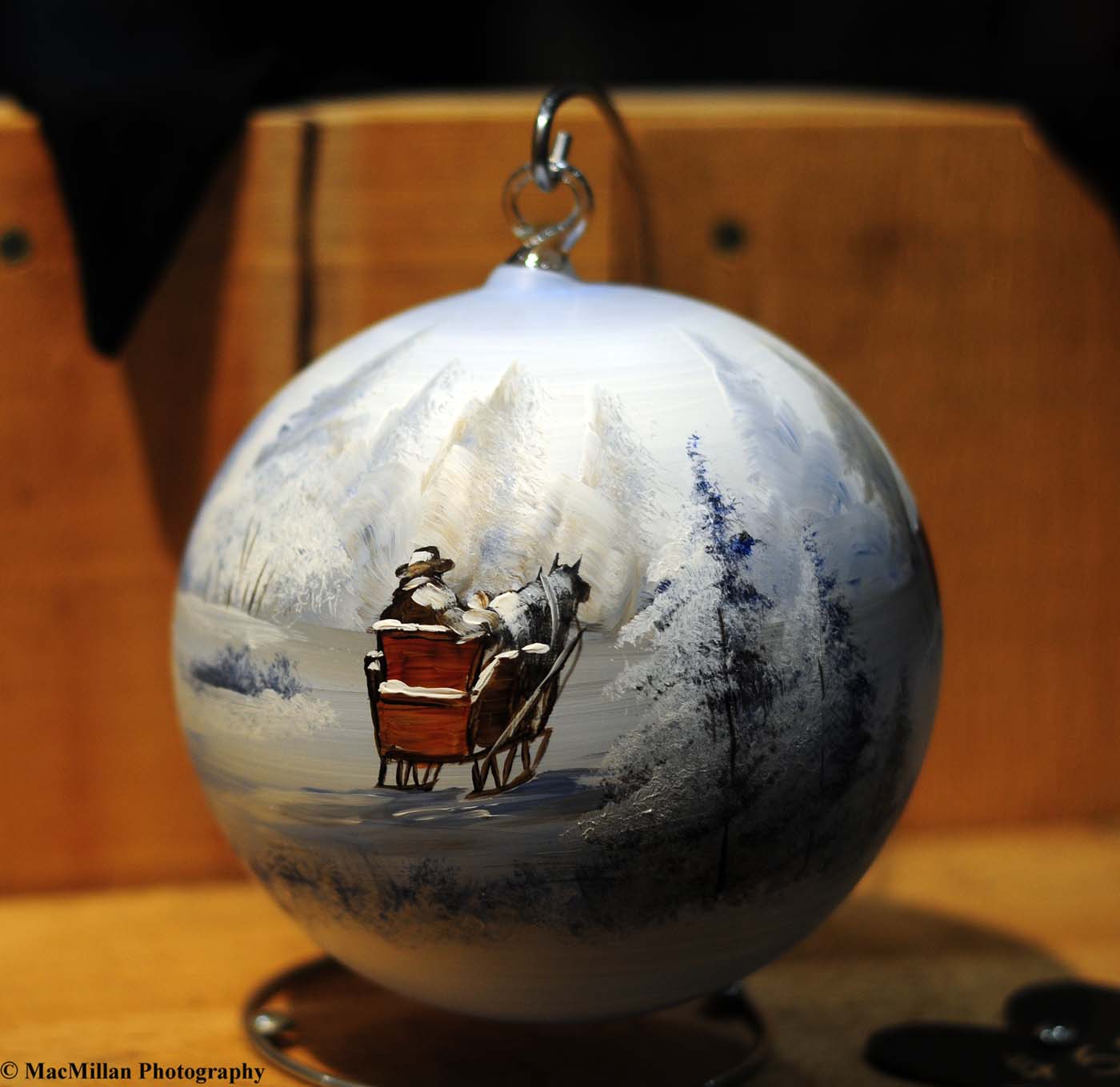 Halloween was over, Thanksgiving was still a couple of weeks away and the show season was winding down…so what to do? Why not head up north for Christmas shopping at The Royal Agricultural Winter Fair in Toronto? We thought it was a brilliant plan. While Toronto is not quite the North Pole, it is, after all, north of Indiana and with it being called the "Winter Fair" it just seemed right to make our lists and check them twice!
My friend Sarah and I hit the road toward Canada late on a Thursday in mid-November whiling away the miles with talk of what to see, what fancy foods to try and what to buy. After driving into the wee hours of Friday morning we made it to our destination, a stay-over at our friend Debbie's in the little burg of Mono, Ontario, which is about an hour north of Toronto. We grabbed a few hours of shuteye, then met another friend, Shelley, to drive into the city for two days of retail therapy and horse show watching at the Royal.
Beyond the Royal Horse Show (complete with FEI jumpers and dressage, hunters, draft horses, Welsh Ponies, Hackney horses, Canadian Sport Horses and equestrian entertainment) and the agriculture show with cattle, sheep, pigs, rabbits, chickens, goats and crops, there is a HUGE shopping area. There are many tack shops and equestrian art vendors as well as merchants offering "Made in Canada" items, clothing, jewelry, leather goods, antiques, house wares and home improvement supplies, health and beauty products and many beautiful gift options.
If you happen to get hungry while you doing your Royal shopping there are many epicurean delights available for sampling including: Canadian butter tarts; apple dumplings; maple-walnut and other varieties of ice cream; goat cheese in a myriad of flavors ranging from sweet to savory; peameal bacon (what we call Canadian bacon) sandwiches; Indian food; Greek food; Mexican food; British tea and scones, poutine (a concoction of French fries covered with gravy and cheese curds that was invented in Quebec); pizza (of course); many types of candy, Canadian-grown roasted pecans and walnuts, and the list goes on and on.
As we strolled down the aisles we picked a few equestrian items to share with Horse Illustrated readers. We had to use a lot of restraint to narrow the list down since there were so many tempting things you could empty your wallet to purchase. Here are our top 25.
First on the list, let's deck the halls with beautiful hand-painted ornaments from artist Agatha Mielzynski of Spirited Away Designs (www.spiritedawaydesigns.com).
Three more Royal Winter Fair artists tied for the next spot on our list: Laura Wilson, Utopia, Ontario, with her lovely lifelike pet and horse portraits (www.laurawilsonartist.com); Elise Genest, Quebec City, Quebec, with her gorgeous antiqued black and white paintings (www.elise-genest.com), and Mark Grice, Alton, Ontario, who also teaches art as well as creating colorful works of his own. (markgricetheartist.weebly.com).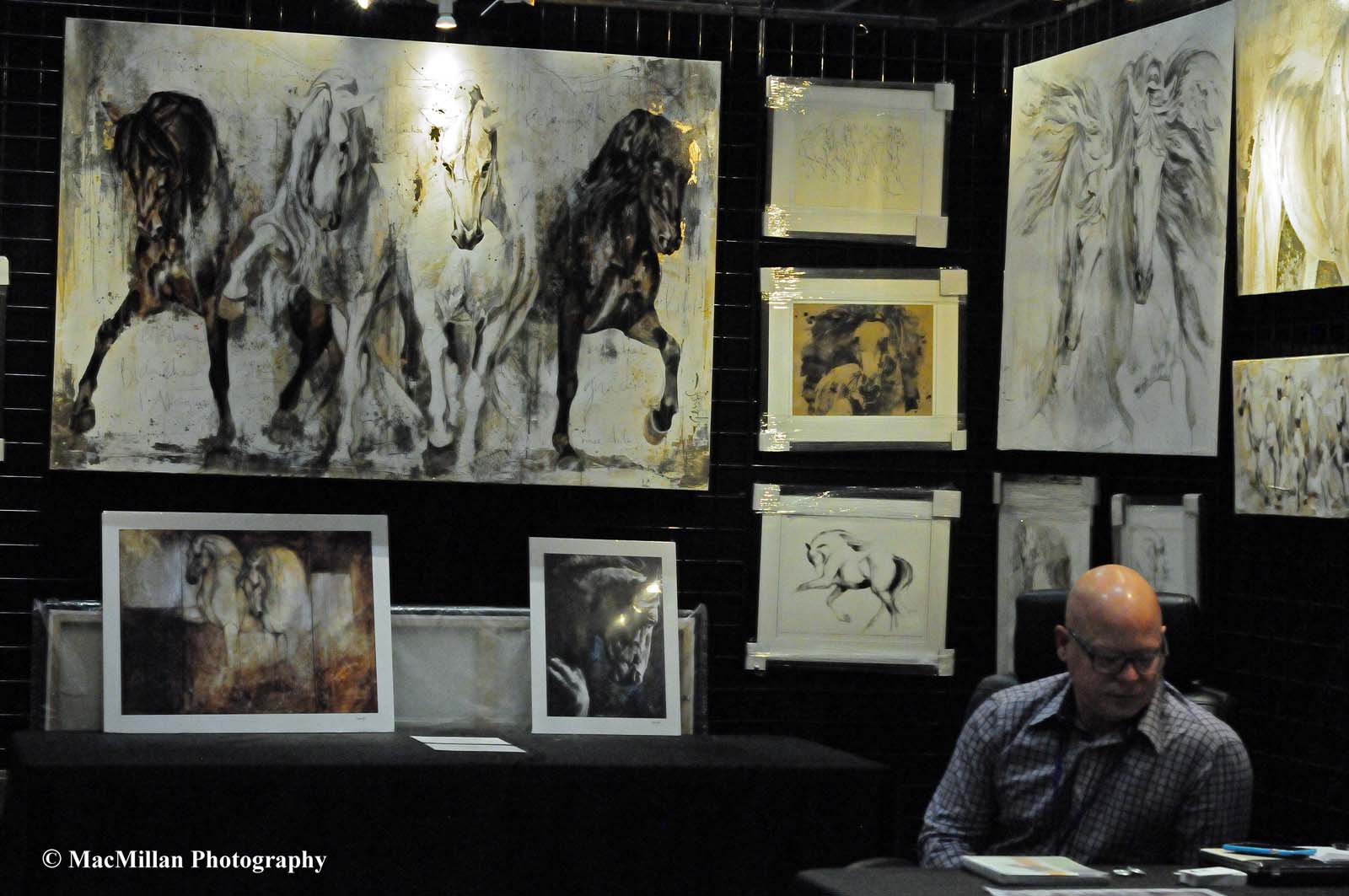 ---
Next on our wish list was a sculpture, more like a mask really, cast from a live show jumper named Arwin by artist Gabrielle Fischer. The Arwin piece was offered by Exclusively Equine Gifts & Décor (www.exclusivelyequine.ca), a boutique offering equestrian themed art, gifts and décor. The proprietor of Exclusively Equine says that it might even be possible to ask Gabrielle to make a cast of your own horse!
---
Now a few things for the kiddies. MyBarnChild.com (www.MyBarnChild.com) offered these adorable and huggable sock horses and unicorns. Greenhawk Harness and Equestrian Supplies (www.greenhawk.com), a huge tack retailer in Ontario with several locations around the province, had several things for younger horse lovers including a pink Pegasus night light by Aloka and a building project for you to do with your child or grandchild, a jumping horse automata kit from Pathfinders Design+ Technology. Greenhawk also had a cute little pony mood ring for the barn princess in your family.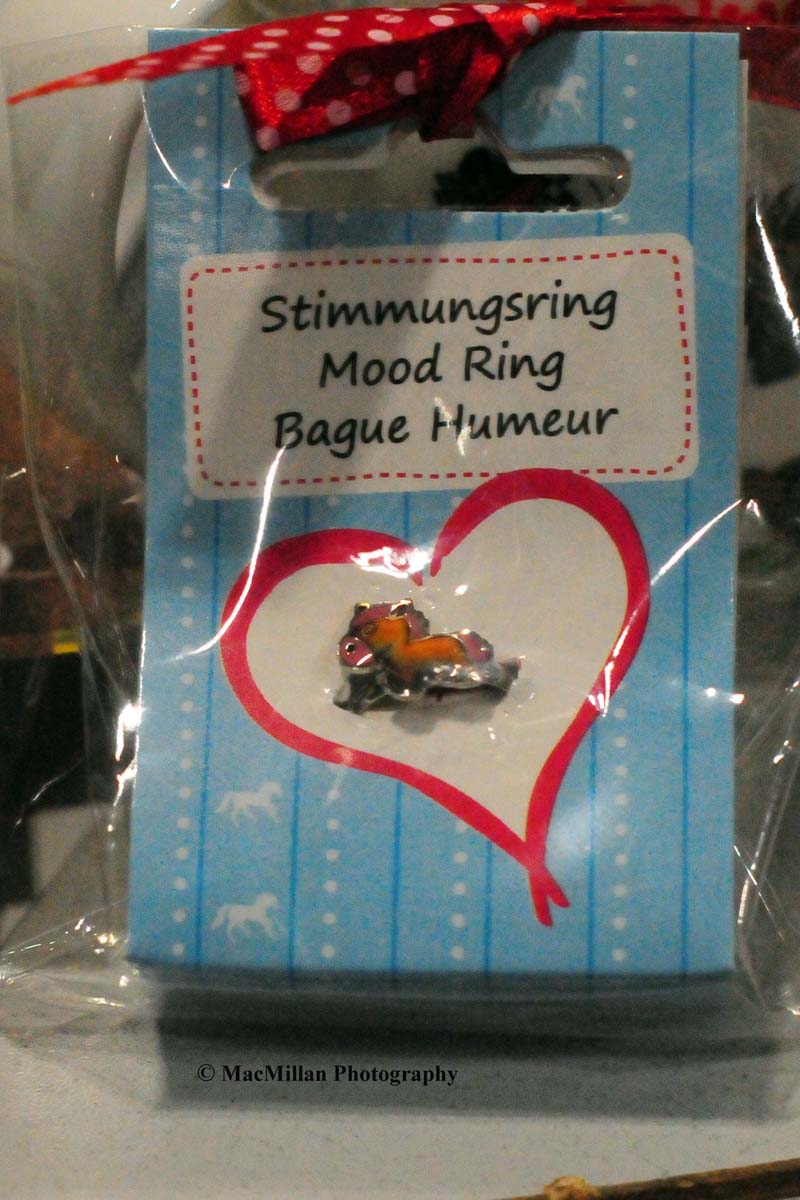 ---
As we wandered into the booth for Bahr Saddlery (www.bahrsaddlery.com) from Hornby, Ontario, we found a plethora of equestrian themed gift items. If you go to their web site you'll find 38 pages of these ranging from purses, journals, mugs, backpacks, figurines, signs, bumper stickers, stuffed animals and much more! Here are some of their offerings: Pony Pal figures, Painted Pony statues and silver ornaments in many designs.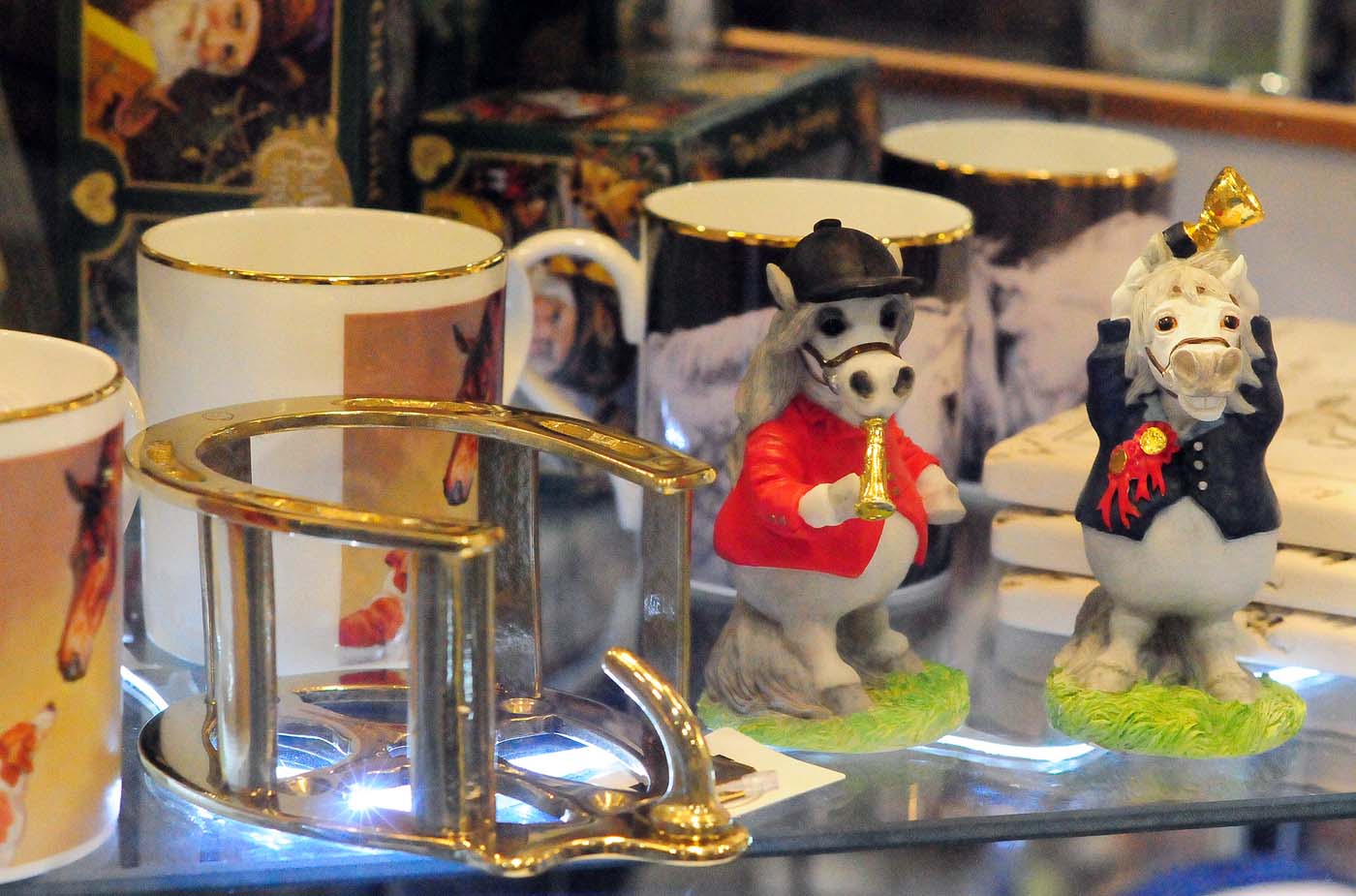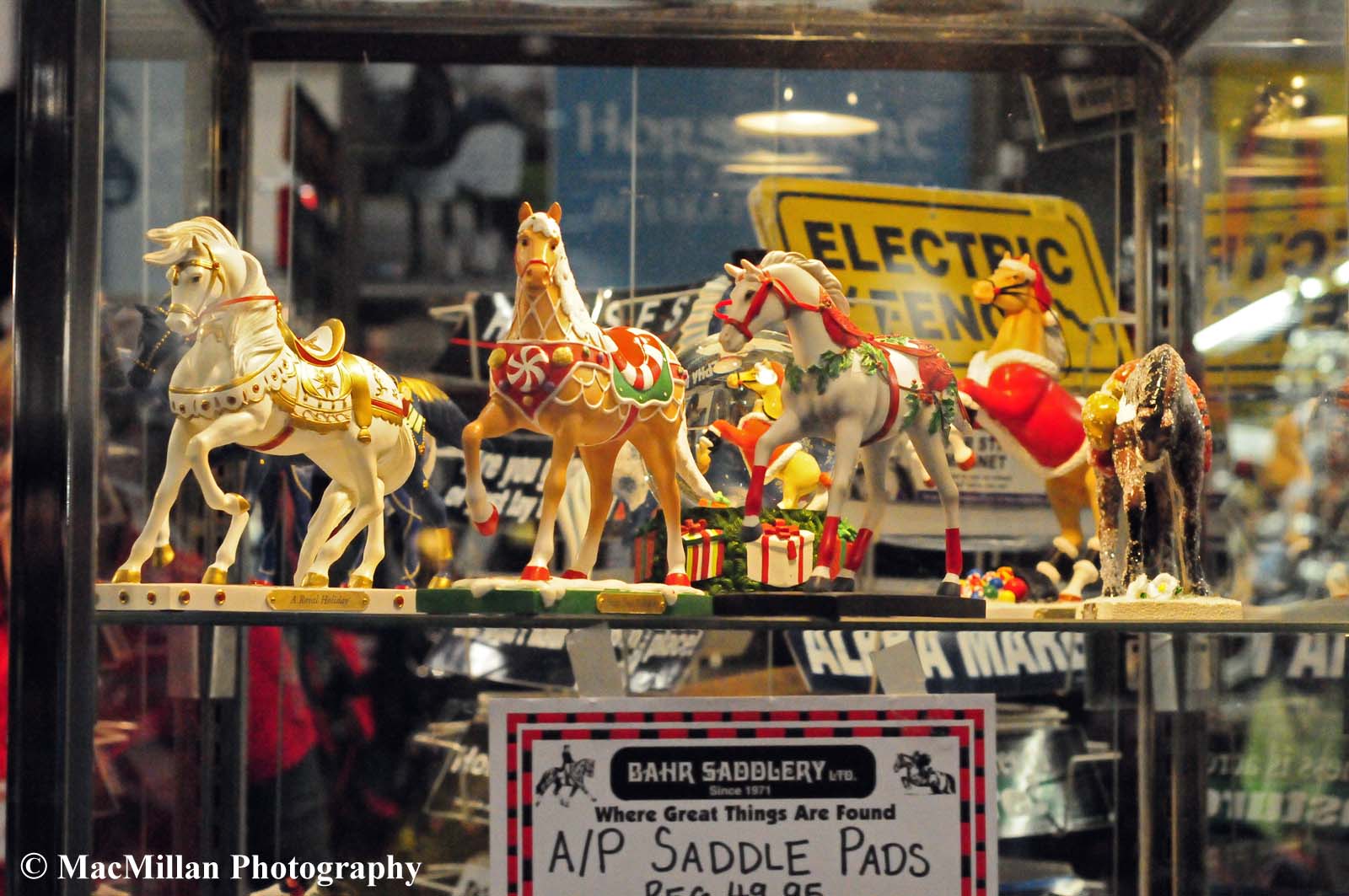 ---
Need a hostess gift for a holiday party? Pick up a nice bottle of wine and one of these Corkers cork animal kits. They come in horse and dog as well as other animals. We found these at Greenhawk.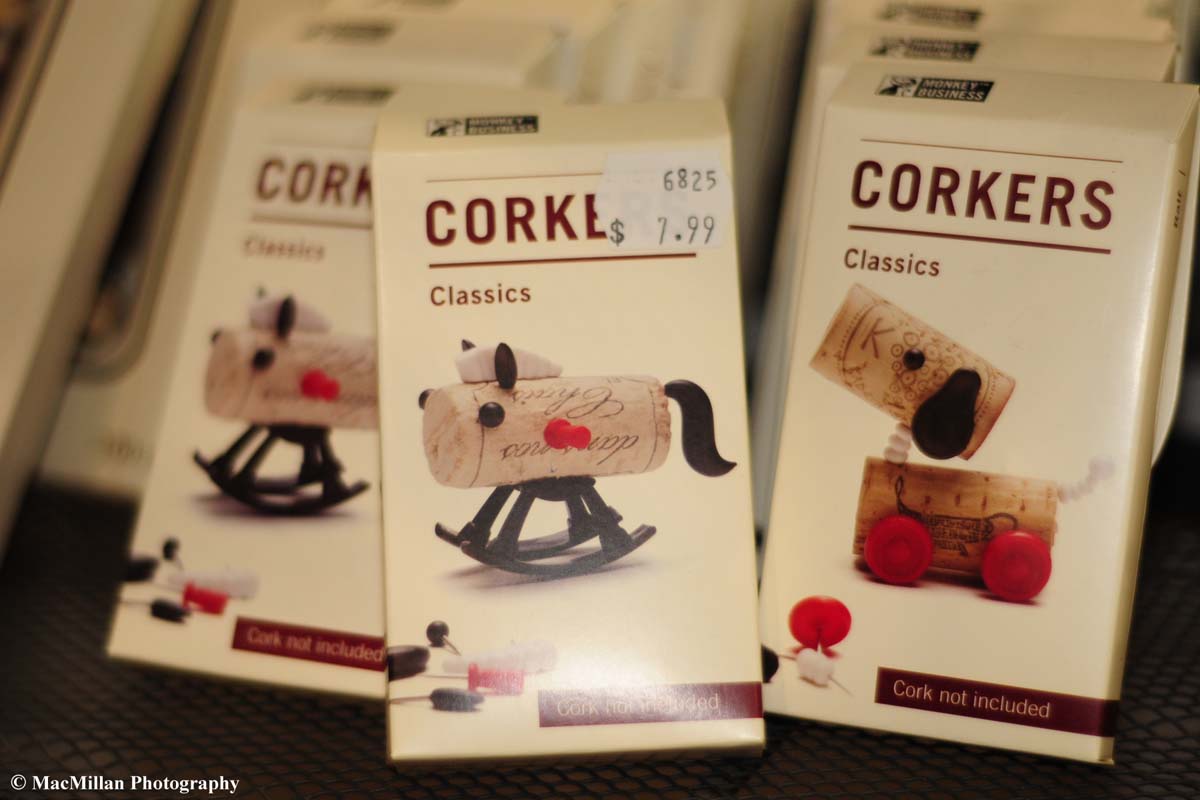 ---
Maybe you are throwing your own party? If so, you might want to grab one of these molds to make your own horseshoe-shaped ice cubes or chocolates, also available at Greenhawk.

---
We loved these colorful boot socks available in many colors and designs at Greenhawk and a couple of other retailers at the Royal. I picked up some of these with Pug dogs on them for my trainer for Christmas.
---
Canadian boot maker Paul Brodie and Pendleton woolens were among the lovely things featured in the In the Ville (www.InTheVille.com) booth. Sarah had fun admiring the different combinations of color coordinated boots and coats there!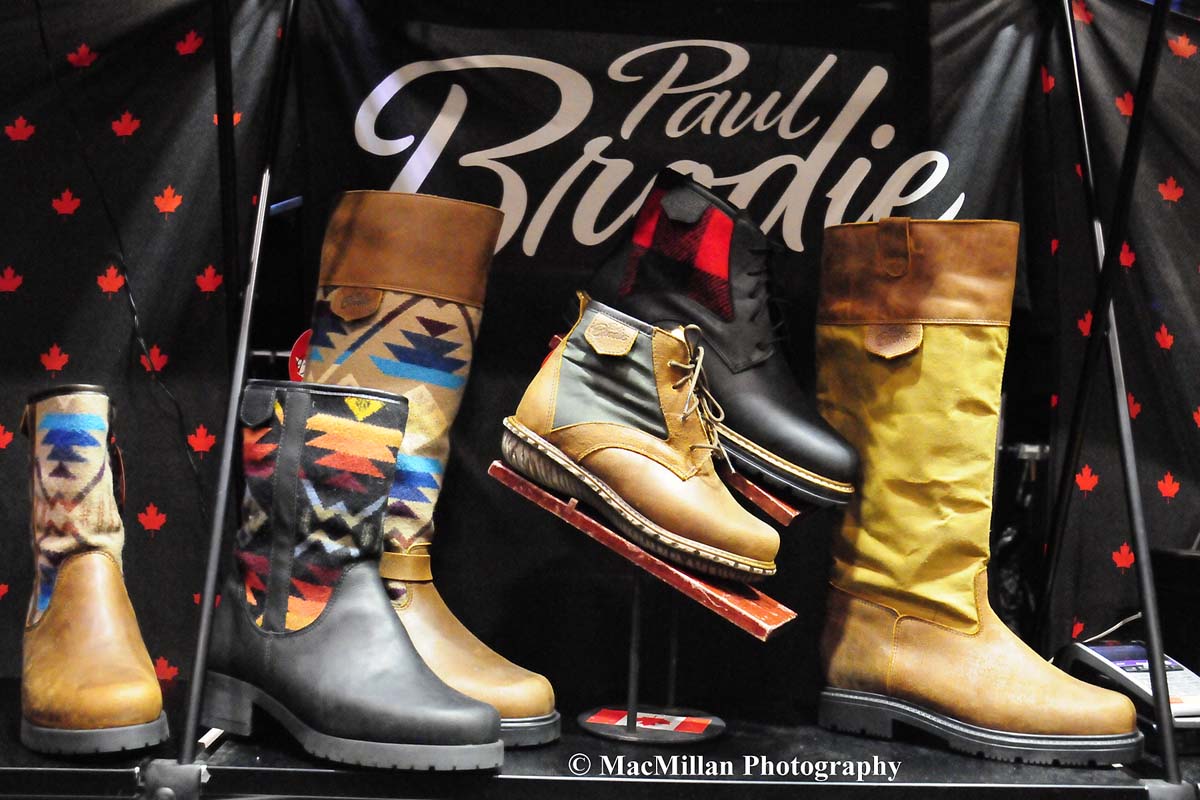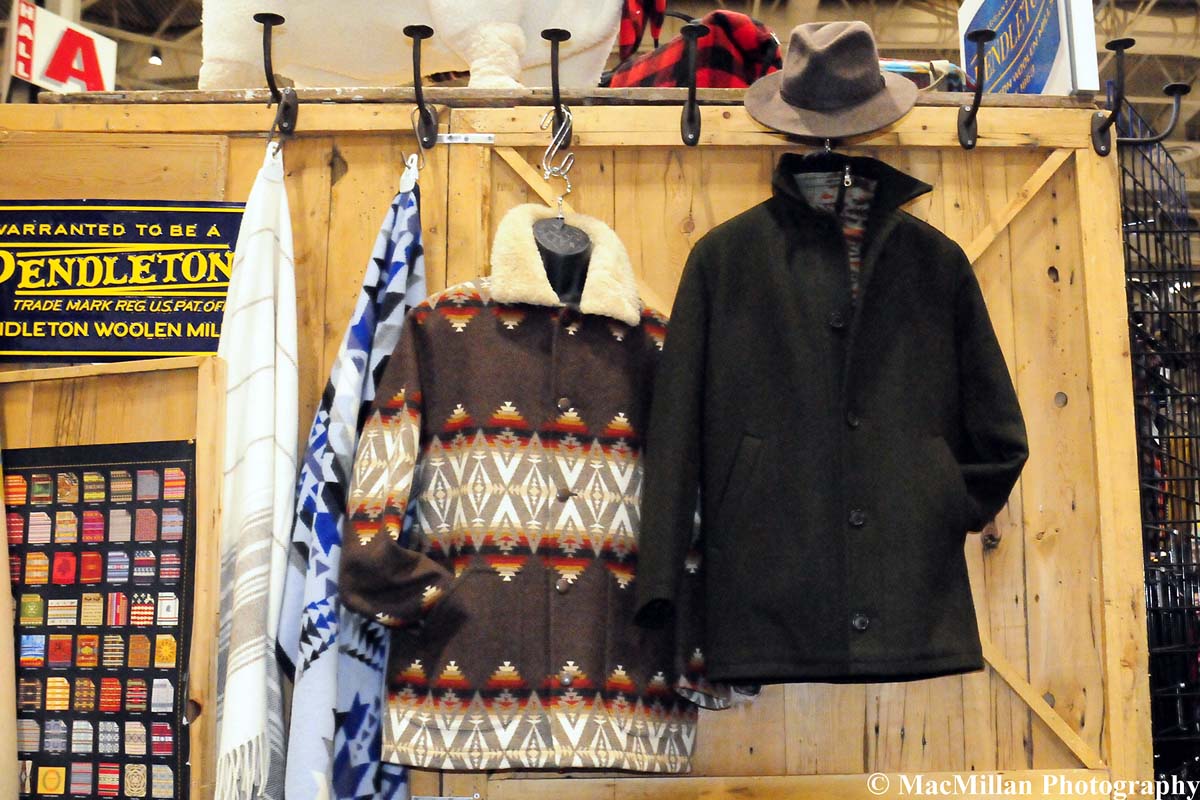 ---
If you've been really good this year perhaps Santa will consider bringing you some custom-made boots from the Rivas family, makers of boots for over 100 years at La Mundial Boots (www.lamundialboots.com).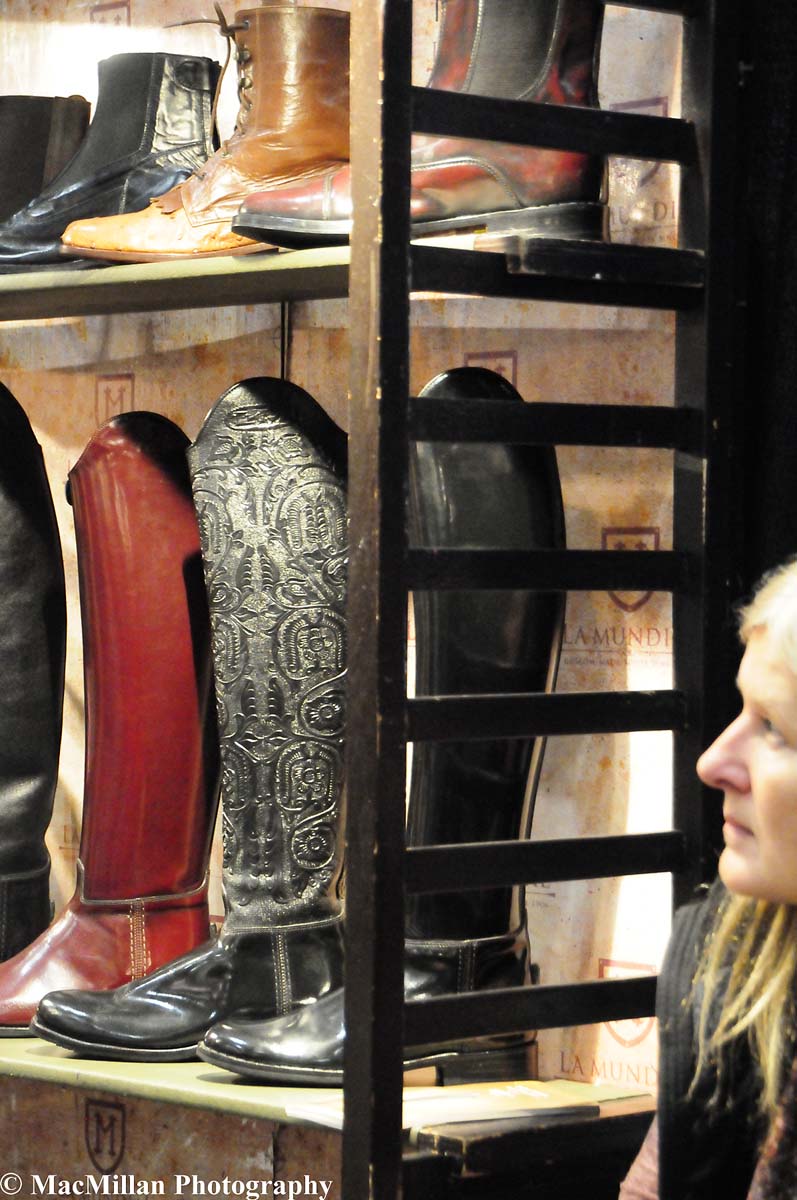 ---
One of my favorite finds in our Royal shopping adventure was these ManeJane spur straps. ManeJane (www.ManeJane.com) is based in California, but was offered at the Royal by Greenhawk. The company makes designer belts (leather with stirrup buckles in many colors and patterns) and spur straps (offered in a variety of solid colors or plaid and decorated with fancy buckles or charms: lady bugs, flowers, crowns, wine glasses, pirates, monkeys, cows, bears, stars, frogs, horse shoes, artist's palettes and surfer dudes). They do offer custom work as well.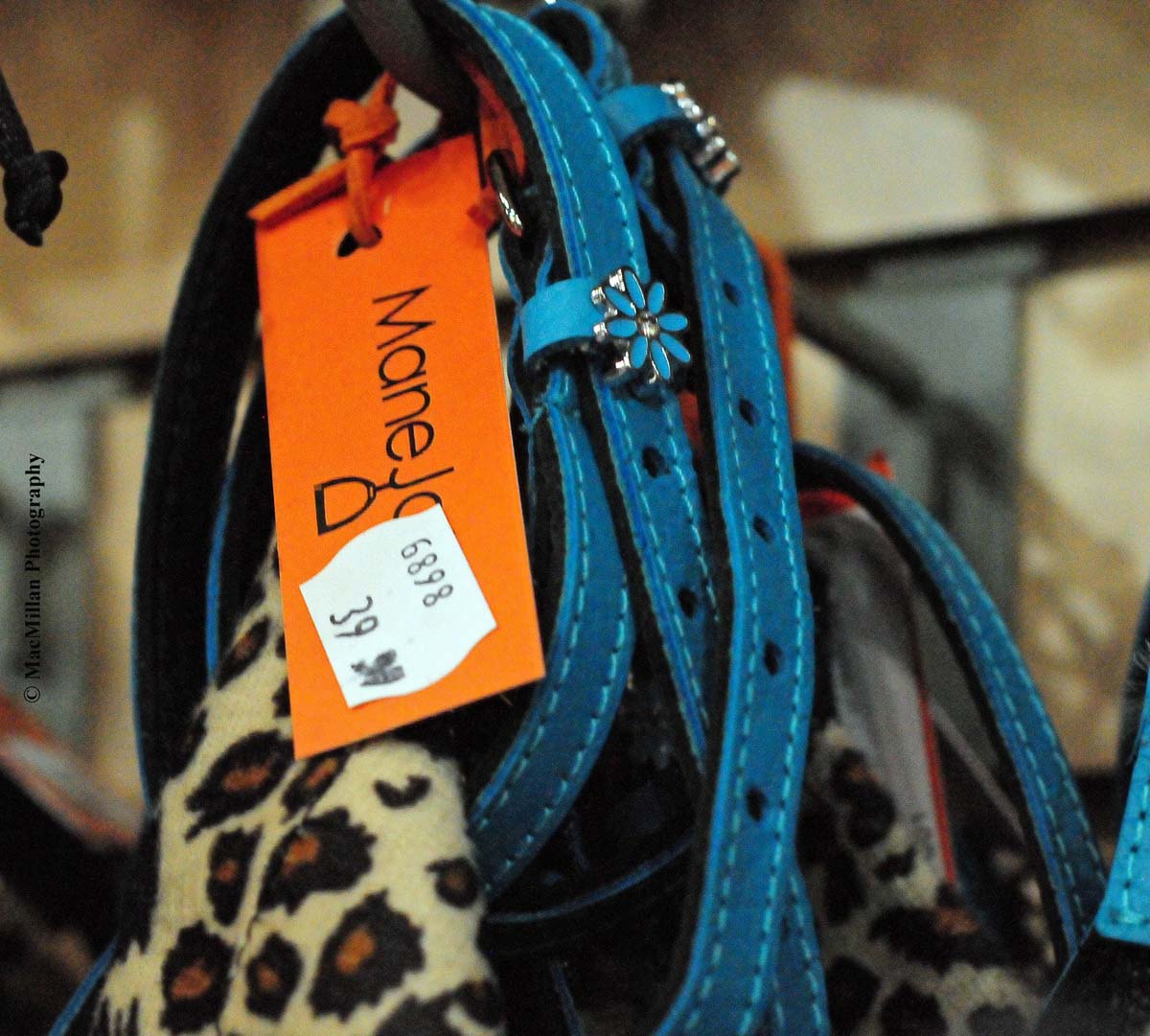 ---
Another intriguing item offered in several stores at the Royal were these bridle charms, which may also be used as zipper pulls, braid or boot decorations or for general "bling" according to the tags. The "Balance" charm is made by Costa Classics (www.CostaClassics.com). MyBarnChild also offers a large number of bridle charm designs like the cute little fox below.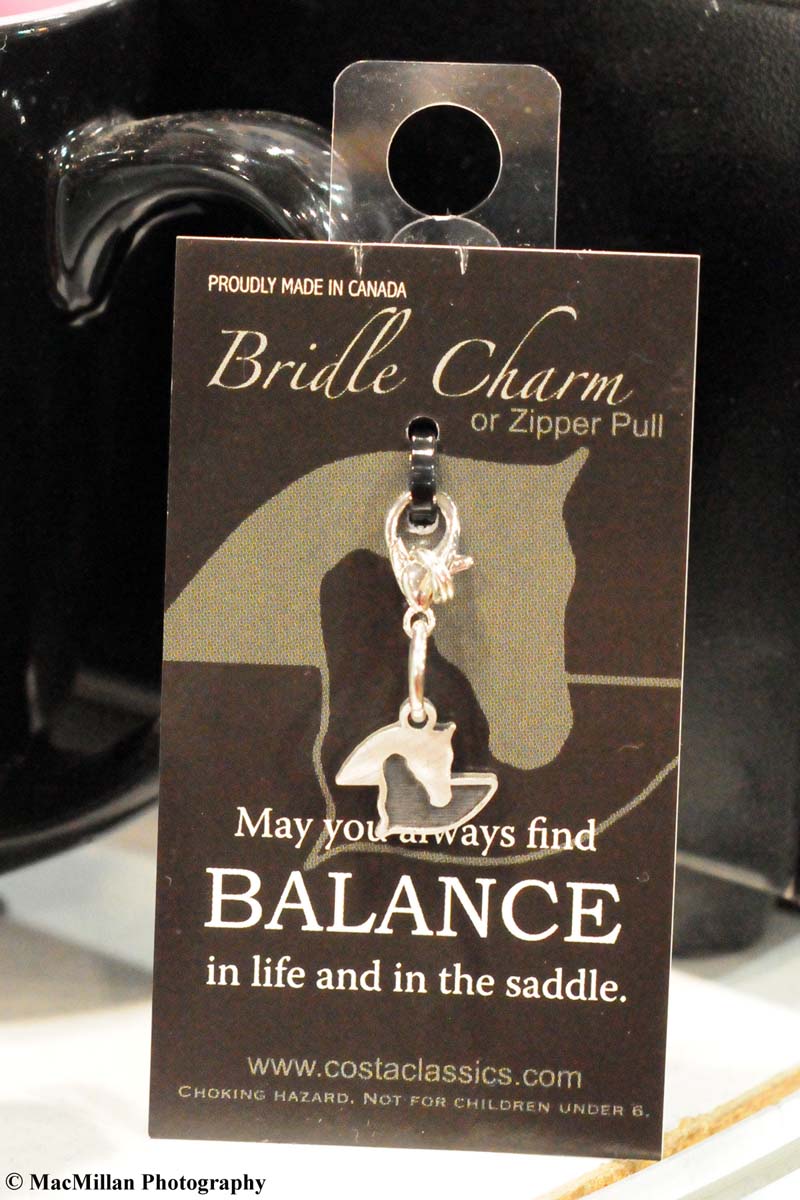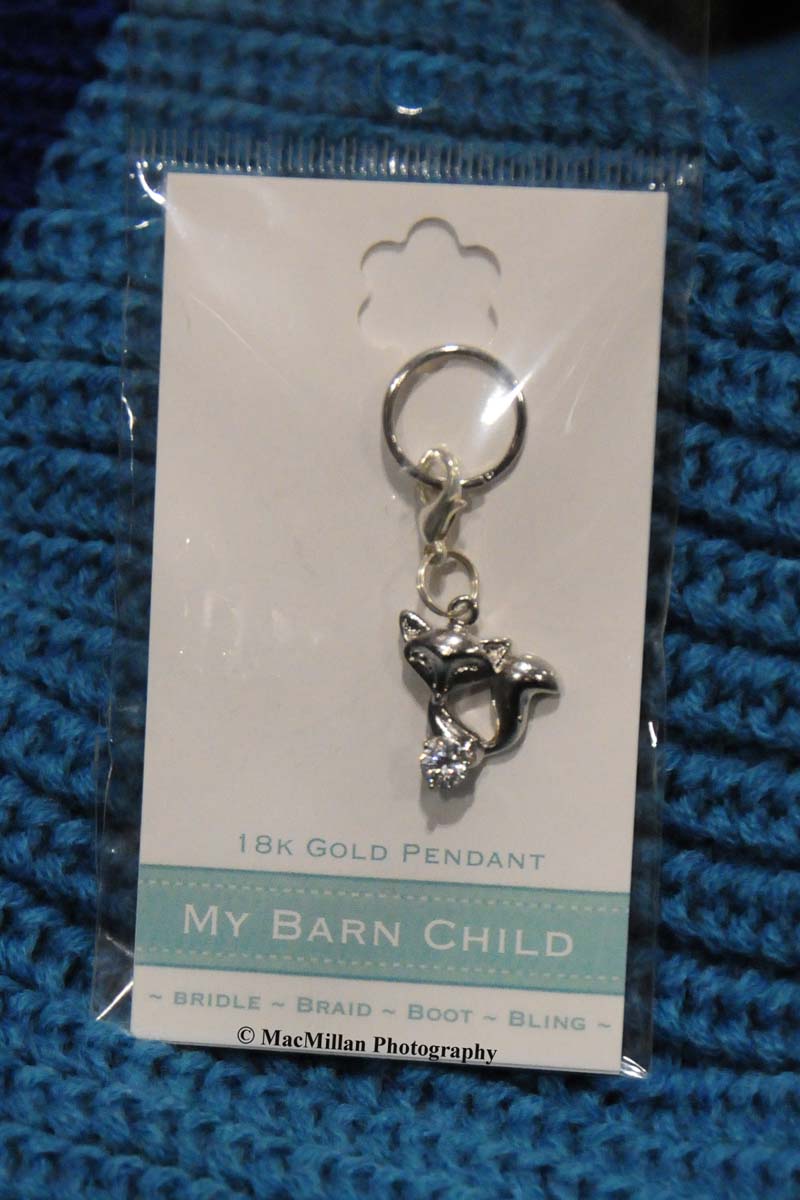 ---
You shouldn't leave your horse out when it comes to bringing the "bling". These rhinestone-bedecked tendon and bell boots manufactured in the Netherlands by BR Equestrian Products were for sale at the Royal by Wellington's Tack Shop, East Waterdown, Ontario (www.wellingtonstack.com).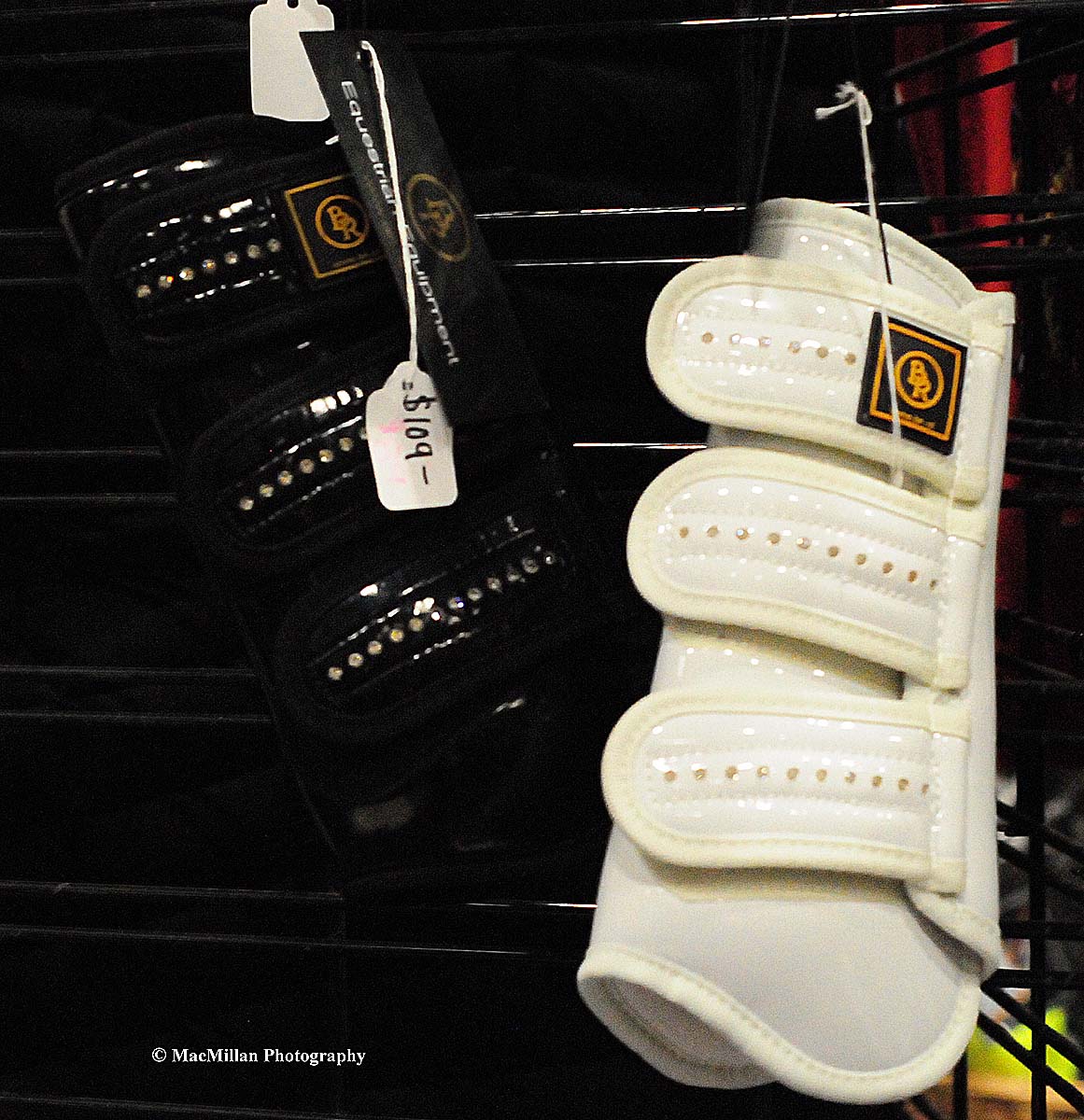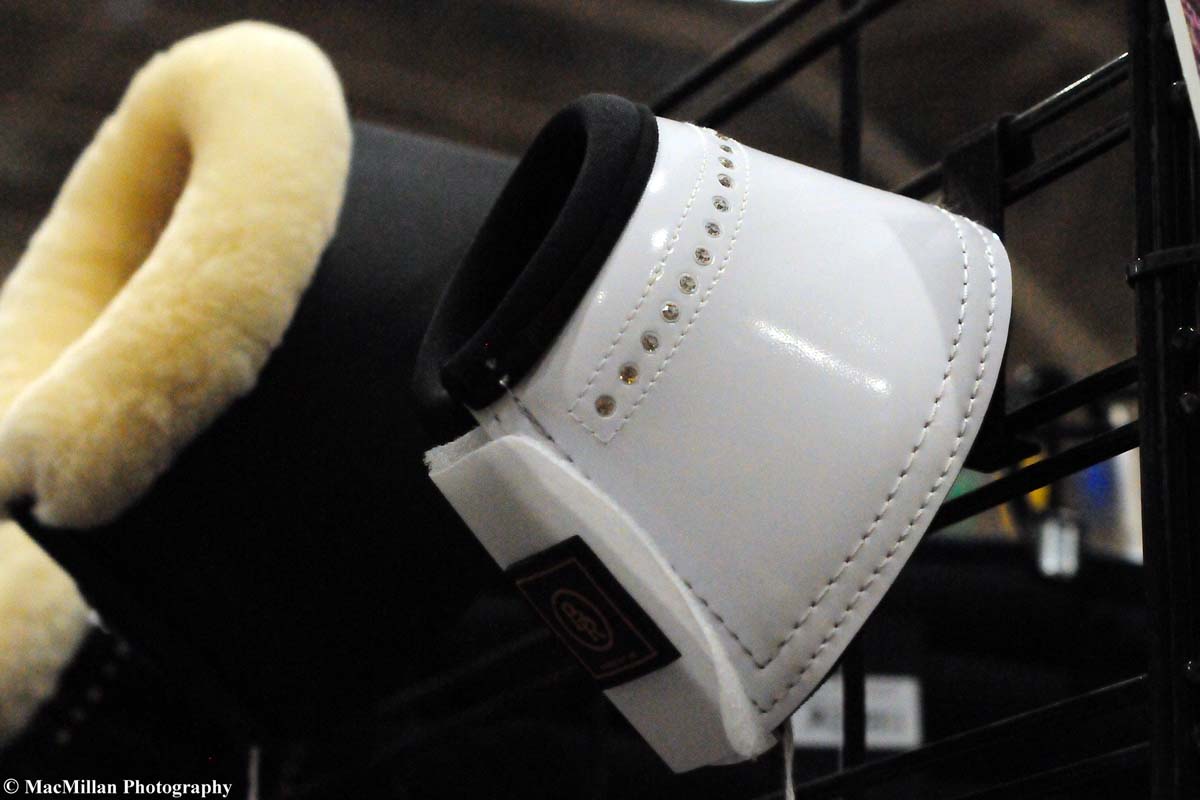 ---
Fly bonnets from De La Coeur (www.delacoeur.ca), Oakville, Ontario, will give your horse protection from insects and noise while displaying a little fashion-forward design too. Their fly bonnets come in a wide variety of base colors with accent colors, embroidered decoration and rhinestones offered as options.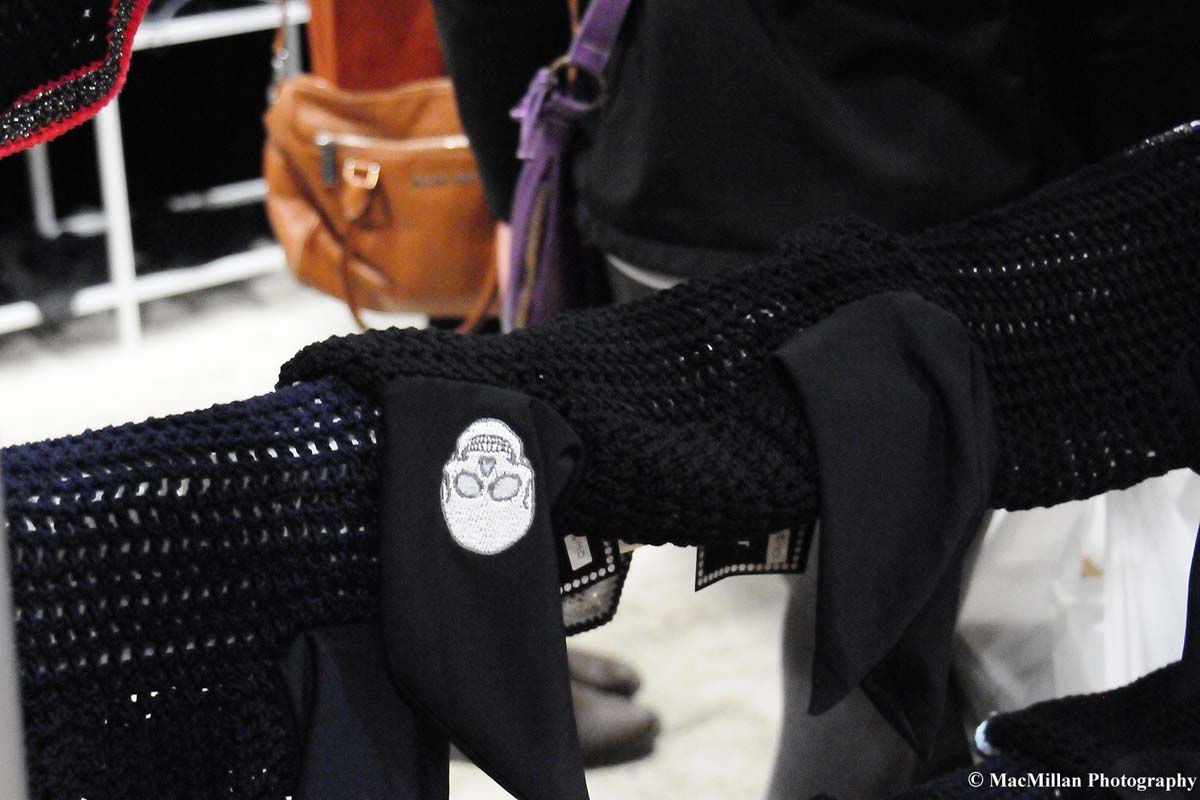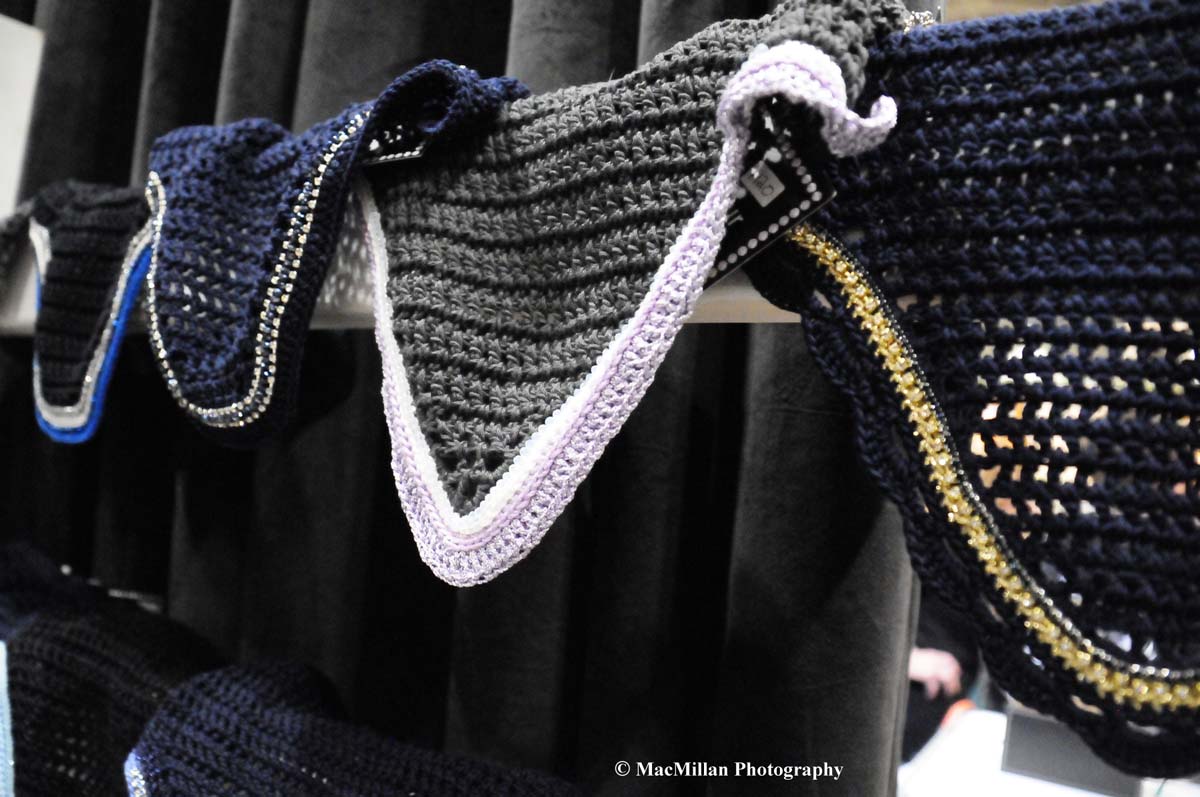 ---
While horse blankets are commonplace items around the stable, the color options of these Canadian Horsewear Co. blankets available through Pleasant Ridge Saddlery (www.pleasantridge.ca) in Brantford, Ontario, caught our attention. The orange/camouflage design and red and blue "Glenhurst" geometric design were just two of a large number of color options in their turn-out blankets.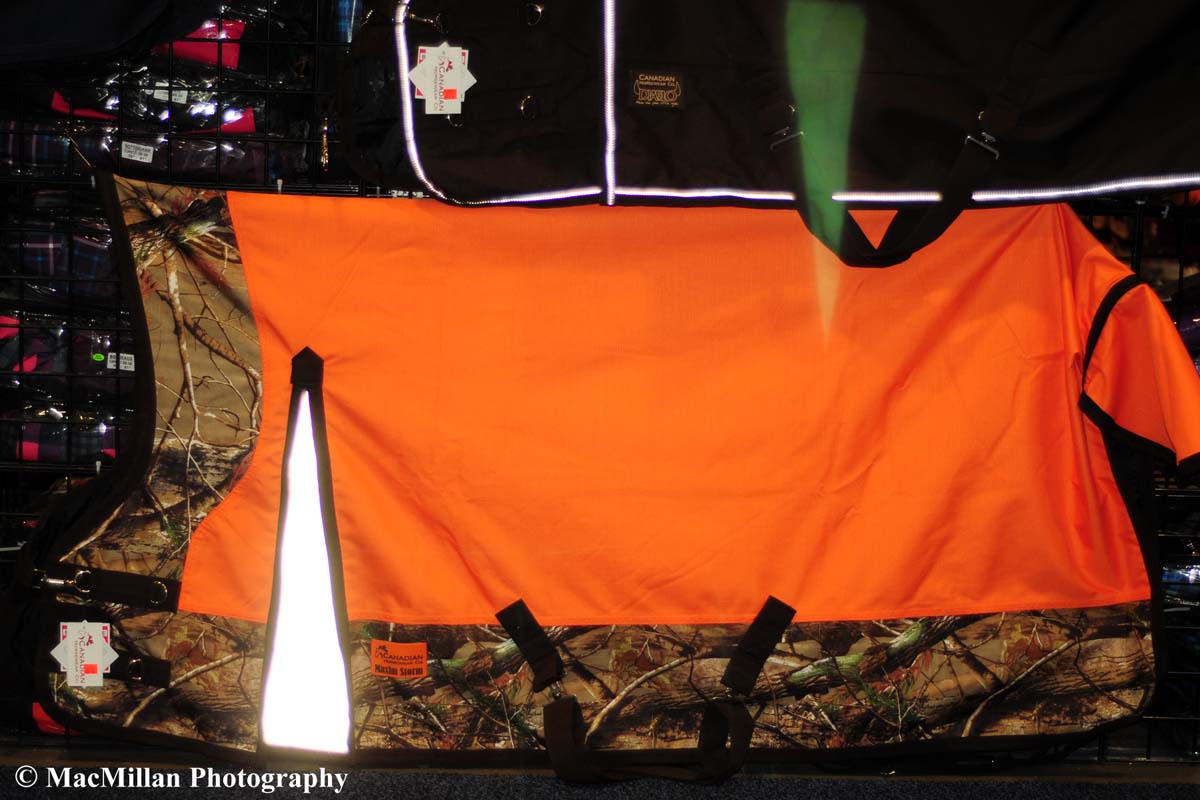 ---
Fashion melded with function in the Hansen Equestrian booth (www.hansenequestrian.ca). Owner/designer Sarah Hansen came up with the idea to use beautiful yet durable fabrics to make stable essentials such as saddle covers, boot bags, saddle bags and quarter sheets while still at university.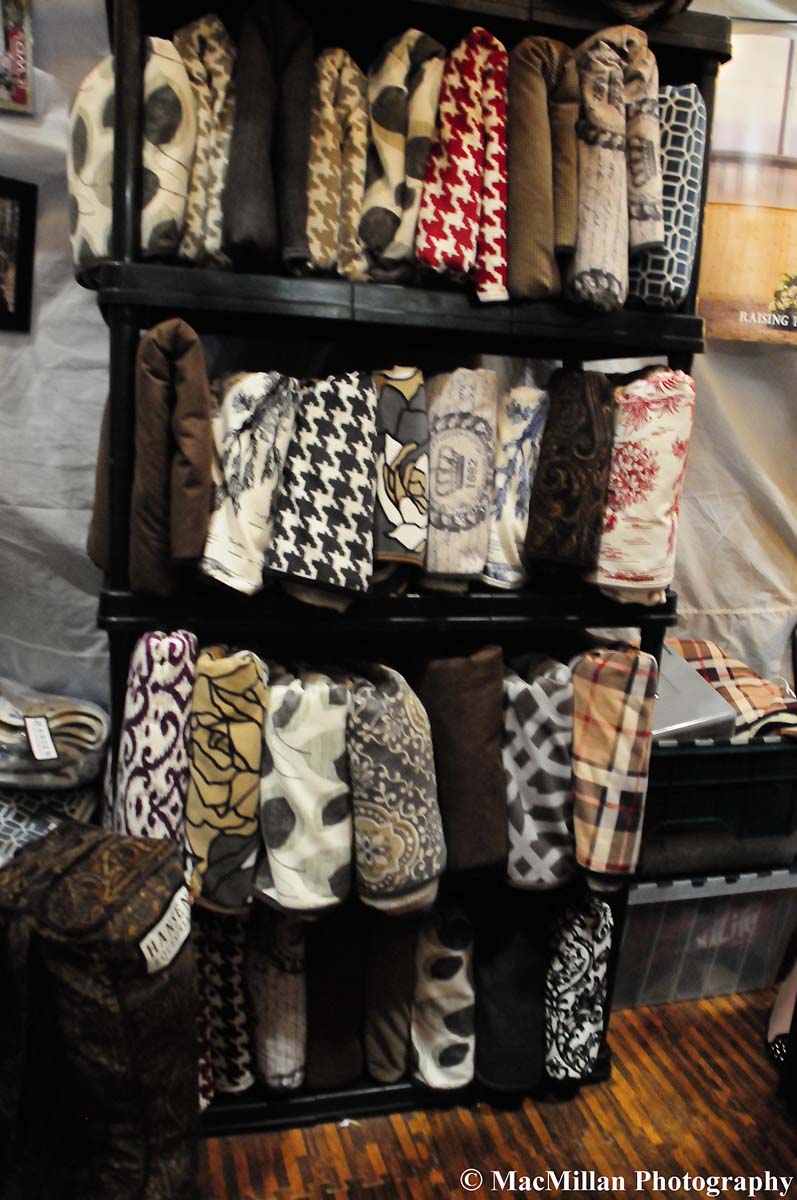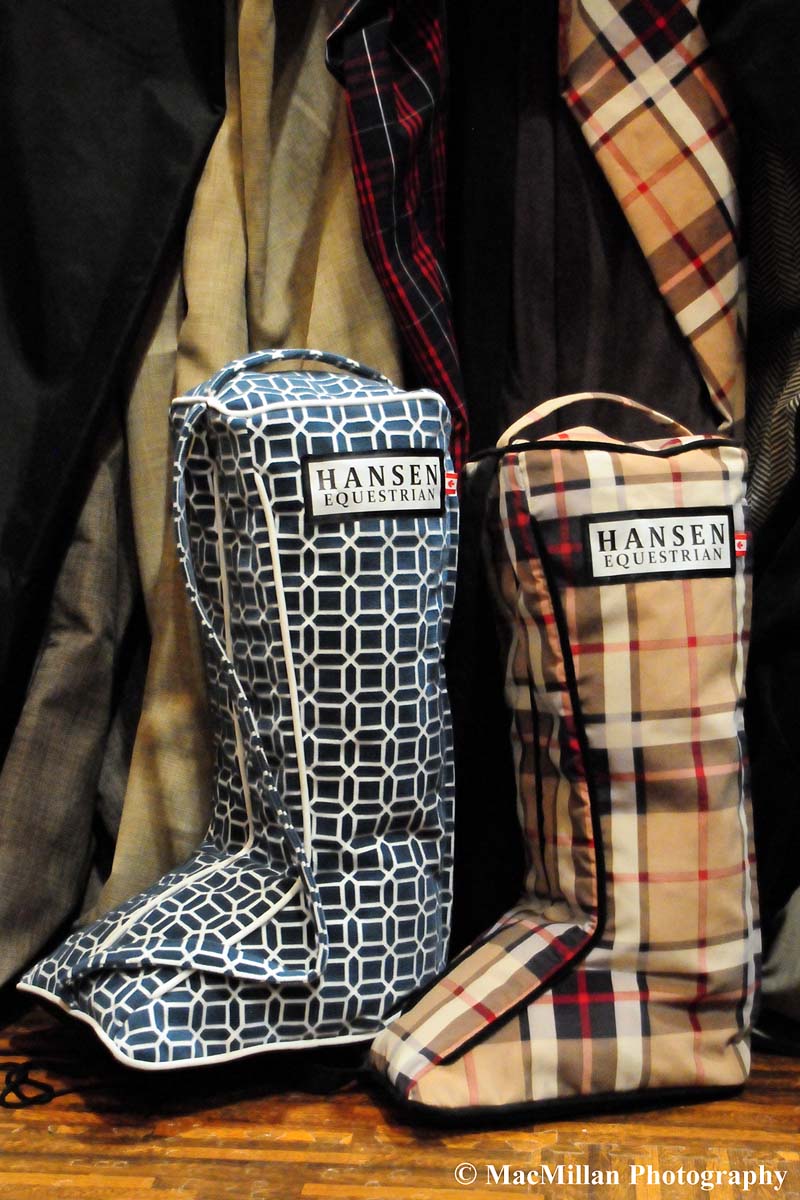 ---
Add even more color to your ride with these bright composite stirrup irons from Wellington's Tack. They come in red, blue, yellow, green, pink and gray.
---
If Santa is really good to you and your equine pals, he might load the sleigh up with an entire spa set for your barn. Start out with an inviting swim for your horse in the Odyssey Equine Cold Salt Water Spa (www.horseexerciser.com), then do a bit more exercise for their bones and muscles on the Theraplate (www.theraplate.com) while standing under the cozy Lambda Pro solarium offered at the Royal by System Fencing (www.systemfence.com). Follow that up with a HayGain hay steamer (www.haygain.us) to make your horses' brunch smell and taste scrumptious. Then after his or her afternoon workout your horse can get another treatment with the Game Ready (www.gamereadyequine.com) dry cold-active compression therapy system.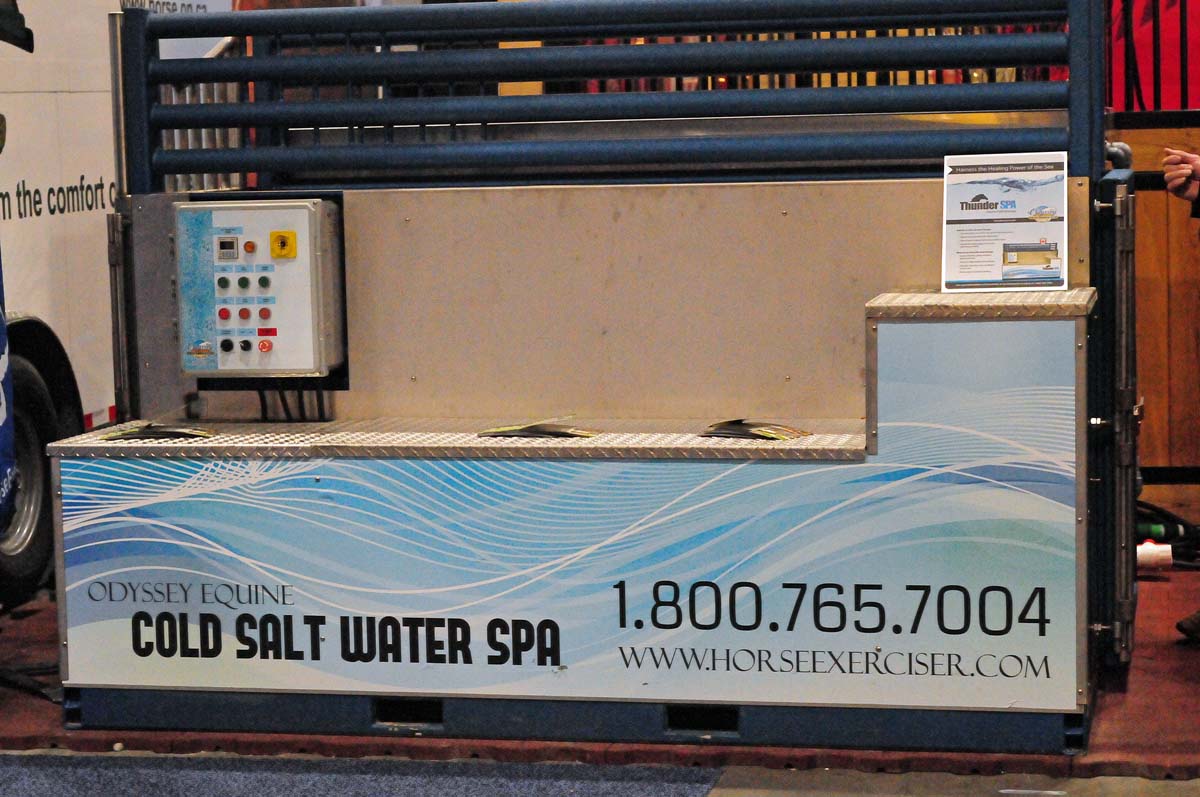 ---
After all of that TLC in the stable, your horse will be in top shape to travel. One interesting horse transport option at the Royal were the trailers made by the Böckmann company (www.boeckmann.com). Their trailers are lightweight enough to be pulled by a car or small truck, but still offered a fairly roomy horse compartment purportedly for up to a 17-hand horse and a small tack compartment. One of the fun things about owning one of these trailers would be decorating the outside by choosing one of 18 decal designs created by artist Jan Künster. The trailers are available in Canada through Maple Lane Trailers (www.maplelanetrailers.com), Smith Falls, Ontario.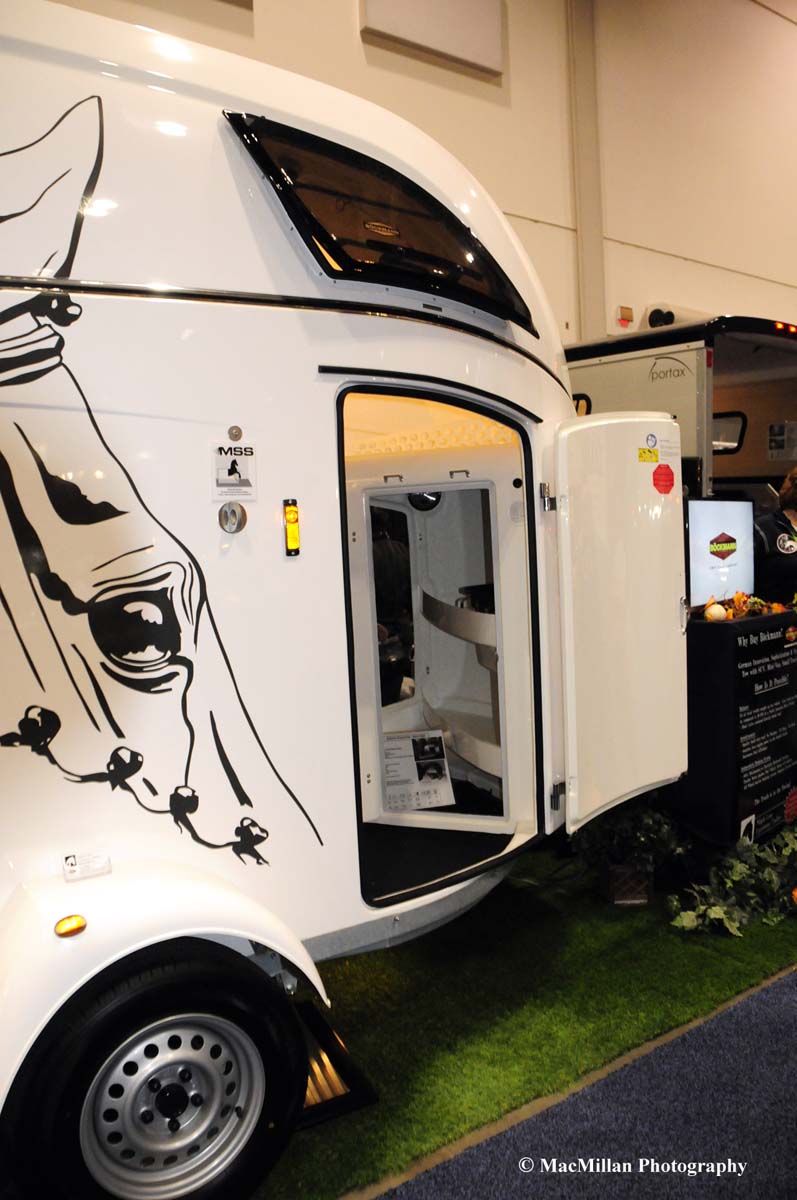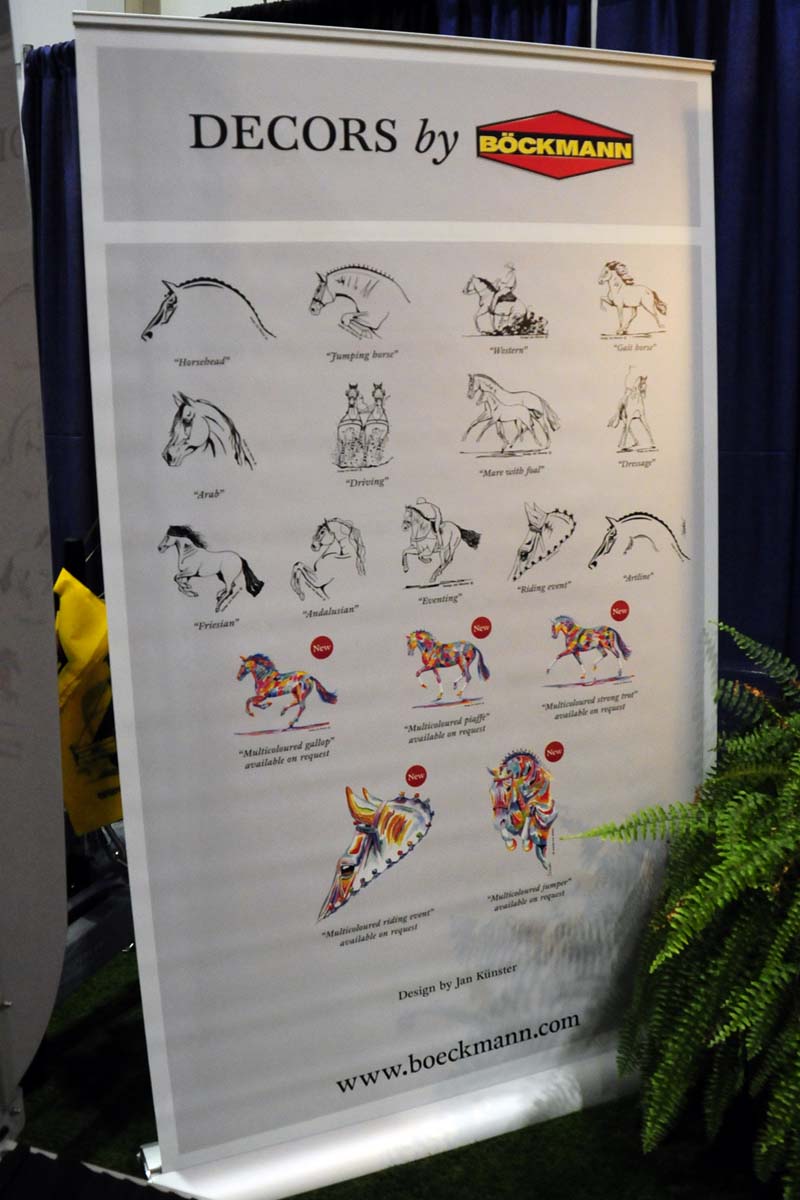 ---
Even if the spa and trailer aren't in your budget for this year, your horse will be happy if you take him for a relaxing trail ride, give him a good grooming and tuck him into his stall with some of these Martin Mills Special Moments maple-flavored horse treats [photo 25]. They also come in apple, banana, peppermint and orange. Available through Greenhawk.
---
Though the Royal is over for this year, many of the items we featured can be ordered on line or by phone and still shipped to you in time for Christmas. And, of course, we highly recommend you add the Royal Winter Fair (www.royalfair.org) to your to-do list for next year!