Photo: VladyslavDanilin/thinkstockphotos.com
The season of gift giving is upon us. When it comes to the equestrian world of gift giving, things can get tricky. What size blanket should you get your friend for her horse? Those breeches are on sale! But wait – does your friend prefer full seat or knee patch? Buy a pair of boots and get a belt free – excellent! Hold on – does your friend already have that belt with different colored rhinestones?
Rather than troll through online tack sales or meander through your local tack shop wondering what size halter to get for your friend (who likely already has four different halters for her horse), consider gifting equestrian-inspired jewelry. With a nearly endless range of styles and prices, you're sure to find the perfect gift for one or many horsey friends.
Photo: Hemera Technologies/thinkstockphotos.com
Equestrian jewelry is often offered for sale at local tack shops, and the wonderful thing about our sport is its most identifiable characteristics often transcend the horsey space. That means online horse-related stores aren't the only place you'll find equestrian-inspired jewelry featuring stirrups, bits, horseshoes or other equine sybolism.
When you decide you want to give jewelry as a gift for the horse lover in your life, you have options of metals, jewels, shapes and styles. We've gathered options from a few different retailers and designers to help you get started on your search for the perfect gift.
Equestrian-Inspired
Giles & Brother, the collaboration of brother-sister duo Philip and Courtney "Giles" Crangi, has pieces with equestrian inspiration. Philip's designs have been featured in Vogue, W, InStyle, Bazaar and Elle. Their signature brass and silver oxide finishes create a very unique look.
Check out this stirrup cuff classic brass bracelet by Giles & Brother. Priced at $125, it also offers free customization. Whether you want a short message or initials on alternating sides of the bracelet, this kind of gift can be really special, and the free customization makes it one-of-a-kind.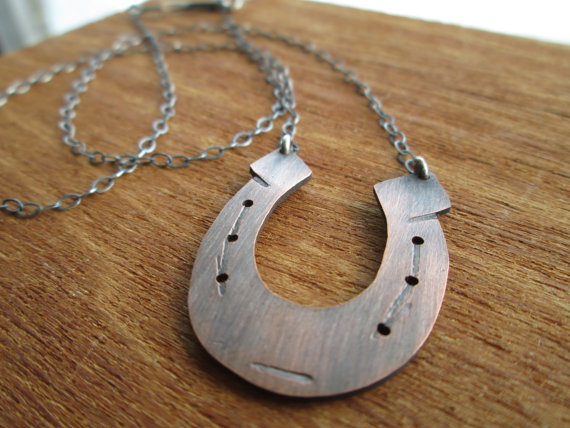 Copper Horseshoe Necklace
from Gritty Jewelry
For a different style with equine vibes, check out Kim Merritt's Gritty Jewelry.
Merritt, an artisan based in Seattle, Washington, is really inspired by Americana art.
"I like making tiny things," Merritt says. "When I made the tiny horseshoe, I didn't realize which way it should hang. I did a whole bunch of research and found it can go up or down. You're spreading the luck if it's down and collecting the luck if it's up."
Her Copper Lucky Horse Shoe Necklace is very popular and costs $68. It's also available in silver. Love it? Consider gifting a necklace-earring set!
Custom Equine Jewelry
Artisans like Merritt also love to create unique pieces of jewelry.
"People approach me all the time about creating jewelry," she adds. "I do a lot of custom work. I always do my best to give a request a try."
Merritt, who has been making jewelry more than 10 years, does her best to source everything she uses to make her jewelry from her neighborhood.
"I keep it local as much as possible," she adds.
Horse Hair Jewelry
If you want to gift something personal both for your friend and her horse, consider giving horse hair jewelry. While you can find horse hair jewelry pre-made at gift shops and craft fairs, for a truly personalized gift, you can have bracelets, earrings, necklaces or other items made from your friend's horse's tail hair. Keep in mind that you need to allow time for these custom gifts to be created, so order ahead of your gift exchange date!
Tail Spin Bracelets offers several designs that allow you to use your horse's tail hair—or you friend's horse's tail hair. To have jewelry created with your horse's tail hair, you simply send in the hair to the company!
To collect the hair, use scissors to cut the longest hairs from the middle of the tail, right below the tailbone. Cut two to three small amounts from different places close to the tailbone to prevent obvious gaps in the tail hair. The final amount should be about the width of a pencil and 10 inches long. If the sample you collect isn't quite the width of a pencil but is about 20 inches long, Tail Spin Bracelets can work with that as well.
Remember that different companies may have different specific instructions for sending in the horse's hair. Whichever company you choose, a horse hair bracelet is a treasured gift that will remind your friend of her favorite horse every time she wears it.
Unique Finds on Etsy
The horseshoe is undoubtedly a popular style in and out of the horse world. If you're looking for a different kind of horseshoe accent, Etsy can also be a great place to find unique pieces of jewelry.
For example, BeauandStella's Tiny Luck Necklace comes in a variety of necklace lengths and metals.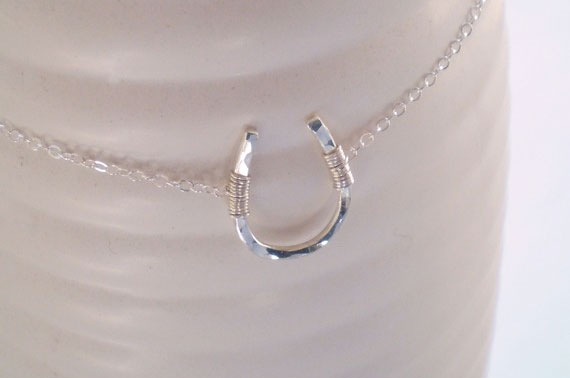 Luck Necklace
from Beau and Stella
I have the 14k gold-filled necklace in 16" and wear it, at a minimum, twice a week. I get compliments from horsey and nonhorsey people alike! The necklace costs $42.
Pick the Right Piece
If you like to shop from a plethora of options, visit www.caracolsilver.com. Caracol Silver-Inspired Equestrian Jewelry and Handbags was established in 1997 and founded by Elizabeth Lowery and Paul R. Miller. Caracol is a spiral representing the boutique's journey and is also a dressage movement of a half turn to the left or the right.
Whether you're seeking bracelets, earrings, necklaces, pendants, rings, equestrian-themed handbags or even English- or western-themed silk scarves, Caracol has a selection for you.
Caracol's Nail It Ring, priced at $84, is a distinctive ring hand-crated in Spain, inspired by horseshoe nails. If you prefer the classic look of a bit-inspired piece, check out their two-tone Sterling Silver Snaffle Bit Necklace, priced at $299. For a colorful, casual accent piece, consider the bit enamel bracelet for $29.
Caracol also has unique pendants. If you know your horsey gift recipient loves charms or wearing pendants, be sure to take a look at their Golden Horse Shoe Necklace. Since the pendant has attaches to the necklace in two places, it creates some neat lines.
Designer Jewelry for Horse Lovers
Perhaps your friend loves designer names. Have no fear – the appeal of equestrian style is known by designers, too!
Kate Spade even has equestrian inspired jewelry. For example, the Born to Shine Horseshoe Charm Necklace, $68, and the Things We Love Horseshoe Bracelet Set, $98, offer simple style with a recognizable name. The bracelets can be worn together or apart.
It's hard to know where to stop with jewelry gifts. There are so many options! James Avery has a uniquely set horseshoe on a wire ring. It's priced at $59 in sterling silver and $320 in 14K gold.
From horseshoes to bits to nails and more, just as no two horses are the same, no piece of jewelry is the same.
Remember, if you can't find exactly what you need, see if there's an artisan in your local community or visit a local horse show or art fair and see what vendors offer. Chances are, there's a fellow a talented jewelry designer out there who wants to create the absolutely perfect piece of equestrian jewelry for your gift recipient!

ALLISON GRIEST is a freelance writer based in Texas. Follow her on Twitter: @allisongriest.