Many of us want to encourage youngsters to enjoy horses, and we wonder how we can share our passion for all things equestrian with children outside of the barn. Here are five creative horse-related toys and games to share with the horsey kid in your life.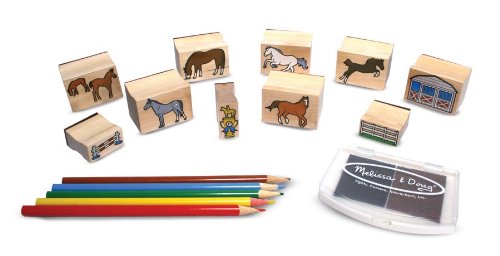 1. Melissa & Doug Horse Stable Stamp Set

($9.75 on Amazon)
This is a great little stamp and colored pencil set featuring our favorite hooved animals. The wooden box includes two bright ink colors, colored pencils, and several horse stamps that will enable a child to create countless beautiful equine scenes. It's recommended for ages 4 and up, but my three-year-old has already fallen in love with the set she received for her birthday.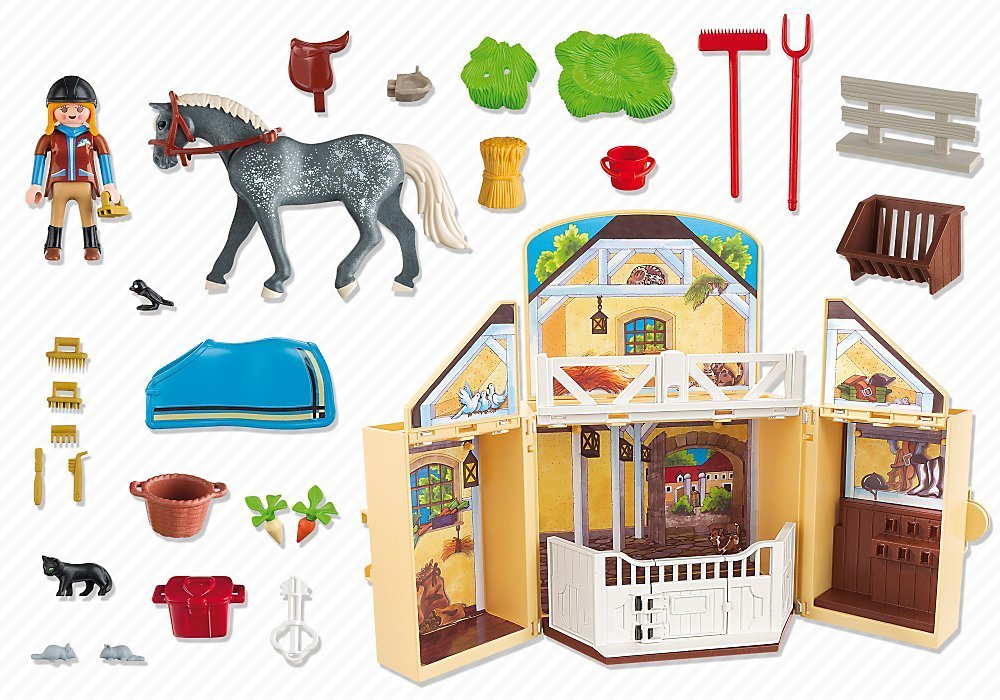 2. Playmobil My Secret Horse Stable Play Box Set

($26.99 on Amazon)
This play set may be recommended for ages 4-10, but I would like to take a turn with it! The package includes a compact case that opens to reveal a stable complete with horse figurine, grooming tools, saddle, cat, mouse, basket, bucket, fence, bird, trough, and other accessories. Just think of all the imaginary barn fun this could encourage!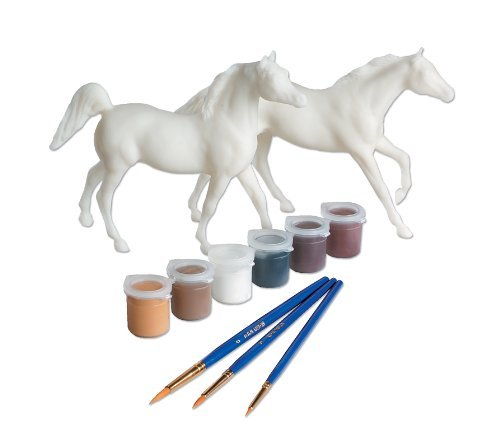 3. Breyer Model "My Dream Horse" Paint Set

($14.99 on Amazon)
For kids who love to paint and create, the world-famous Breyer company makes a set containing two small plain white model horses (an Arabian and a Thoroughbred), paints, and paintbrushes for budding artists to make their very own dream horses. The instruction manual features detailed photography of actual horses, providing the artist with inspiration for creating a life-like replicas.
4. Herd Your Horses Board Game by Aristoplay

($17.59 on Amazon)
Herd Your Horses is perfect for a fun family game night or to keep little ones busy on a rainy day. The game enables players to experience life from the horse's or the rancher's point of view. The game includes 55 color horse cards, 42 adventure cards, and a game board for 2-6 players. Plus, it's full of educational information about horses. So giddy up for a fun-filled family activity!
5. The Ultimate Sticker Book: Horse by DK Publishing

($6.99 on Amazon)
This sticker book contains 60 re-usable horse stickers made from actual photographs (no turquoise unicorns in the bunch!). Information about several common horse breeds is also included, so not only is it creative fun for children to arrange the stickers, they get to learn about the animals as well.
When spending an entire day at the barn together isn't an option, these games, toys, and activities are sure to encourage some quality horse-related time for you and the littler ones in your life.
---
Julia Arnold is a writer living in
Minnesota with her husband and two young children. She has always loved
horses and is thrilled to have officially rejoined the horse world as an
adult. She rides whenever she can at Hardwood Creek Farm in Hugo,
Minnesota. You can follow her adventures in riding and parenting on Facebook, Twitter, Instagram, and Pinterest.