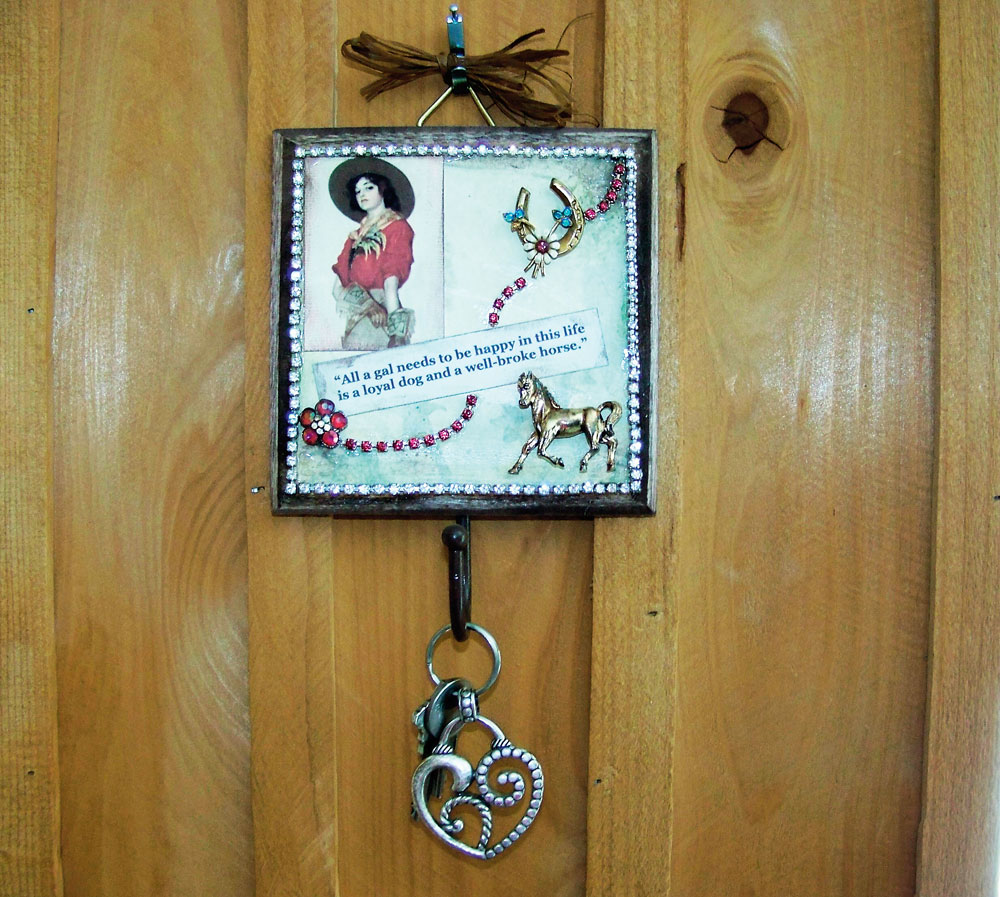 Each time one of your riding pals reaches for her tackroom keys from this decorative hook, she'll think of you. I promise this decoupage project won't end up looking like something you once made in kindergarten. By including dimensional elements and a witty sentiment, you'll create a practical present with visual appeal.
Mixed Media Wall Hanger
1 Wooden wall hanger
Small jar of wood stain
Modge Podge, glossy finish
E6000 adhesive
Sponge stick
Roll of painter's tape
2 sheets of scrapbook paper (muted design; soft colors)
Horse or equestrian image printed on cardstock
Quote or sentiment printed on cardstock
Equestrian charms
Small pieces of vintage jewelry
Stamping pad (your choice of ink color)
Q-tips
Raffia*
* Raffia, which looks similar to straw, is a rustic alternative to ribbon.
Directions: Measure the center front of your wooden plaque. This is where your design will be placed. Cut your scrapbook paper (the background) to fit this area, and then format your design. A hallmark of decoupage is overlapped edges, so don't be afraid to squeeze items together. When you're satisfied with the layout, enhance the edges of each piece of paper. Apply ink from your stamping pad with a Q-tip. This touch of color adds some vintage charm and makes the entire project look more polished.
Next, cut strips of painter's tape and use them to protect the design area. Stain the rest of the wood using a sponge stick. Wipe away any excess with a paper towel.
After the stain dries, remove the tape. Use a new sponge stick to apply a thin, even coat of Modge Podge to the exposed surface. Press the background paper in place and apply pressure in the center with your fingertips. Continue to move your fingertips outward to remove any air bubbles. Allow this paper to dry for about 15 minutes. Then glue all of the remaining paper items in place, using Modge Podge as the adhesive. Wait another 15 minutes, and then apply a final layer of Modge Podge over the entire papered area. Give all this Modge Podge at least an hour to dry before you add the remaining decorations.
Use small dabs of E6000 to secure the heavier embellishments to the plaque. These items will need 24 hours to fully set, so lay your project on a flat surface overnight. The next day add the final adornment. Make a simple bow from multiple loops of raffia and tie it to the top of the wall hanger. This craft project is now ready to wrap.
Crafter's Tip: Craft stores offer stockpiles of gorgeous scrapbook paper, but you only need a couple of sheets from the racks of open stock. The same stores sell inexpensive wall hangers that are ready to decorate. For more pizzazz, coordinate a fancy metal hanger with a carved wooden plaque and join them together with a screwdriver. Whichever option you choose, be sure there's either a metal loop at the top of the wooden plaque (the hanger's own hanger) or a small decorative knob, otherwise you won't have a place to tie your raffia bow.