Do you have a horse-crazy kid in your life with a birthday fast approaching? We've searched the web for some of the most creative ideas to help you throw the best horse-themed birthday party your side of the Mississippi!
Horsey Invites
Get attendees in the mood for some horsey fun with an equestrian-themed invite.
This one, available from Etsy
, is a classic, feminine choice for little ladies.
This cute western-themed invitation, also on Etsy, is sure to please little cowboys and cowgirls alike.
Let's Eat!
Food is of paramount importance for any party. Here, blogger Johanna Spaulding shares some tasty ideas from the horse-themed party she threw for her daughter.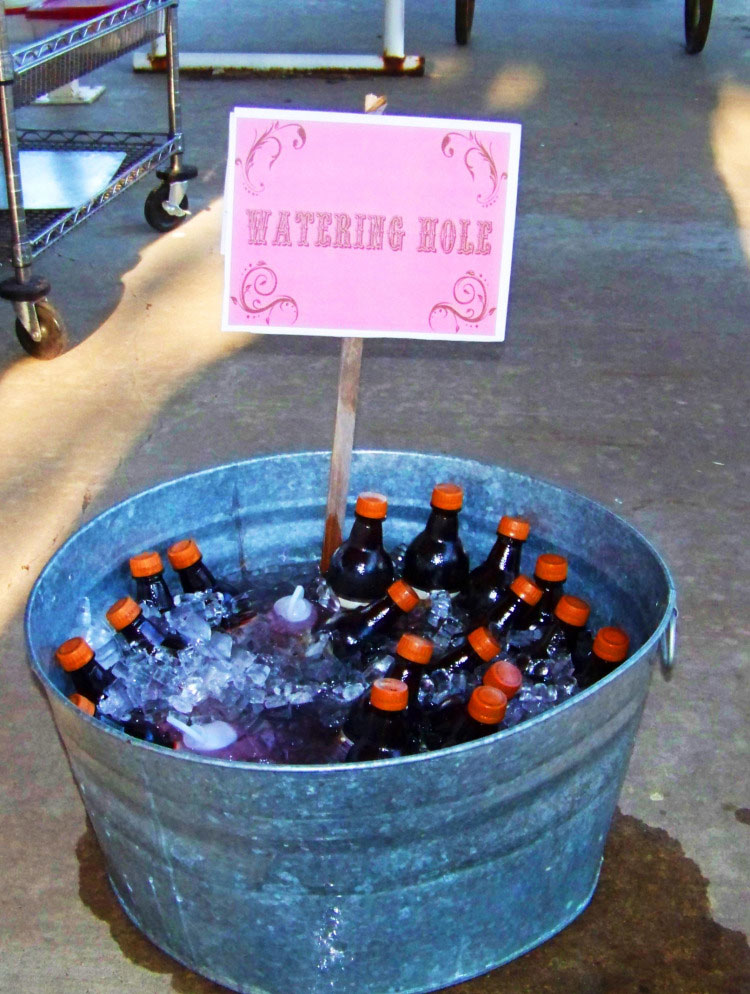 Photo courtesy
mycrazyblessedlife.com
Her "watering hole" idea-a galvanized tub filled with kid-friendly thirst quenchers-is an easy way to keep drinks cool.
Photo courtesy
mycrazyblessedlife.com
There aren't many kids who would turn down a "s'more on a stick." Making these traditional-with-a-twist treats eliminates the need for a bonfire during the party—something most of us with little ones wouldn't want to risk.
Horsey Party Decorations
One simple idea to add a little equestrian glamour to your fete is to decorate with colorful balloons stamped with gold horse-shoe designs, weighted with spray-painted horse figurines.
DIY Projects, Styling and Text created by Studio DIY on behalf of Balloon Time. Photos by Mary Costa Photography.
For western flair, get inspired by blogger See Vanessa Craft, who showcases a colorful (and wearable) cowboy hat display at her horse-themed soiree. Kids can wear the hats during the festivities and take home at the end as a party favor.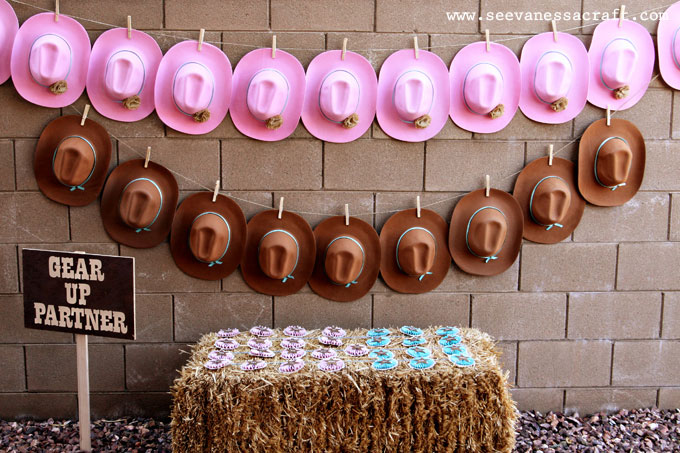 Photo courtesy
See Vanessa Craft
Game On!
If you hope to keep a crowd of active kids busy and happy, planning a few simple games is a must. Of course, there's always Pin the Tail on the Donkey, a classic party game that's not too tricky to make.
But if you're looking for a few more creative ideas, blogger Restless Risa also created a couple of cute cowboy and cowgirl games ideal for any backyard party.
Photo courtesy
Restless Risa
In Risa's version of "lasso the horse," partygoers toss ropes wrapped around hula hoops to ring the neck of a wooden horse.

Photo courtesy
Restless Risa
Risa said that Panning for Gold the biggest hit at her horse-themed party. To encourage kids to find a diamond in the rough, simply fill a plastic baby pool with sand and water and hide 'gold' coins in it. Kids can use pie tins, pans, or strainers to search for the hidden treasure. Before you know it, everyone will be panning for gold.
Horse-Themed Party Favors
If you don't want to send partygoers home empty-handed, they'll be thrilled with one of these thank you tokens.
Feeling crafty? If you know how to sew and have some spare time, these adorable DIY hobby horses will get plenty of use long after the party ends.
Photo courtesy
Bradshaw and Sons
If time is of the essence or you weren't born with the crafting gene, Breyer stick horses are available to purchase from Dover Saddlery.
If the kids haven't already reached their sugar-quotient, these affordable and adorable horse-shaped lollipops, available at EZPartyZone.com, are sure to delight little partygoers.
Last but not least, if you want to offer something a little less sugary to your crowd, these vibrant horse-shaped crayons, available on Etsy, would also be a hit with young boys and girls.
A combination of any of these ideas is sure to please little and big horse lovers alike. Next time you throw a party, why not incorporate some equine flair?
Julia Arnold is a writer living in
Minnesota with her husband and two young children. She has always loved
horses and is thrilled to have officially rejoined the horse world as an
adult. She rides whenever she can at Hardwood Creek Farm in Hugo,
Minnesota. You can follow her adventures in riding and parenting on Facebook, Twitter, Instagram, and Pinterest.