Kentucky, well known for its picturesque rolling Bluegrass and signature libation (bourbon!), is perhaps most famous for hosting one of the greatest parties of the year: the Kentucky Derby.
If you can't be a part of the Derby experience at Churchill Downs in Louisville, Ky., on the first Saturday in May, there are plenty of ways to bring the excitement of the race home with a Kentucky Derby-themed party.
The Hostess with the Mostest
While the Kentucky Derby is aptly referred to "the greatest two minutes in sports," you have plenty of time to pack in some fun before and after the race while you tune in to pre- and post-race coverage.
The key to a great Derby party is incorporating equine and Bluegrass touches to all facets of the event, including the food, décor, invitations and entertainment.
Race Day Décor
Dubbed the "Run for the Roses," the winner of the Kentucky Derby wears a blanket of roses as he stands in the winner's circle. This blanket weighs more than 40 pounds and is created from over 400 roses. While you don't need to accessorize your party with that many flowers, roses can help express your party's theme.
The mint julep is the signature cocktail of the Kentucky Derby, making julep cups a Derby-day staple. Consider placing some roses in julep cups scattered about. These cups can also be simple take-home gifts for guests at the party's end.
If you expect a big turnout, consider using horseshoes with table numbers on them to help guests easily find their seat. Model horses can add artistic flair to the tables, as well.
Derby Dress Code
Encourage your guests to get into the Derby spirit with their attire. You can specify the dress code with Derby lingo, such as "Millionaire's Row" for more formal wear, or the ultra-casual "infield attire."
Big, fabulous hats are always in style on Derby day. It can be fun to hold a friendly Derby hat competition—just let your attendees know in advance so they can plan.
Taste of the Bluegrass
Here are some traditional Southern dishes to add to your race-day party menu.
Kentucky Hot Brown: This rich dish is quintessential Southern fare. Dreamed up in 1926 at the iconic Brown Hotel in Louisville, a hot brown is an open-faced sandwich with sliced turkey breast and tomato on white bread smothered in Mornay sauce (mostly cheese and heavy cream), topped with bacon and baked until crisp and golden brown. No one ever said Southern cooking is healthy!
Burgoo: Made with beef, lamb, chicken, bacon and a slew of veggies, this recipe is worth the time it takes to prepare.
Garlic Cheese Grits: Grits made with cheese, butter, garlic and cayenne pepper. They create the perfect cheesy side dish.
Bourbon Balls: A sweet treat made from very simple ingredients (powdered sugar, butter, bourbon, pecans and chocolate). Bourbon balls can also serve as sweet parting gifts for guests.
Derby Pie: Made with eggs, walnuts, chocolate chips and of course bourbon, this pie gained its moniker from a contest, where the name was drawn out of hat.
If these dishes seem too labor intensive, consider similar spin offs, like mini hot browns or Derby pie brownies.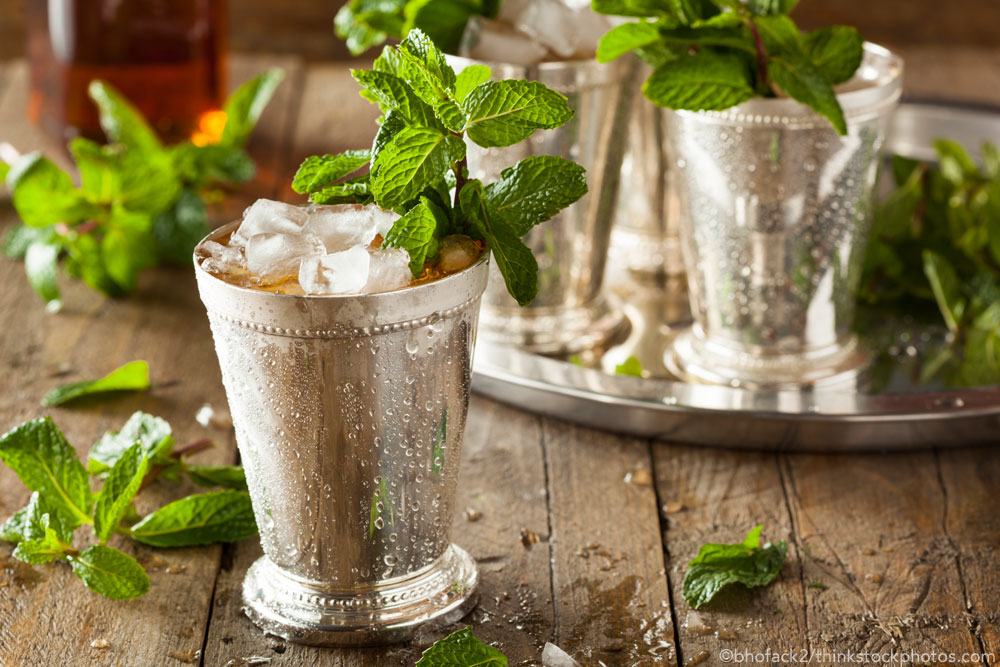 Derby Day Drinks
Mint Julep: The official drink of the Kentucky Derby. Mint juleps are made by muddling sugar and water with mint. Crushed ice is added to fill the glass, then bourbon is poured over the ice. The final touch is a sprig of mint.
Oaks Lily: Though not as widely known as the Derby, the Kentucky Oaks is the race for 3-year-old fillies that takes place the Friday before the Derby. The official drink of this headlining race is the Oaks Lily, which contains vodka, sweet and sour mix, triple sec and cranberry juice. A blanket of lilies is given to the winner, aptly dubbed the "The Lilies for the Fillies."
Keep the Games Going
Entertaining your guests before the big race doesn't have to be difficult. There are lots of equine-themed games you can play with minimal investment of time or money.
A game of horseshoes is always an easy option that little ones can join. Be sure to have a paper and pen to keep track of the winners if things get intense.
A spinoff of "Pin the Tail on the Donkey" called "Pin the Jockey on the Racehorse" can be arranged. While it takes a creative hand to embellish this game from its more-traditional counterpart, the results are worth it.
If you expect a lot of kids at your event, or if you have some bold friends, stick horse races can provide hours of entertainment.
The Main Event
The race will be broadcast live on NBC at 6:34 p.m. Eastern time (but pre-race coverage starts much earlier). It's important to ensure that all the guests can watch, which might mean adding more televisions or projecting the race onto a wall.
Add to the excitement by creating a Derby "betting pool" (with or without money), where each guest draws a horse's number out of a hat. This gets people invested in the outcome of the race and on the edge of their seats, rooting for their horse.
With a little planning, your party will be a wire-to-wire winner.
---
This article originally appeared in the May 2016 issue of Horse Illustrated magazine. Click here to subscribe!