Good news, fans of horses and children's picture books! REAL COWBOYS, written by Kate Hoefler and illustrated by Jonathan Bean (Houghton Mifflin Harcourt, 2016) has just galloped into bookstores and libraries near you.
Today, most children don't have exposure to the picturesque beauty of the prairies, the majesty of vast herds of cattle, and the indomitable spirit of the cowboy, but Hoefler and Bean manage to effectively convey this world in REAL COWBOYS. Hoefler's exquisite text ("Real cowboys are good listeners … Sometimes they just listen to the big wide world and its grass song…") weaves a poignant tale that introduces children to the lives and work of real cowboys and cowgirls; Bean's illustrations perfectly complement the text and deepen the impact of the story.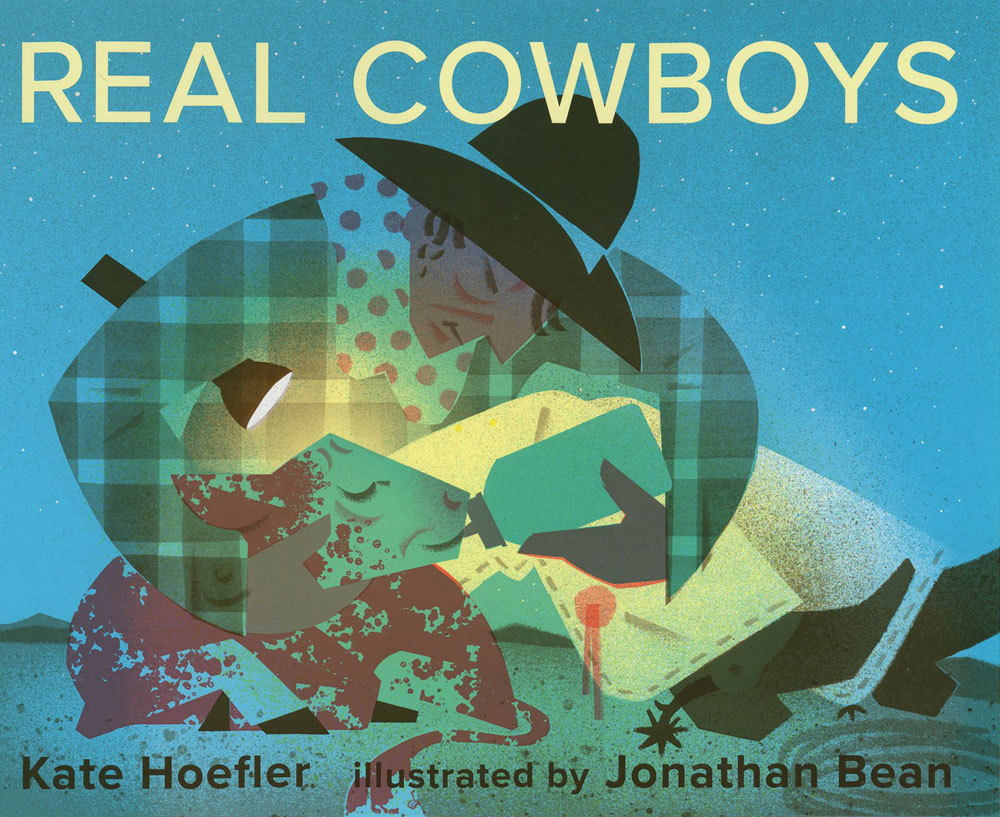 According to the book's review in Publisher's Weekly, REAL COWBOYS "may well persuade readers to trade their ninja outfits for chaps, bandanas, and 10-gallon hats." The book is a Junior Library Guild Selection and is appearing on lists of the best picture books of 2016.
Of course, any children's picture book on the subject wouldn't be complete without its fair share of horses, and I recently caught up with Jonathan Bean—two-time winner of the Boston-Globe–Horn Book Award—to discuss the illustration process for this book and, even more particularly, the horses that appear in it.
Horse Illustrated: The important relationship between cowboys and their horses is evident throughout REAL COWBOYS—can you explain some of the ways you depicted this bond in the illustrations?
Jonathan Bean: Since this book is as much about horses as it is about cowboys and cowgirls, I thought it important to start off with some close-ups of horses. I want the reader to be attached to the cowboy's horses, just as the cowboys would be. One of the ways to increase the emotional impact of something in a picture is to bring it closer to the viewer, to make it larger on the page. The illustration covering page two and three features a close-up of a cowboy and his horse. The cowboy is shaving at a watering trough while the horse sips from the same trough. I want the reader to feel close to the pair, physically and emotionally, while also showing that the cowboy wasn't thinking only about himself; the horse also gets a quiet moment, a chance to prepare for the day. On the following spread the cowboy's steed is actually a mule, but, again, we see the cowboy and mule up close in a very rugged setting, an environment where cowboys must rely on a horse, donkey, or mule to get work done.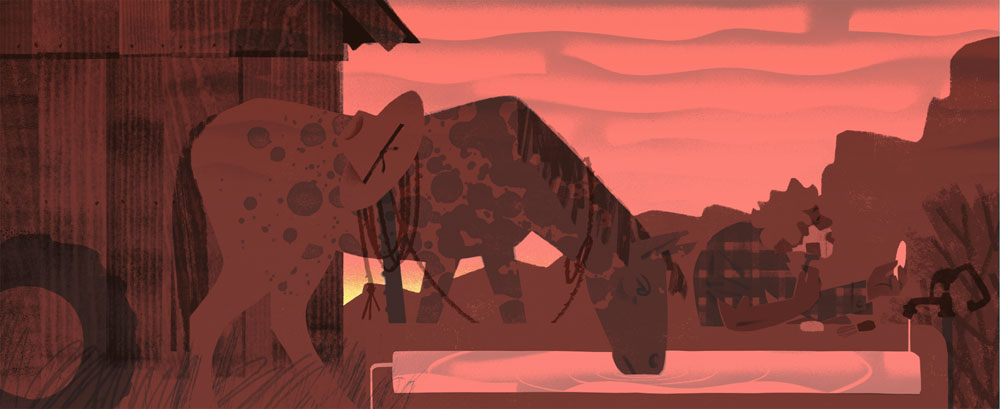 HC: Was it challenging to select and illustrate a variety of eye-catching equine coat patterns to complement the palette of the book?
JB: Creating the patterns and textures was a fun part of this project. I knew that there were going to be a lot of flat, graphic shapes and that a wide variety of texture and pattern would be important to help give objects or animals unique identities. I worked with stencils so that I didn't have to worry about making a shape's edges while I splattered and splashed ink around.
HC: What was the most enjoyable aspect of illustrating the horses in REAL COWBOYS?
JB: The manes and tails! Their tails, in particular, are a large shape that can be distorted, twisted, or stretched in the way that best suits the illustration's action or mood. As for the horses themselves, they are a real challenge to draw. For instance, I kept exaggerating the width of the shoulders and withers over and over, ending up with front legs that were too short. I'd take the sketch to my bathroom mirror to get a fresh look at it in reverse and realize that I'd done it again: the front legs were far too short!
HC: You utilized a stenciling process while illustrating this book. Could you please briefly discuss the process?
JB: I used paper, vellum, or painter's tape to make the stencils. Most of the time, I splattered, washed, rolled, or smeared black ink to make the shapes that appear in the book. I ended up with hundreds, maybe thousands, of individual horses, cows, calves, cowboys/girls, dogs, and landscapes. The best of those I scanned and assembled in Photoshop to form the illustrations.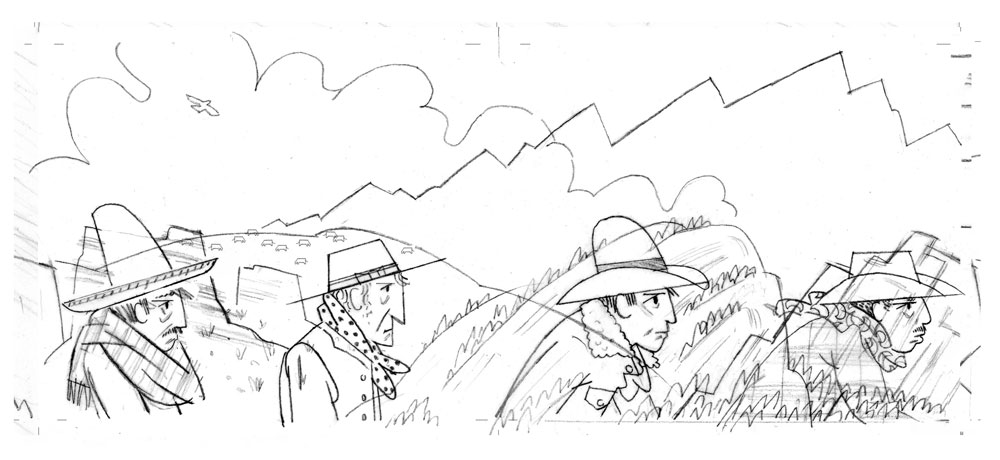 HC: Anything else you'd like to add?
JB: One of my hopes for this book is that it will capture the imagination of kids who live in rural parts of the country and are very familiar with ranching or farming. I know the author, Kate Hoefler, would be thrilled to find out that a young cowgirl somewhere identified with the combination of toughness, tenderness, and poetry that she describes as belonging to those who are at home the range.
---
If you're looking for the perfect holiday gift for a little cowboy or cowgirl on your list, ride on down to the nearest bookstore and lasso up a copy of REAL COWBOYS. (Okay, okay—you can lasso a copy for yourself, too—I did.)
(Text from REAL COWBOYS copyright © 2016 by Kate Hoefler. Illustrations from REAL COWBOYS copyright © 2016 by Jonathan Bean, reproduced with permission.)
Samantha Johnson is a freelance writer and the author of several books, including The Field Guide to Horses, (Voyageur Press, 2009). She raises Welsh Mountain Ponies in northern Wisconsin and is a certified horse show judge. Follow her on Twitter: @miraclewelsh.