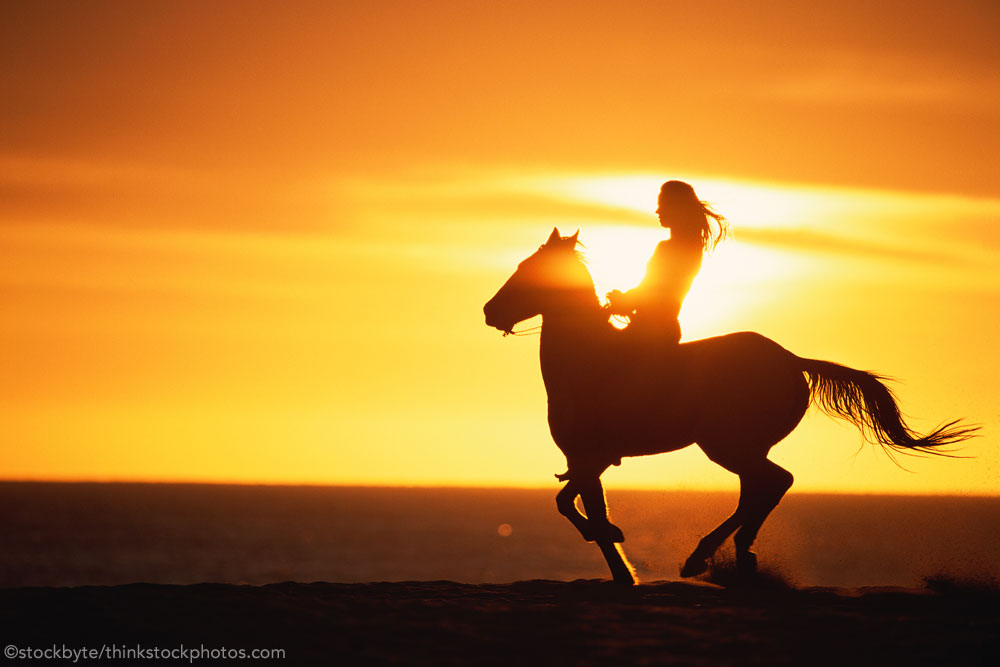 I can keep my horsey side down to a dull roar when necessary. I try not to chew uninterested laypeople's ears off about breeches, I graciously exclude my husband from tack shop trips (unless it's on the way, of course), and I only have three horse photos in my office (full disclosure: they're the only photos in my office). But when it comes to watching horse scenes in films and on television, you can forget about the suspension of my horsiness and expect a Judge My Ride meets Siskel & Ebert-style takedown of each and every actor who touches a horse on the screen. Any of the below cardinal sins is bound to draw a complaint from me:
Bad Riding
Oh, the riding. I know. It's not usually a critical element of the story. And sure, not all riding scenes are as painful as the climactic jumping class in Something to Talk About (the plopping on the horse's back, the floppy reins, the sloppy turns…), but for us horse people, these scenes are cringe-worthy. When I was young, Centerstage came out and tortured young ballerinas everywhere by marrying a storyline irresistible to pre-teens with objectively awful ballet. And as we left the theater, I remember rolling my eyes as my ballet-loving friends picked on the terrible dancers, because, of course, that's not the point of Centerstage. And that's probably how my husband felt when he asked me to repeat myself while re-watching the end of Something to Talk About for the 99th time, and I repeated, through a mouthful of food, "She chipped."
Bad Clothes
Happily for us, the equestrian world has progressed beyond thick wool coats, ill-fitting tall boots, and black velvet helmets that perch cockeyed on your head and strap the heat of the sun directly to your brain. Unfortunately, I don't think anyone's told Hollywood, because they seem to think it's a permanent ensemble. I can't fault the period pieces, but I can fault the rest of cinema, and I will.
Bad example: just what in the name of Georgina Bloomberg is going on in the pre-bridal shower scene in Bridesmaids when Kristen Wiig is being transported on what appears to be an albino mustang pony walked by someone inexplicably wearing such a helmet? Better example: Vincent Cadby in Ace Ventura: When Nature Calls.
Bad Writing
Okay, Charlotte York, if your favorite horse, Taddy, was "brown," I'm willing to bet you weren't such a serious horseperson before your Sex and the City days. And while I understand it's an easy way to convey a little extra information, on exactly no planets do horse show ring announcers/commentators say things like "Pilgrim moves with absolute confidence at the command of Miss MacLean" (The Horse Whisperer) or "…riding Silver Bells, affectionately known to most of you as Possum" (Something to Talk About).
Just as worthy of a wince is the fact that in The Horse Whisperer, we're led to believe Grace is riding Pilgrim, a chestnut with a star, in the video she watches in her room—though the horse she rides in the video is a bay. Whatever, it's still "brown," right? *Palpitations*
Not Telling Me Enough
Maybe the point of your film has nothing to do with horses, but are you honestly going to just casually drop the fact that someone has a pony or is going to a horse show and not tell me more? You're not going to share what's up with the horse poster in the main character's room (kudos to Bob's Burgers for repeatedly backing up Tina's horse-obsessed bedroom)? Are we ever going to know why Clarissa Darling has a riding helmet next to her bed on Clarissa Explains it All? I NEED ANSWERS.
No Helmets
I get it. I'm asking too much. It's a movie (and it's nearly every movie with horses, from National Velvet to The Parent Trap). But what I'm about to say is not controversial. Helmets are lifesaving devices. Are they extremely sexy? They could be, if Hollywood would update its wardrobe. But I'd rather see a cockeyed black velvet helmet than no helmet at all.
Are any of the above about to stop me from watching all of these movies and scenes, just because they feature horses? Absolutely not. Do you have pet peeves about horse movies? Tell us below! You know what misery loves.