The Rolex Kentucky Three-Day Event should be on every horse-lover's bucket list, even if you're not a die-hard eventer. The opportunity to see the only four-star event in North America in a place as accessible as Lexington, Ky., should not be missed.
Rolex not only attracts the best eventers in the world, but also some of the best shopping, demonstrations, eating and general merry-making you can imagine. And while it can be difficult to rally a non-horsey significant other to attend Rolex with you, we have just the thing to entice them to come to the Bluegrass State: tailgating.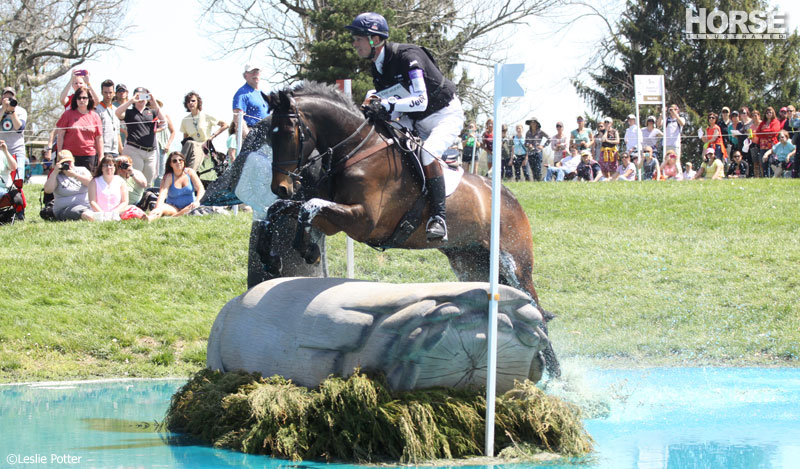 Tailgating during the cross-country phase of Rolex began in 2012 and was an immediate success. The option has become so popular that it sells out every year. This year, Sunday tailgating will also be an option. Cars will be permitted to park on the cross-country course and tailgaters can watch the show jumping from two jumbotrons on course.
Get in the Spirit
One of the most fun aspects is a competition encouraging themed tailgates. If you're traveling from out of town, this might seem like one more thing (or multiple things!) to pack, but you'll see that the majority of the tailgaters get in the spirit in some way.
As added incentive to show your creativity, the winner of the tailgating contest at Rolex each year wins a free space for the following year—so it can be worth it to haul in extra stuff in an effort to win.
Some themes can get extremely elaborate. In 2015, a pirate theme, complete with boat, won the competition. It's more important to make sure your theme is something in which everyone in your group can participate.
For example, a Wild, Wild West theme is easy to pull off, and you probably already have most of what you need—a plaid shirt and a bandana, and viola! You're ready to tailgate, theme and all.
Like Herding Cats
There tends to be a primary person who winds up in charge of the tailgate group. If this happens to be you, get organized ahead of time so you can really enjoy your Rolex experience.
About a month out, begin planning a food menu. One of the fun things about tailgating at Rolex is that, although only six general admission tickets are included with your tailgate spot, there is no limit to the number of people who can attend your tailgate. So invite all your friends who are going to Rolex!
It might seem like less hassle to have one person provide all the food, but it can get expensive. With a potluck tailgate, you can get some unusual dishes and cut costs. It can also be fun to incorporate your theme into the food and drink. Your Wild, Wild West tailgate meal might include chili, chips and salsa, and roasted corn on the cob.
As only one vehicle can get in to the tailgate spot, be sure that some tailgaters are prepared to walk to your spot—food, chairs and tents can fill a vehicle to capacity very quickly. Set a rendezvous point beforehand (like a hotel or gas station) to load the heaviest items (think cooler and grills) into the tailgate vehicle.
Helpful Hints
Once you're in your spot, you're there for the day, so come prepared. Here are some additional tips:
Never underestimate the traffic into the Kentucky Horse Park on cross-country day. Allow yourself plenty of time (45 minutes to an hour) to get through the gate and to your tailgate spot.
Bring enough food to last the entire day. Breakfast foods and snack items will be welcome, as your day starts early.
Weather in Kentucky in late April can mean scorching heat or cold, heavy rain. Be prepared by looking at the weather beforehand.
Prep meat ahead of time so you can have clean hands and a relaxing time at the tailgate. Slice veggies, cheese, et cetera, the night before.
Bring plenty of ice. Keeping cold foods cold is essential to healthy cooking.
Tailgate Checklist
Set aside a space in your house or barn to gather things until you're ready to pack them so you're not doing it all the night before. Here is a basic tailgate packing list:
Tent
Grill (gas only—no charcoal)
Propane
Spatula
Tongs
Thermometers
Serving utensils
Paper goods (napkins, paper plates, bowls, paper towels)
Plastic utensils and cups
Disposable tablecloths
Garbage bags
Resealable bags
Aluminum foil and plastic wrap
Coolers
One sharp knife and cutting board
Ice
Water
Drinks of choice
Bungee cords or tie-downs
Hand sanitizer
Bug spray
Sunscreen
Rain ponchos
Lawn chairs
Folding tables
There is nothing quite like a good tailgate with great friends while watching the best competitors in the world. Give it a try—it's a new perspective on watching a horse show.

Learn more about the Land Rover Tailgate at the Rolex Kentucky Three-Day Event at
www.rk3de.org/land-rover-tailgating.
Based in Lexington, Ky., there are few things Sarah Coleman loves more than a good tailgate, except for a good gallop on a red horse.
---
This article originally appeared in the April 2016 issue of Horse Illustrated magazine. Click here to subscribe!