If you're a fan of horses and reading, then chances are you've read one or more of the The Black Stallion books. The acclaimed series by Walter Farley has been beloved by readers since the first book was published in 1941, describing the story of how young Alec Ramsey becomes shipwrecked on an island and befriends an untamed stallion that saves his life.
A common theme in the Black Stallion books is horse racing, for as the books describe, the Black is an incredible athlete and turns out to be one of the swiftest horses to ever set foot on a racetrack. I've been a fan of The Black Stallion series for years and particularly enjoy the books that involve racing. But although The Black Stallion books generally give an accurate and detailed portrayal of the sport, there are a few elements that would be unlikely to happen in real life.
To begin, the Black—although an incredibly fast horse—likely wouldn't have been given a chance to run in Thoroughbred races due to his pedigree. This is discussed in the first book, when the Black—because of his unknown breeding—is only allowed to run in a special match race. However, this aspect of the story is dropped in later books, perhaps because proof of the Black's heritage (he's a desert stallion from Arabia) is discovered in Return of the Black Stallion. In later books, little or no mention is made of the fact that the Black is not a Thoroughbred, and he becomes the foundation stallion of Alec Ramsey's Thoroughbred breeding and racing enterprise, Hopeful Farm.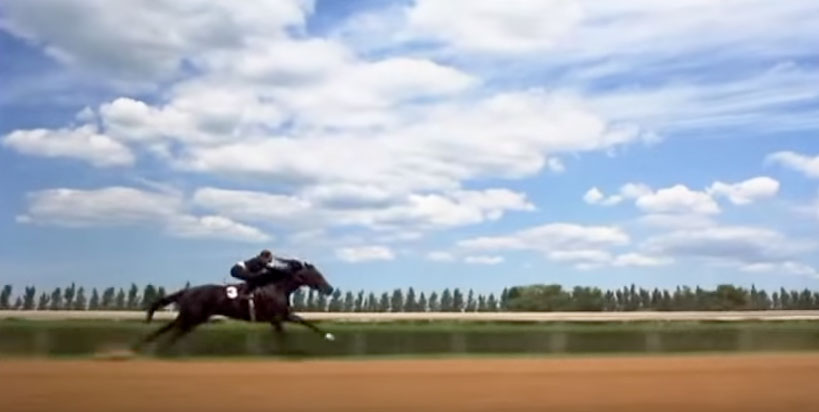 Even if you assume that special permission was given for the Black to be used as a Thoroughbred stallion when bred to Thoroughbred mares, this doesn't explain why the Black's first son—Satan—is allowed to run in Thoroughbred races despite the fact that his dam, Jôhar, is a purebred Arabian. With no Thoroughbred blood at all, Satan would have been more likely to wind up running in the less common Arabian races rather than Thoroughbred races, which would have been unfortunate, since Satan proves himself to be one of the greatest fictional racehorses in history by winning the Triple Crown and going unbeaten until his final race.
Of course, the Black's prowess as a sire of great racehorses doesn't stop with great Thoroughbreds! He also impresses as a sire of Standardbreds, with his son Bonfire winning harness racing's prestigious Hambletonian Stakes.
But pedigrees and breeding aside, the Black's most remarkable accomplishment might be his longevity as a racehorse. Studies have shown that most Thoroughbred racehorses begin to slow down after the age of seven, but this doesn't apply to the Black, perhaps because he isn't a Thoroughbred. After winning the famous match race as a three-year-old, the Black is retired to stud and doesn't run again until the Hopeful Farm broodmare barn burns down in The Black Stallion's Courage. Needing $100,000 to rebuild the barn, Alec Ramsey decides to bring the Black back to the races at the advanced age (for a racehorse) of eleven years old. Showing no signs of rust despite eight years away from the track, the Black goes on stamp his racing legacy by winning the Brooklyn Handicap (with a prize of $100,000 to the winner) while carrying 146 pounds, a tremendous assignment given that few real-life champion horses have ever carried as much as 140.
Even though some aspects of the Black Stallion books aren't 100% realistic, they don't need to be, nor should they be. Part of what makes the books so enjoyable is that they give us the stories that we want to read, even if they aren't completely realistic. It never gets old reading about the Black and his foals overcoming adversity to triumph against formidable rivals, and in cases like these, what's technically realistic must take a backseat to what is right for the story, because in the end, a good story is what we want to read.
J. Keeler Johnson is a writer, blogger, videographer, and racing enthusiast who considers Zenyatta to be his all-time favorite racehorse. He is the founder of the horse racing website TheTurfBoard.com and writes for the Bloodhorse.com blog Unlocking Winners.