More and more horse owners are interested in keeping their horses barefoot. But even horses with healthy bare feet need protection under certain circumstances. That's where hoof boots come in.
"Many horses are perfectly sound barefoot in their turnout environment, but need hoof protection in their riding environment," says barefoot farrier and clinician Pete Ramey, author of Care and Rehabilitation of the Equine Foot and co-founder of the American Hoof Association. "These horses can be booted for riding and left barefoot the rest of the time. This is arguably healthier for the horse and can save the owner money."
According to Ramey, hoof boots can protect a barefoot horse from stone bruising and excess wear, and can improve traction on various terrains. They can also improve shock absorption and energy dissipation, and can be useful in treatment of hoof injuries and disease.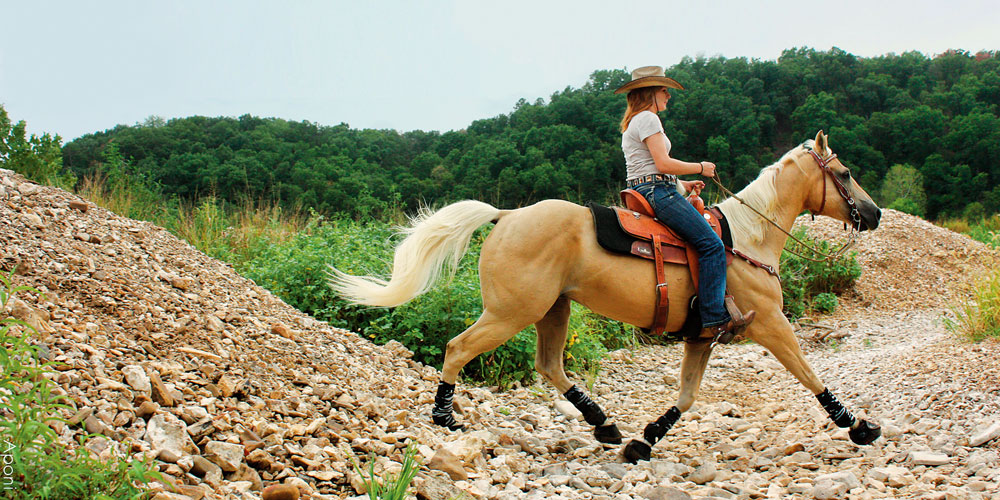 Boots vs. Shoes
When a horse's hoof needs protection, why not go to a metal shoe? According to Ramey, hoof boots and conventional metal horseshoes each have specific advantages.
"There are those who think that all horses must be barefoot, all the time, no matter what," says Ramey. "There are those who think that all horses must be metal-shod, all the time, no matter what. In my opinion, both categories of people are wrong. Personally, I have seen hooves destroyed by metal shoes and I have seen horses' lives saved by them. And I've seen both with barefoot horses as well. As with almost every debate, there is a more reasonable balance somewhere between the two extremes."
For horses with particular hoof issues, Ramey believes that hoof boots can help.
"Hoof boots with padded insoles are often the most effective shoe available for treating hoof pathologies like laminitis, caudal foot pain (i.e. navicular syndrome), and general weakness of hoof structures," he says.
Do You Need Boots?
Although properly fitted hoof boots won't harm a horse, not every barefoot horse needs to wear them. Most horses that do need boots only require them on the front feet.
"If you are riding your horse barefoot and sense any lameness, hesitation or compensative movement, you should boot or otherwise protect the hooves," says Ramey. "Additionally, if you ride on rocky or hard terrain, it may be wise to boot your horse, even if he is sound on that terrain, just for extra safety. Stone bruises can happen to even the best hooves."
Kelly Mount, a barefoot hoof care specialist based in Gavalin Hills, Calif., takes several factors into account when recommending hoof boots to a client.
In addition to the health of the hoof itself, Mount looks for signs of distress. "I'm looking at the horse's body language and overall comfort level," she says. "I observe as they stand, and then as we move them across different footing. I pay very close attention to the footfall to establish how well they use the back of their foot."
Choosing a Boot
A number of different types of hoof boots are available on the market. The one you should choose will depend on the purpose for the boot.
"Are you booting a horse because he is a pasture pet that has medical issues?" asks Kandace French, a long-distance competitive rider and member of EasyCare's Team Easyboot, in Desert Hills, Ariz. "Are you looking for a slim-line boot that is designed for long distance and many miles? Or are you transitioning a horse from metal shoes to barefoot?" She notes that the same boot is not the answer for every horse.
"There are terrific boots that help a horse transition to barefoot while giving the extra sole protection that some horses need," she says. These same boots might not be right for a horse going long distances at fast speeds.
According to French, another consideration is the shape of the hoof. Mules, for example, tend to be straight in the hoof with more heel, which can make them a more difficult fit for many boots.
Mount explains that the type of boot you choose will also be determined by fit.
"Fit is crucial, because you want to be able to apply the boot, have it stay on, not rub and be able to get it off," she says. "Sometimes it takes a little practice, but it is worth it; however, you may want to consider the ease of application when shopping for hoof boots."
The Right Fit
Fit is critically important in hoof boots. Without the right fit, the boot can cause rubs on your horse's skin, and will be less likely to stay on.
"Hoof boot companies have put a lot of research into creating boots that work, so they really want the boot to stay on and not rub your horse," says Mount. "Some horses are more challenging to fit, so communicate with the company throughout the process of fitting your horse."
Even though you take a length and width measurement of the hoof to determine the right size boot, Mount explains that heel and wall angles may affect the fit.
When fitting a boot, French notes that after a fresh trim is the perfect time to fit a boot. "This is when the hoof is smallest and more likely to be in the correct shape," she says.
"When boots are fitted correctly, they are very easy to put on, yet cannot turn or move around on the foot," says Ramey. "If boots are too loose on the foot, they tend to twist around or make noise when the horse is moving. If boots are too tight, they tend to fall off the horse and/or rub the heel bulbs."
Whether your horse needs hoof rehabilitation or just protection on challenging trails, hoof boots can be the answer. Your vet and farrier are the ultimate experts on your horse's feet and can help you select and fit the right boots for your horse.
AUDREY PAVIA is a freelance writer and the author of Horses for Dummies. She enjoys trail riding with her Spanish Mustangs, Rio and Milagro.
---
This article originally appeared in the August 2015 issue of Horse Illustrated magazine. Click here to subscribe!