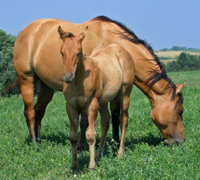 Breeding season can be a stressful time for owners and horses alike. While horse owners are hustling to prepare facilities, the broodmares may be just as tense. Especially for young and maiden mares, the stress from being trailered to new facilities1 and being separated from herd mates may lead to stomach ulcers.
"Young mares and maiden mares may have trouble with stomach ulcers. Breeders often send mares off the farm to breed, and younger mares may not be accustomed to being trailered or stalled," says Carol Rose, the American Quarter Horse Association's all-time leading breeder of performance horses and owner of Carol Rose Quarter Horses in Gainesville, Texas.
Stomach ulcers, which can develop in as little as five days, can be caused by situations as common as traveling and stall confinement.1 In fact, a recently released study found that more than 75 percent of nonpregnant broodmares were found to have stomach ulcers.2
"Because broodmares are often kept on pasture2 and don't necessarily encounter risk factors for gastric ulcers, such as training or competing,3 we don't often think of open broodmares as being at risk for stomach ulcers," says April Knudson, DVM, manager, Veterinary Services, Merial. "The reality is: Other stressors may play a role in the development of stomach ulcers. Trailering and stall confinement at an unfamiliar facility1 could cause stomach ulcers, potentially leading to poor body condition, poor hair coat or even a change in attitude."4
Limited grazing opportunities coupled with the stress of being stalled longer during preparation and transport1 means acid can build up in the horse's stomach and lead to gastric ulcers.
"I sent a mare off the farm last year," Rose says. "She's a very nervous mare and doesn't like to be stalled, but the place we sent her could only put her in a stall. They were able to put her in an area where she could see other horses, but I put her on a stomach ulcer preventive anyway because I knew the situation was stressful for her."
Dr. Knudson says management changes, such as decreasing feed concentrate and providing plenty of alfalfa-based roughage, can create a buffer in the horse's stomach and help prevent stomach ulcers.5 However, a good way to help prevent stomach ulcers is with the use of a preventive product, Dr. Knudson adds.
"Mares that will be traveling to an unfamiliar facility or may be in a stall longer than normal may benefit from the use of an omeprazole. Healthy, open mares without stomach ulcers will get a breeding program off to a great start," Dr. Knudson says. "Horse owners should always look for products that are approved by the FDA and formulated to remain effective, even while being digested by the horse. If horse owners are concerned about stomach ulcers after breeding their horses, they should talk to their veterinarian."
Read more about proper nutrition for broodmares.