Much has been made about all the extras and the precise care the barefoot horse needs. Some of this advice is valid, but some of it should be carefully considered. Here's what the experts have to say:
Hoof Boots:
"I have had clients who use them in variable terrain with good results," says Lisa Simons Lancaster, a DVM and farrier. "But it is not as simple as it seems. It is often a challenge to make the boots fit well, and some can be difficult to get on and off. For light riding, many of the boot options may be OK. For more demanding activities requiring speed and agility, the boots may interfere with movement, cause rubbing, or create pressure sores in hoof regions where the boots must be fastened tightly against the foot to keep them in place." 
Read more about using hoof boots >>
Hoof Hardening Products:
"For an otherwise healthy hoof that has a thin or tender sole, application of a hardener—occasionally—should be safe," Dr. Lancaster says. "If the feet are cracked or have stretched white lines, owners should be cautious because some of these (particularly if they contain formalin or mercury compounds) could damage sensitive tissue. Research has shown that weak horn is more permeable than normal horn."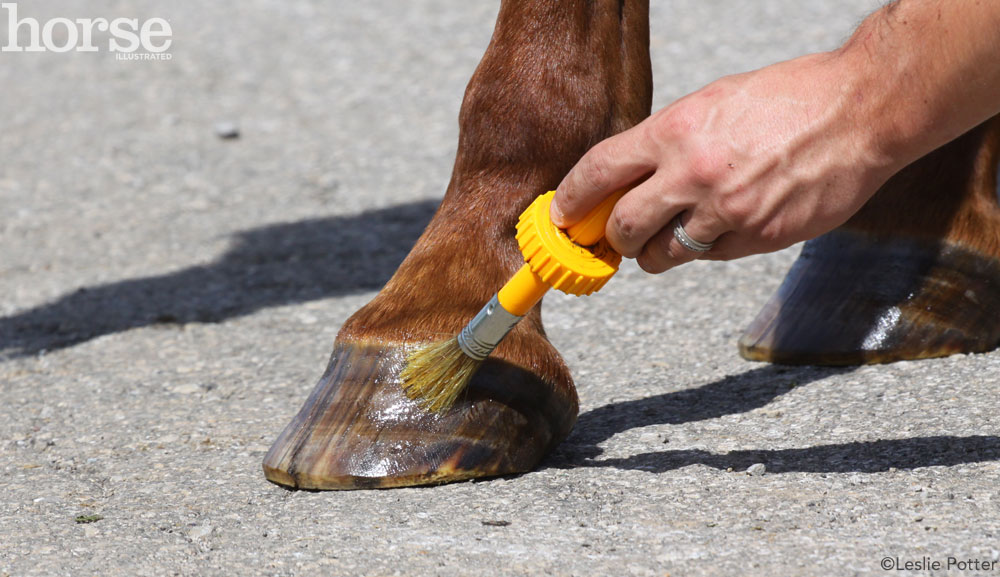 Living Environment:
Generally speaking, horses' hooves will mirror the environment that they live in. "I don't have any clients that keep horses in stalls all of the time," Dr. Lancaster says. "Many of the horses I work on live in stalls half of the time, getting turned out either all day or all night. This gives the feet a chance to be on variable terrain, and most of the horses are able to work barefoot on different terrain. I suppose for a show horse that lives inside all day except for an hour or so of riding might still be OK barefoot if the work is in an arena with soft, even footing."
Hoof Angles:
Dr. Lancaster says the angles on most healthy front feet tend to fall between 50 and 55 degrees, with the hind feet being approximately 2 degrees steeper. "But horses have differences in conformation that dictate angle differences," she says. "There are also performance requirements that influence angles. As with any statistical range, there are normal horses that fall outside of this range." 
Certified farrier Walt Taylor, of Albuquerque, N.M., also cautions against getting hung up on hoof angles. "As long as the hoof-pastern axis is right, it doesn't matter what the numbers are," he says. "Problems with tying to a number are myriad, not the least of which is the owner who wants to extrapolate that number to every horse." 
"No scientific study supports or refutes any particular method of hoof care," Dr. Lancaster concludes. "Farriers and veterinarians should be familiar with the range of options and be able to present these to the client so that decisions are made with true informed consent. Owners must be willing to revise treatment plans if the horse does not appear to respond well."
Back to The Barefoot Life.