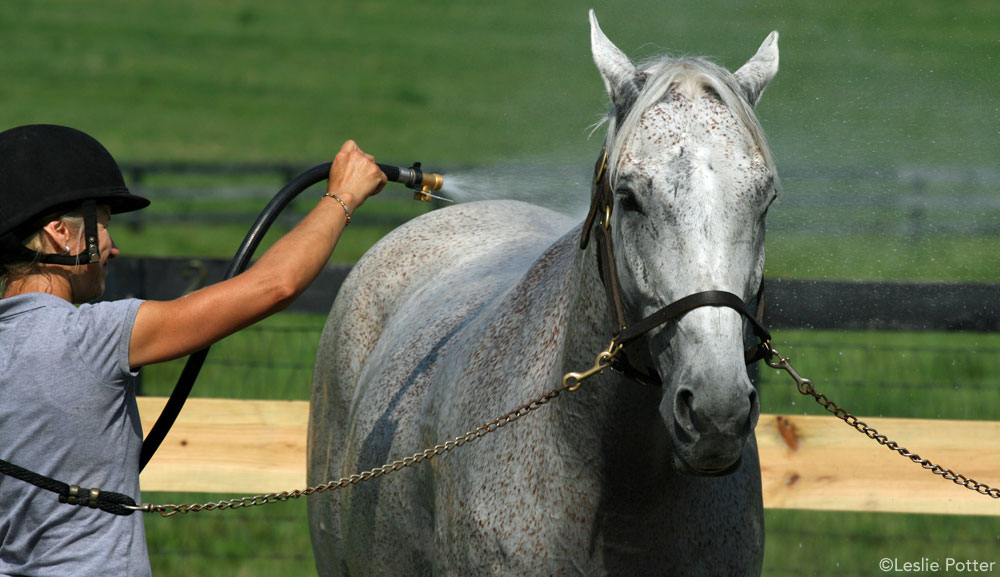 It's amazing that horses agree to our strange requests—and this includes wearing a flashing Rudolph nose and reindeer ears at Christmas. But every now and then horses draw the line at some sort of human behavior. Baths often fit into this no-go area. While most horses could care less about a shower, others fight it tooth and hoof. If your horse is one of these, he may have started to dread bathing due to bad experiences in the past—a slip and fall in the wash rack or maybe an unenlightened individual sprayed him straight in the face. Or he's just one of those sensitive souls. Whatever his issue, here are some tips to help make bath time a more pleasant experience—for you and your horse.
Attention to Safety
Concrete wash racks must be non-skid to avoid falls. If your concrete isn't texturized, put down strong, texturized rubber matting or lining.
Have a friend hold your horse, or wrap the lead rope loosely around the wash rack railing. If your rack has cross-ties, make sure they are fitted with panic snaps (panic snaps should ideally be at the pole, not the halter end of the tie). If your horse should pull back, you want to be able to release him as quickly as possible.
Watch your hose. Never let your hose get under your horse's feet, particularly the nozzle. If he steps on the nozzle and it breaks, a gush of water could suddenly spray up and startle him. If your horse is afraid of the hose, then it's important to be extra diligent in keeping it off the ground and away from his legs. Overcoming a severe hose fear may require a lot of short sessions, with a great deal of praise and treats. Re-introduce the hose to your horse slowly. If the washrack causes added fear, pick a grassy area. Try spraying his front legs lightly at first, moving up and back as the horse's comfort level increases.
Attention to Comfort
Outfit your hose with an adjustable plant sprayer. Look for one that has several adjustments, including one for misting.
Start hosing at your horse's legs to allow him to get used to the temperature slowly, like stepping into a pool.
Avoid spraying your horse directly in the face. Turn your nozzle to mist, start at his cheek and very slowly play the hose down along his face. Use a damp sponge to clean his ears and poll.
Purchase a heating coil. You can heat a bucket of water and use it for your rinse water. The warm water will help relax your horse and make for a more pleasant experience.
Be ready with an anti-sweat sheet or cooler to keep your horse warm and free of drafts.
Reward your horse with treats during and after the bath. If you make the time a pleasant experience he'll begin to look forward to bath time.
Attention to Time
Don't wait until a day before the competition to teach your horse about baths. Give him a short wash every day (no longer than five minutes); it doesn't have to be the works, you can wash his legs or tail. You can increase the time as he gets comfortable.
Read on for
more grooming tips
.
Sharon Biggs is a freelance writer based in England.