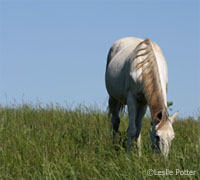 Kentucky Bluegrass
Kentucky bluegrass is a cool-season grass (Poa pratensis) that grows best in spring and fall, and resists trampling and close grazing quite well. It is found in lawns and horse pastures across the nation due to its ability to grow in most soils and to withstand cold.
Back to
Horse Health Glossary
Back to Equine Nutrition A to Z
---
This article originally appeared in the 2010 issue of Horses USA. Click here to purchase a copy.