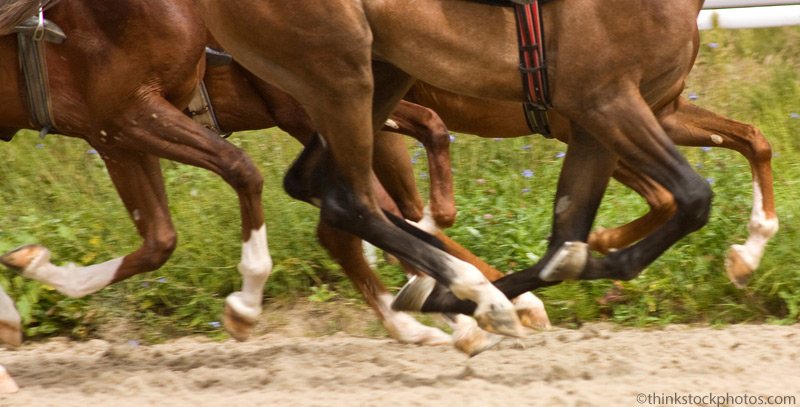 Gels, clays, lotions, oils, muds and more—package labels on liniments and poultices tell you these products provide "cooling heat," "warmth," "a cool, soothing sensation," "relief for sore muscles and overworked tendons." But do they really benefit an achy horse and warrant space in your ever-crowded tack trunk?
For Therapeutic Purposes
Liniments are designed to provide temporary relief for minor aches and pains often associated with arthritis and overworked muscles. Active ingredients typically generate heating or cooling effects (think Ben-Gay for horses). Poultices usually provide temporary "cold" therapy for inflamed tissues and are commonly clay-based.
Both cold and hot therapies have their place in veterinary medicine. "Through time, a lot of veterinarians and horsemen out there have gone back and forth between hot and cold, trying to get the best out of each," says Dr. Earl Gaughan, DVM, Diplomate ACVS, associate professor of equine surgery at Auburn University's College of Veterinary Medicine. "I can't argue with this, as sometimes a horse benefits from a little bit of both."
Cool It Down
When it comes to injury, a good rule of thumb is: cold treatment for fresh trauma and as a preventive therapy after heavy work; heat treatment for arthritis and older, "set" injuries that are cold to the touch. "Cold therapy is great in the early acute phases after injury," says Dr. Gaughan. "Cold minimizes inflammatory response to the injury, and it's a pain reliever—an analgesic." Dr. Gaughan says that by reducing initial inflammation, the risk of further injury from excessive swelling is minimized.
Cold therapy is also common practice for many trainers and competitors who want to ensure their performance horses stay in peak condition. Craig Schmersal, top-level National Reining Horse Association competitor and part of the gold-medal winning reining team at the 2002 World Equestrian Games in Jerez, Spain, says part of the daily routine for horses in training at his ranch in Menifee, Calif., is to ice their lower legs after a workout. "It's part of the regular daily routine for every horse that is exercised beyond a light workout." Craig says the cold therapy helps prevent inflammation after a tough day of training.
While ice is always the preferred cold therapy, poultices are a "second-aid" option to cool things down. Gooey and messy, poultices are typically made of clays—kaolin (white clay) and bentonite (clay from volcanic ash) are common—and glycerin, and are frequently used as cold therapy on the lower legs (tendons, ligaments, joints) and hooves (traumatic injury, bruises, abscesses) to reduce swelling and aid healing.
Craig says that at the 2002 World Equestrian Games, his mount Tidal Wave Jack was poulticed after each day's competition and remained wrapped overnight. "Our team veterinarian took good care of the horses, poulticing them every night. It's a great way to bring down minor swelling," and as long as the poultice is not medicated with any banned substances "it's legal at competitions," he says.
But not everyone is slathering poultice on their horses' legs these days. "Some of the cooling topical agents on the market are advertised as pain relievers—I think that they get minimal results," Dr. Gaughan says. He explains that while a poultice may go on "cool," wraps naturally warm the legs.
To counteract the "heat-up" caused by wraps, some manufacturers recommend applying water-moistened butcher's paper (a clean lunch sack will work too) over a thick application of poultice, followed by a cotton bandage wrap. The wet paper helps keep the poultice moist and cool.
Some poultices are marketed as hot or cold therapies; these products can cause heating or cooling effects depending on active ingredients and how you wrap. For example, some products can be used in "sweat wraps," which are used to generate heat.
Some Like It Hot
Antiseptic, analgesic or something in between, all topical liniments are not created equal. Generally speaking, a liniment is a liquid or semi-liquid preparation that is applied to the skin to provide pain relief. Many liniments are marketed as "topical antiseptics," meaning they are generally safe to use on superficial scrapes and cuts to help prevent infection. Some antiseptic liniments are also designed to provide temporary relief for muscular soreness, stiffness or swelling caused by overwork or exertion. Some are even purported to benefit arthritic equines by relieving pain and swelling in the joints.
If a liniment is being advertised as a topical analgesic, however, more than likely it's not to be used on open cuts or wounds, no matter how superficial. Topical analgesic liniments contain pain-relieving ingredients that induce certain neural and vascular reactions—heat or cooling effects—when applied. Many are great for sore muscles and arthritic joints but can really sting on an open wound. Menthol, eucalyptus, capsaicin (made from chili peppers), camphor, mint oils and others are common ingredients found in topical analgesic liniments.These products are often used to help "warm up" a horse before a workout and are frequently used after exercise to relieve sore muscles, especially the large muscles on the back, shoulders and loin. Warmth also helps arthritic joints. "If an arthritic horse can warm up physically or with something topical, that's thought to help," says Dr. Gaughan.
Liniments can also be used as body braces—think aftershave products and other alcohol- or witch hazel-based skin braces for humans that contain active ingredients like menthol and mint oils. After a warm-water rinse or application of warm towels over the large-muscle areas, the horse is towel dried and then given a liniment "rub down" to help loosen tight, overworked muscles. Craig Schmersal says part of the daily routine for horses on his ranch is a liniment body brace after exercise to help relieve fatigued muscles. While some trainers use home remedies, Craig says, "We use liniments available at any tack store." Braces can be diluted or used full strength, depending on manufacturer directions. Always read product labels: Some manufacturers warn against liniment application under saddle areas before riding, which can lead to skin irritation and scurfing.
Liniments are also used for "setting up" horses that experience minor stiffness after a heavy workout. Setting up involves applying an analgesic liniment on all four legs and then lightly wrapping after a hard day's workout.
If it's sweat you're after, consider cellophane. Sweat wraps are designed to reduce fluid build-up in the lower legs and are accomplished by applying a liniment, followed by a cellophane wrap, then a cotton bandage. Sweat wraps trap heat so they aren't part of first-aid for "fresh" injuries. "If you're consulting with your vet on an old injury, and you know what you're dealing with, then a sweat wrap is a consideration," says Dr. Gaughan. Besides traditional liniments, substances that are commonly used to "sweat it out" include, DMSO, nitrofurazone ointment, petroleum jelly, glycerin or glycerol and mineral oil.
Whether setting up or sweating it out, read product labels. To avoid skin irritation and scurfing, some liniments are recommended only when using porous wraps.
If all you need to do is heat things up, however, a liniment may not be what the doctor orders. "If you took a horse that just had stocked up legs and put appropriately applied cotton standing wraps on him, you'd probably push the fluid out," Dr Gaughan says. Like any health care issue, Dr. Gaughan advises that it's always a good idea to call in the vet. "If a horse is frustratingly stocked up and swollen, you need a veterinarian to look at him to determine if there's a cause to be concerned about."
---
This article originally appeared in the March 2004 issue of Horse Illustrated. Click here to subscribe.