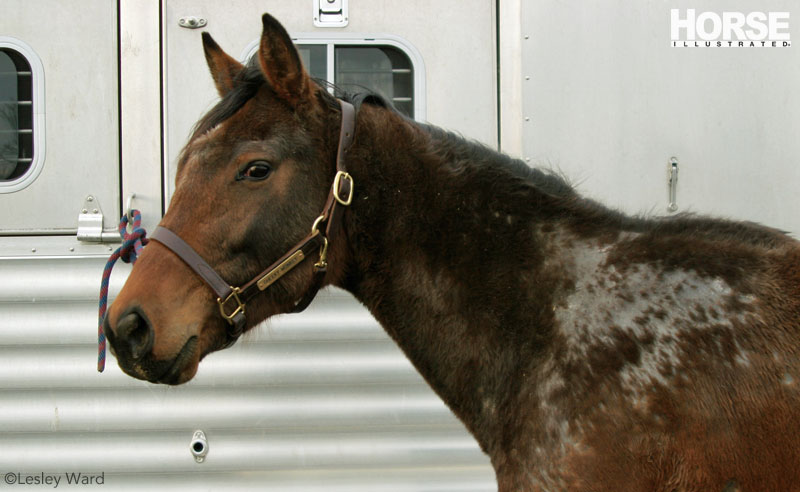 Q: My new horse lives in a field with a shelter but prefers to stay out in the rain. Big clumps of hair are falling out along his back due to rain rot. What do you recommend to treat this?
A:
Rain rot is the result of a bacterium called Dermatophilus congolensis. It is present on the coat and in the environment all the time, but when excessive humidity, rain or other factors compromise the horse's skin, infective spores of the bacteria penetrate the epidermis and start to spread. Rain rot has an appearance ranging from a peppering of raised crusts (called "paintbrush lesions") to solid sheets of scabbing. These lesions occur anywhere moisture wets the skin, particularly on the back, rump, neck and lower legs.
It's important to treat rain rot in order to help it resolve quickly, as it can be quite painful. If it interferes with the saddle, your horse may need time off from riding until it heals. The sooner the scabs are removed, the sooner the skin can air out and recover. To help the process along, soak the area with an antibacterial scrub, such as diluted chlorhexidine or iodine. Allow the scabs to soften for a few minutes before gently removing them. This is usually painful, so take your time. Continue to treat the area with the antibacterial scrub daily for one week to protect it from further infection while the skin heals. Severe cases may require antibiotic injections from your vet.
Keep rain rot from coming back by regularly cleaning your saddle pads, blankets and brushes. Grooming your horse frequently and keeping him out of the rain will help. If you must blanket him, make sure his coat is clean and that he's unlikely to sweat under the blanket. A waterproof, breathable rain sheet is your best bet if he likes to stand out in the rain and you can't keep him in a stall during inclement weather.
---
This article originally appeared in the February 2014 issue of Horse Illustrated. Click here to subscribe!