Spring is upon us, and it's time for your veterinarian to check in on your horse. An annual vet visit is important if you want to keep your horse happy and healthy during the coming year.
Vaccinations
The most valuable information your vet can provide you is advice on the vaccines your horse needs to ward off illness. The shots your horse should get depend on what you do with your horse and where you live, according to Cynthia G. MacKenzie, DVM, sr. equine technical services veterinarian with Merck Animal Health.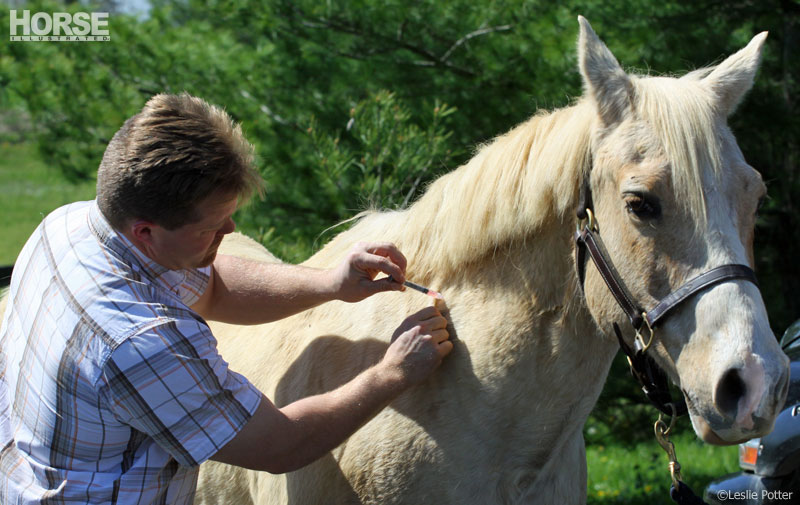 "I use a simple formulation that begins with the core vaccines and adds in other vaccines, depending on that particular horse's risk," she says. "All horses regardless of where they live and what they do should receive the core vaccines."
The American Association of Equine Practitioners (www.aaep.org) defines core vaccines as those "that protect from diseases that are endemic to a region, those with potential public health significance, required by law, virulent/highly infectious, and/or those posing a risk of severe disease." These include Eastern equine encephalomyelitis (EEE), western equine encephalomyelitis (WEE), rabies, tetanus and West Nile Virus (WNV).
"The springtime, prior to the mosquito season, is an ideal time to vaccinate for EEE, WEE and WNV so that horses develop proper protective immunity before these viruses are circulating in a heavy mosquito population," says MacKenzie. "In addition, tetanus is usually contained in many of the vaccine combinations that contain the EEE, WEE and WNV. So, the annual tetanus booster can easily be given during the springtime inoculations."
MacKenzie adds that since the risk of contracting rabies is not associated with mosquito season and usually represents a constant threat, this vaccine can be given anytime during the year as a yearly booster.
Additional vaccines that are usually given in the spring are equine influenza and equine herpes virus 1 & 4.
"Your veterinarian can help you determine your horse's risk for these diseases based on what your horse does for a living–performance horse, trail horse, backyard horse, etc.–or what your horse may do in the future," says MacKenzie. "Other diseases represent a regional risk, and your veterinarian can help you decide which of these you may want to administer as an annual booster in the spring."
Biosecurity
Your horse's annual vet visit is also a good time to talk to your vet about health management for the coming year. This includes protecting your horse from illness with good biosecurity.
"Horse owners should inquire with their veterinarian about good biosecurity practices both at home and on the road," says MacKenzie. "These simple principles can go a long way to helping keep your horse healthy."
MacKenzie notes the U.S. Department of Agriculture has a pamphlet on biosecurity that is helpful as an introduction to good biosecurity practices. The University of Guelph also offers a free online biosecurity risk calculator, which helps you figure out your horse's risks of contracting an infectious disease, and how to decreases the chances.
Lastly, staying informed about recent infectious disease outbreaks in your area can make a big difference to your horse's health.
"The best source of this information comes directly from your veterinarian," says MacKenzie. "While maintaining a good vaccine protocol, good management, good biosecurity practices and staying informed are big pieces in this puzzle, the most important piece is the relationship that you and your horse have with your veterinarian. This piece ensures that all the others stay intact."