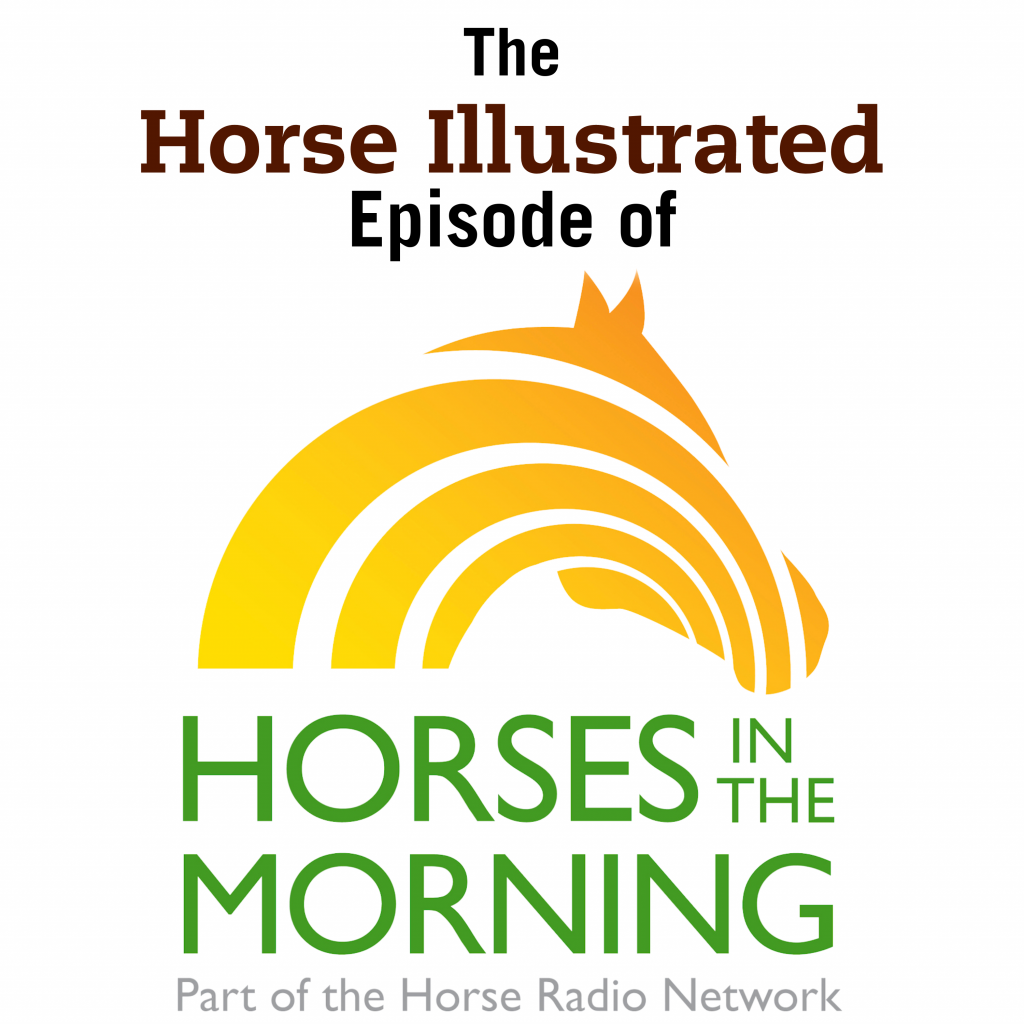 It's the perfect partnership as two longstanding brands and experts in their field have now partnered together to bring even more content to fans of each brand. Horse Illustrated magazine and the Horse Radio Network have collaborated to create the Horse Illustrated Episode of Horses in the Morning, which will air on the Horse Radio Network on the fourth Tuesday of every month and be hosted by Horse Radio Network's founder Glenn the Geek and Sarah Evers Conrad, Digital Content Editor for Horse Illustrated. The first episode airs on May 25 through the podcast player of your choice, including Apple Podcasts, Google Podcasts, Stitcher and Spotify.
As an extension of the Horse Illustrated brand,
The Horse Illustrated Episode of Horses in the Morning
podcast brings listeners a variety of entertaining and informative interviews with horse industry experts on a range of topics. Each episode features three guests who have been expertly selected by editors at
Horse Illustrated
to fit along with the brand's mission to provide content to those who are passionate about horses. In addition, listeners can expect the entertaining banter between hosts that they have come to know and love from the
Horses in the Morning
show.
Segments will include:
Horsin' Around—Horse associations, disciplines, activities in the horse industry, careers, horse welfare issues, industry issues, and volunteering opportunities.
Shiny, Happy Horses—Grooming, nutrition, deworming, vaccinations, hoof care, dental care, alternative care options, horse illnesses, injuries and wound care, lameness, and senior and young horse care.
Horsemanship How-Tos—Horse behavior and nature, natural horsemanship, groundwork, English and western riding tips, trending disciplines, trail riding and recreational riding, and youth and collegiate programs.
Notable Equestrians—Stories of horse people doing amazing or unusual things.
At the Barn—Buying or selling a horse, pest control, barns, stalls, arenas, trailers and trailering, safety, emergency management, tack and equipment, and rider gear.
Equi-Style—Interviews with authors, artists, musicians, people involved with horse TV shows and movies, podcasters, and experts involved with travel and horse destinations, rider fitness, adult amateur topics, fashion, and barn and home décor.
Glenn the Geek is the founder of the Horse Radio Network. The Horse Radio Network features a variety of independent podcast shows as part of their network and eight sponsored shows per month on the Tuesday and Thursday episodes of their flagship weekday show. Since its founding in 2008, the Horse Radio Network has now grown to numerous shows with tens of thousands of listeners from around the world. Glenn hosts several of the shows on the network, including Horses in the Morning. He is a believer that entertainment comes first and education second, and he transfers that belief to the shows he hosts on the network.
Sarah Evers Conrad is the Digital Content Editor for Horse Illustrated and Young Rider magazines. Sarah has been an equestrian journalist for more than 20 years and has written for numerous publications as a staff member and freelancer. She loves educating horse enthusiasts and sharing stories of all of the amazing people in the horse industry.
Catch all of the upcoming podcasts from the Horse Illustrated brand and news from the show at www.horseillustrated.com/podcast. In addition, you can subscribe for news and updates at the same link. Sponsorship opportunities are available; interested parties can contact Rima Dorsey at rdorsey@egmediamags.com.