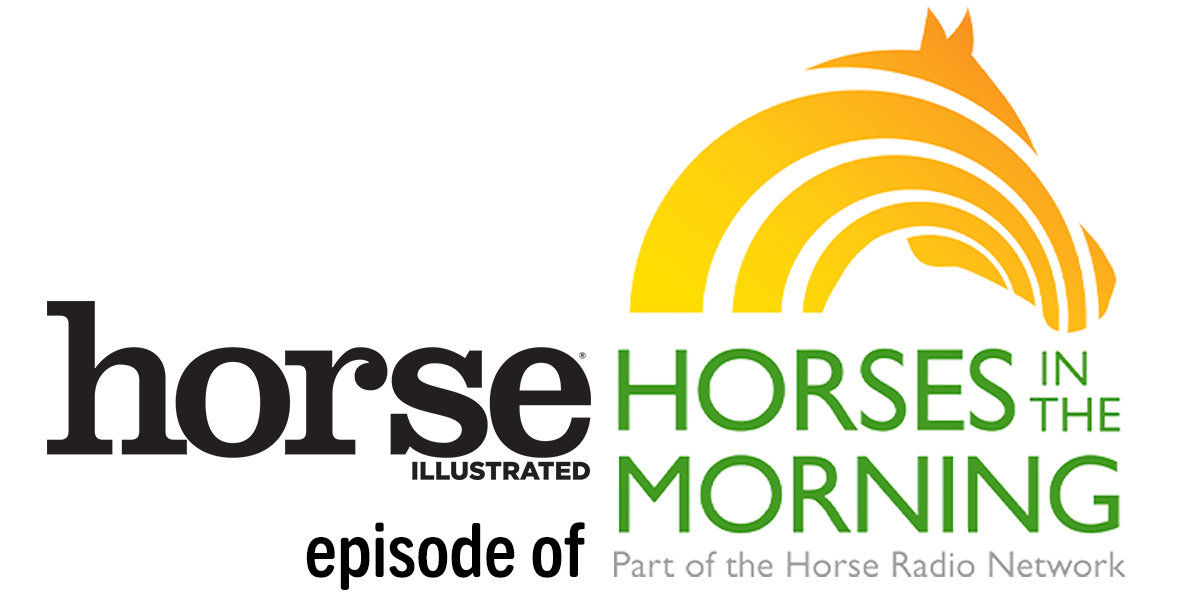 In podcast episode 15 of
The Horse Illustrated Episode of Horses in the Morning
, sponsored by
Straight Arrow Products
, hosts Glenn the Geek and Holly Caccamise chat with two guests who have stories sure to inspire you.
Listen now to meet Morgane Schmidt, an equestrian author and cartoonist, and Jessi Machnik, a para-equestrian with an inspiring story. Plus, hear from Kylie McGarity, Equine Training and Behavior Specialist at the ASPCA Equine Transition & Adoption Center in El Reno, Oklahoma, about the adoptable horse of the month, Lucky.
Hosts: Holly Caccamise, Editor in Chief of Horse Illustrated & Young Rider and Glenn the Geek, host of Horses in the Morning.
Title Sponsor: Straight Arrow Family of Brands
Premier Sponsor: HandsOn Gloves, Exhibitor's Products, Mane 'n Tail Pro-Tect Antimicrobial Medicated Shampoo and Wound Spray
There's an App for that!  Check out the new Horse Radio Network app for iPhone and Android. Follow Horse Radio Network on Twitter or follow Horses In The Morning on Facebook.
Morgane Schmidt, Equestrian Author & Cartoonist
Morgane Schmidt is, among many things, an equestrian who still hasn't quite decided what she wants to be when she grows up. Author of Life with Horses Is Never Orderly, she knows all about the madness that comes with the equine territory, having owned and competed horses in eventing and dressage for years.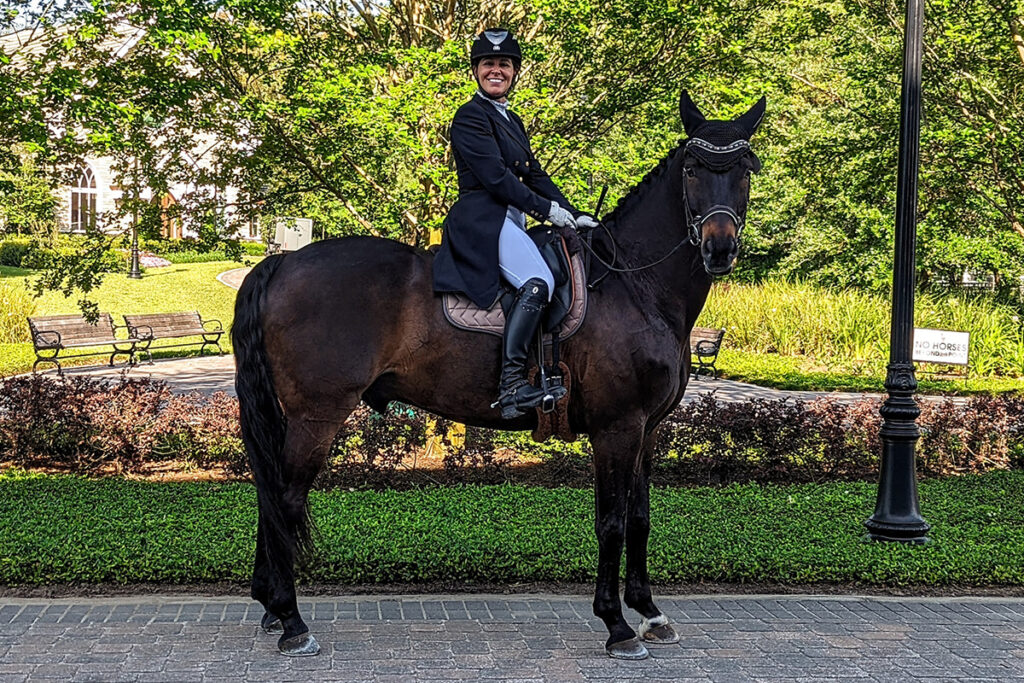 A lifelong fan of the classic equestrian cartoons penned by internationally renowned artist Norman Thelwell, she began her own comic series The Idea of Order in 2011, sharing deftly funny reflections on life with horses on Horse Nation as well as her personal website.
A native Floridian, she spent a decade in Reno, Nevada, where she was able to confirm her suspicion that snow is utterly worthless (she has since regained her sense and moved back to the Florida swamp). Though she has run the gamut of equestrian disciplines, her favorite is dressage. She has completed her USDF bronze and silver medals and is currently working on her gold.
Generally speaking, her life is largely ruled by Woody, a 14.2 hand beastly quarter horse, Willie, a now beastly 11-year-old Dutch gelding, and Milona DG, a 5 year old KWPN chestnut mare (you can make your own inferences there…).
Learn more about The Idea of Order.
Jessi Machnik, Para-Equestrian
Jessi Machnik was seriously injured in a hit-and-run car accident in 2017. Due to resulting complications, she had her leg amputated in 2018. Within 6 weeks of the amputation, she was back on a horse.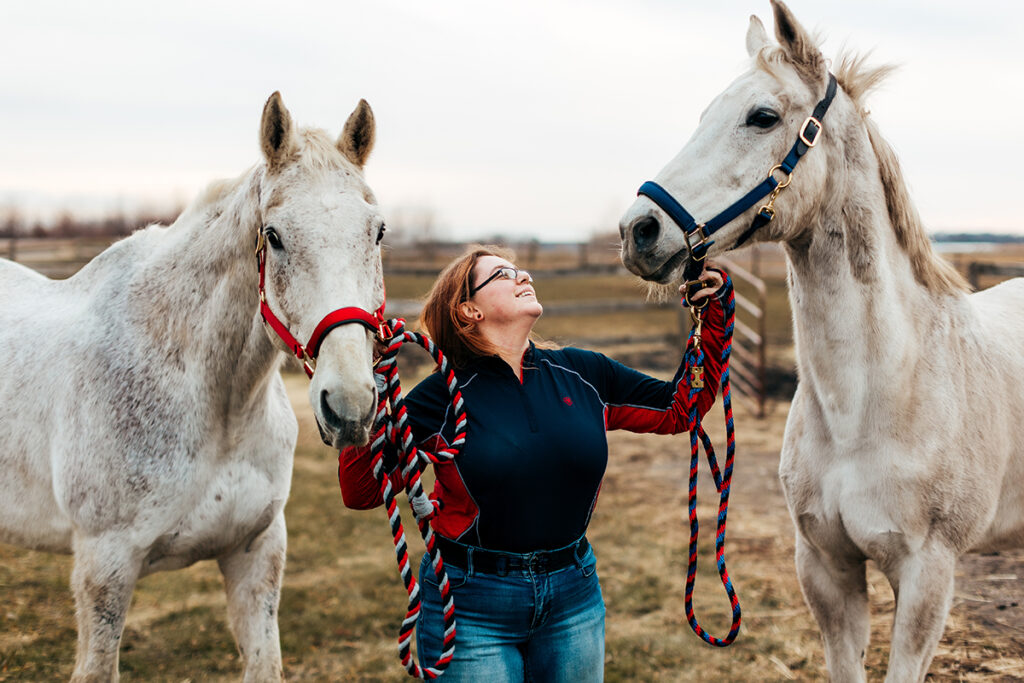 Video chatting with her heart horse helped pull her through some of the toughest times in her physical rehab. In 2020, she began showing again on her mom's pinto warmblood. Now she has a new Thoroughbred in her life who is helping her reach her goal of showing over fences again.
Read an article about Jessi that was featured in the June 2022 issue of Horse Illustrated.
Featured Adoptable Horse
Meet Lucky, The ASPCA's Right Horse adoptable horse of the month. Lucky's adoption is currently pending, but you can meet other candidates who might be your #RightHorse at MyRightHorse.org.
Learn more about Lucky.
Website: ASPCA
Instagram: @TheRightHorse
Facebook: facebook.com/TheRightHorse
Title Sponsor

We want to thank our Title Sponsor, the Straight Arrow Family of Brands, makers of Mane 'n Tail, Cowboy Magic & Exhibitor's, with over 100 years of grooming excellence. For more information about your favorite products, please visit www.straightarrowinc.com and find Straight Arrow Products at a tack shop near you!