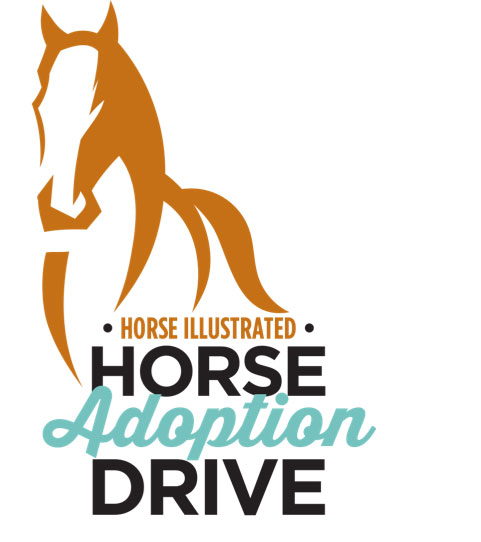 When horses are no longer able to carry people, they need people to carry them. That's the message behind Days End Farm Horse Rescue's heart wrenching Letters from H video and campaign through an adoption drive for companion horses.
Companion horses are typically—but not always—older and may have injuries or past training issues that prevent them from being riding or driving horses. But that doesn't mean they can only be pets or pasture ornaments. They can provide companionship for foals or high-strung horses, or for other retirees. Some can still do groundwork and in some cases may even be suitable for some types of equine-assisted therapy.
Watch the video above, and if you're moved to consider adding a non-ridden horse to your herd, take a look at some of the companion horses in need of homes through our adoption drive below, or head over to MyRightHorse.org to find even more adoptable equines across the country. H is #WaitingForYou.
Hoedown and Junebug
Located at Days End Farm Horse Rescue in Woodbine, Maryland
Shetland Pony gelding and mare
24 and 22 years old
Black and palomino, 10 hands
Our first pairing through this adoption drive for companion horses are these two adorable older ponies are a longtime pair and would love to find a home together. Both are easy keepers and would need a home with a dry lot for turnout and dutiful caretakers who will keep them on their low-starch, low-sugar diet. In return, you'll get guaranteed Instagram likes every time you share a photo of these two besties. Tap here for Hoedown's profile. Tap here for Junebug's profile.
---
Herald
Located at Bluebonnet Equine Humane Society in College Station, Texas
Grade gelding
22 years old
Chestnut, 15.1 hands
Herald lost his home when his owner couldn't keep him after Hurricane Harvey hit. He doesn't seem to have a lot of training in his past, but has been working with a trainer and his current foster family and is learning good ground manners. He has proven himself useful as "Uncle Herald," proving to be an excellent babysitter for a weanling filly. Tap here for Herald's full profile.
---
Charlee
Located at Colorado Horse Rescue in Longmont, Colorado
Thoroughbred mare
28 years old
Chestnut, 16 hands
This lovely Thoroughbred spent several years as a recipient mare at Colorado State University, and now she's ready to enjoy some quiet time in retirement. She's said to have a sweet personality and she enjoys being a pasture companion to other horses. Her adopter will need to commit to maintaining Charlee's diet and medication as she is a hard keeper and has been diagnosed with PPID (Cushing's disease.) In return, Charlee's person will get to see that kind face out in the pasture every day. Tap here for Charlee's full profile.
---
Luke Bay Walker
Located at Central Virginia Horse Rescue in Kenbridge, Virginia
Tennessee Walking Horse gelding
20 years old
Bay, 15.2 hands
Due to some minor neurological symptoms, Luke Bay Walker can no longer be ridden, but he clearly had some show-horse history in his past and has the good nature and ground manners of a horse who has been handled extensively. He enjoys attention, so take this old campaigner home and you'll have a horse to groom and love on for years to come. Tap here for Luke Bay Walker's full profile.
---
Danny Boy
Located at Horse Haven of Tennessee in Lenoir City, Tennessee
Shetland Pony gelding
35 years old
Liver chestnut, 10 hands
Danny Boy has had a long life, but he's got more to give. He does have some special dietary needs, but otherwise he's said to be in great shape. He's sweet and kind and just needs the right person to help him thrive through his golden years. Do you have a spot for him? Tap here for Danny Boy's full profile.
---
Jesse and Barney
Located at Roanchar Ranch Draft Horse Rescue in Varysburg, New York.
Belgian draft horse geldings
18 and 20 years old
Chestnut, 17 and 16 hands
Jesse and Barney are both retired from the farm horse life. Both have had extensive training and handling as plow horses, and were ultimately retired due to health issues. Barney is blind from cataracts. Fortunately, he knows voice commands from his plow horse days, and he has Jesse. Jesse helps Barney navigate the pasture and enjoys taking walks. Jesse has PSSM which means he needs room to move around and a low-sugar diet. Barney needs a handler who has experience keeping blind horses and other horses who can help Barney learn his new home–or better yet, keep these two old friends together and adopt them both. Tap here for Jesse's profile. Tap here for Barney's profile.
---
Della Dream
Located at Nexus Equine, Inc., in Oklahoma City, Oklahoma
Appaloosa mare
24 years old
Chestnut, 14 hands
Della is the ultimate companion horse. She gets along great with all types of horses, and enjoys attention from her human companions, too. She promises to keep your pasture well-mowed and look good doing it. Tap here for Della Dream's full profile.
---
American Louve
Located at New Vocations in Medina, Ohio
Thoroughbred mare
4 years old
Bay, 15.1 hands
Our final horse in this adoption drive for companion horses is American Louve. She is dubbed "Love" at the barn for good reason-she would LOVE to have a forever home! At only 4 years old, Love looks to her rider and handler for direction. She may start off anxious under-saddle, but settles in well. She needs a patient rider who will take her training slowly and give her lots of praise-she loves to be loved on! While she can be ridden some, Love is best suited for a companion home or light work with an advanced rider. Tap here for American Louve's full profile.