Wash Your Brushes Regularly
Once a month – or more often depending on your horse's dirt quotient – give everything a good cleaning with soap and water, or at least give them a good rinse with the hose or dunk them in a bucket of water and swish them around. Brushes full of dust don't help much when it's dust you're trying to brush off.

Clip Your Horse's Lower Legs
It's bad enough to deal with a muddy horse, but those hairy legs are the worst. If you keep the legs clipped, the mud will dry faster and be much easier to brush off. Two additional benefits – keeping the pasterns clipped makes it easier to keep them clean and dry, and that could help reduce the incidence of pastern dermatitis (scratches), and your farrier will greatly appreciate those cleaner legs.
Teach Your Horse to Be Vacuumed
Once they get used to the noise and sensation of a vacuum, most horses thoroughly enjoy the process – it's kind of like a good scratchy roll in deep sand or a nice massage. Of course, be careful to stay away from sensitive areas. As a quick rule of thumb, if you wouldn't use a curry comb there, then don't use the vacuum – think lower legs and head/face in particular.
If you don't want to shell out the money for one of those expensive horse vacuums, you can get a much less expensive shop vac, and use pool hose to extend the existing reach. You can also try a hand-held vacuum, or get a special equine attachment for a regular vacuum.
For the best results, curry your horse to bring the dirt and scurf to the surface, then vacuum. Finish with a body brush, spraying the brush with a coat polish/conditioner product every so often.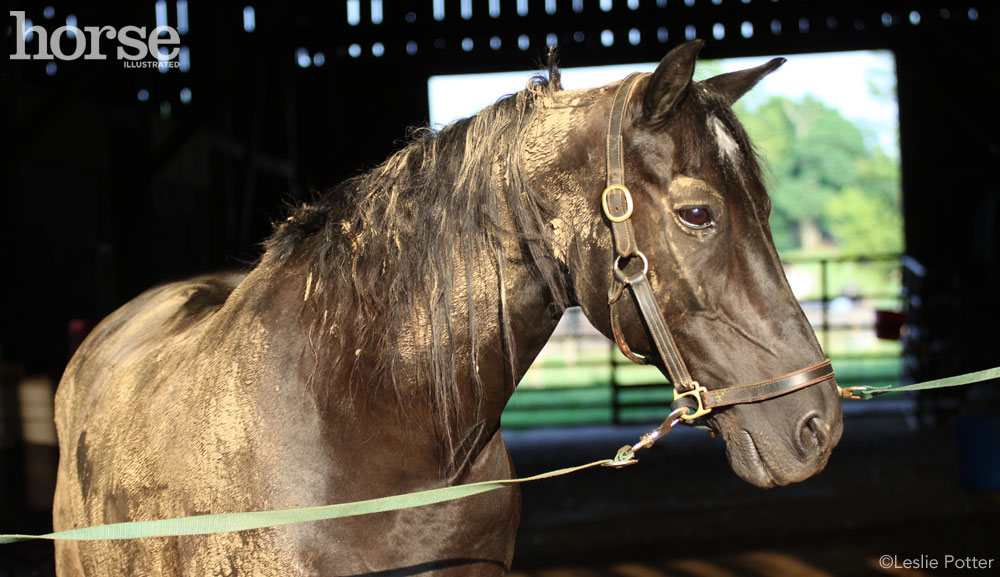 Wet mud is a hassle, but dried mud can be curried or vacuumed away.
Teach Your Horse to Accept a Blow Dryer
There are lots of times a blow dryer comes in handy. For example, it's easier to remove dry mud than wet mud (think wet muddy legs or tail). A blow dryer also comes in handy for straightening a mane or tail that's kept braided. Spritz liberally with water (or in the case of tails, dunk in a bucket of clean water) then use a brush and blow dryer to straighten out the kinks. Your horse's mane or tail will be flowing like Fabio's luscious locks in no time.
You can also use a blow dryer to help dry off a sweaty horse in the winter. First, towel the sweaty places to remove as much moisture as you can. Set the blow dryer on cool, keep it several inches away, and ruffle the hair with your fingers as you go. Don't stay in one place too long. Move to another sweaty area, such as from chest to saddle area and back again, so you don't inadvertently overheat the skin. This isn't a substitute for properly cooling out the horse; it's meant to help dry the coat once the horse is cooled down.
Molly O'Brien owns two Morgan mares and competes at Morgan shows in the New England area.