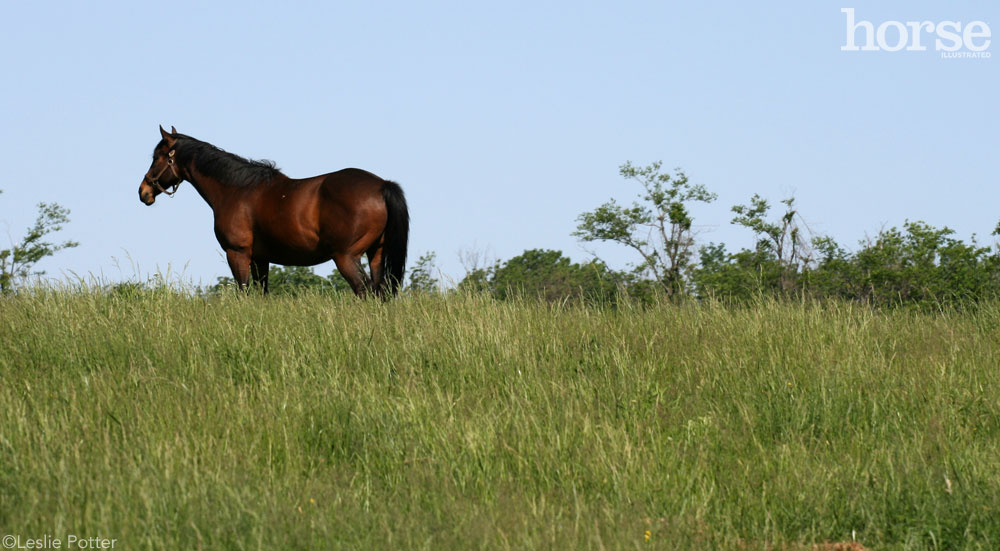 Thoroughbred racehorses typically retire from their racing careers between the ages of three and four years old—very young considering a horse can live into his 30s! But just because they are retired from their first careers doesn't mean they should be put out to pasture and forgotten about—the majority of these horses have lots of life left to live.
Many horses retiring from the track are injured; some with injuries from which they can heal, others with injuries that may leave them permanently unsuitable for a future riding career. It's important to note that if a horse has been rehabilitated correctly and immediately after the injury, there is a much greater chance that he could become sound enough for a future riding career.
Common Injuries in Retired Racehorses
Amy Allison, the Marysville, Ohio, trainer for New Vocations Racehorse Adoption Program, has seen all sorts of injuries come through her barn doors. The most common injuries she sees on Thoroughbreds that enter the program include:
Bowed tendons
Knee chips
Slab fractures of the knee (may be repaired with screws)
Degenerative cartilage in the knee
Condylar fracture with screws
Sesamoid fractures (in both front and hind legs)
Suspensory tears/strains
Sacroiliac issues
Some of these injuries may sound scary, but remember that each injury is unique and can range from minor to major. That being said, to give any injury the best chance of healing, it needs to have the proper oversight and veterinary treatment.
Considering the Options
Though there is no specific formula for determining if a retired racehorse will be sound for a second career, it's important to always involve a vet if a horse's future soundness is in question.
The overseeing vet will need to be given as much information as possible, including:
Type of injury
Age of injury
Rehabilitation and treatment that has been done, if any
The vet will then do a physical exam of the horse and go over his history. From there, he will be able to determine a most-likely scenario, if everything goes as planned.
Adoption
For most retired racehorses, a second career is a very real possibility, and adoption into a riding home is an option. This is not to say that all horses up for adoption will be able to go out and gallop around a four-star eventing course; some injuries will leave a horse with limitations, which might mean flatwork only or limited jumping.
Adopting a retired racehorse gives him a second career and the adopter a chance to own a horse that usually as a been-there, done-that attitude. As Thoroughbreds have already been exposed to many potentially scary stimuli (like tractors, gates, people standing on the rail, etc.) they are usually unfazed by a lot of things that would scare a typical 3- or 4-year-old.
Retirement
Retirement is usually reserved for horses that have been severely injured or couldn't be rehabilitated. Riding these horses could cause pain or re-injury, so a home where a horse is not ridden is a necessity. But, just because they can't be ridden doesn't mean they're worthless! Many non-rideable retired racehorses can serve wonderful purposes, either as companions for other equines or as babysitters for weanlings. Many of these horses are glad to teach the new or young the ropes of farm life.
Additional Considerations
Some horses, though physically sound, truly do not enjoy life as a riding horse. While it's possible to put them to work anyway (it won't hurt them), it's worthwhile to consider complete retirement for these individuals. Is it really worth it to chase them around the field to catch them for a daily ride or to see them so unhappy when you pull out the saddle and bridle to go for a hack? Probably not.
It's important to most retired racehorses that they have a job, whether that means getting ridden or helping acclimate other horses to farm life. No matter what his second career, every retired Thoroughbred deserves to have a home where he is loved.