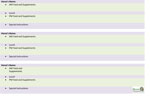 Make sure every horse in your barn is getting the right feed and supplements, even when you can't be there to feed them. Click the image at right to download a free stall card to display all of your horses' essential information where it's easy to read for barn-sitters, spouses, and anyone else who helps out around the barn.
Click here
for an individual feed card to hang on your horse's stall.
Click here for more useful downloads.