Barn fires are indiscriminate and swift. To protect your barn and your horse, follow these disaster preparedness guidelines developed by The Humane Society of the United States (HSUS).
Keep aisles, stall doors, and barn doors free of debris and equipment.
Mount fire extinguishers around the stable, especially at all entrances.
Plan an evacuation route for every stall in the barn. Familiarize employees and horse handlers with your evacuation plans.
Post emergency telephone numbers at each telephone and at each entrance. Emergency telephone numbers should include the barn manager, veterinarian, emergency response, and other qualified horse handlers. Also keep your barn's street address clearly posted to relay to the 911 operator or your community's emergency services.
Be sure your address and the entrance to your property are clearly visible from the main road.
Consider installing smoke alarms and heat detectors throughout the barn. New heat sensors can detect rapidly changing temperatures in your barn. The heat sensors should be connected to sirens that will quickly alert you and your neighbors to a possible barn fire.
Host an open house for emergency services personnel in your area to familiarize them with the layout of your property. Provide them with tips on horse handling or present a mini-seminar with hands-on training for horse handling.
Familiarize your horses with emergency procedures and common activities they would encounter during a disaster. Try to desensitize them to flashlights and flashing lights.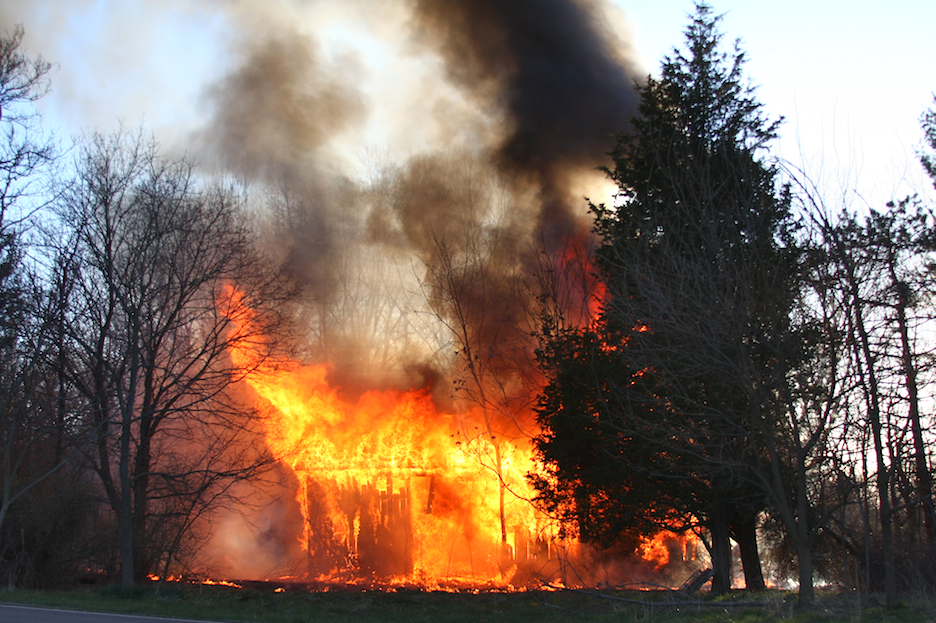 Dewey Road Barn Fire by Chuck Grimmett on flickr/CC BY-SA 2.0
In the Event of a Barn Fire:
Immediately call 911 or your local emergency services. Keep that number clearly posted.
Do not enter the barn if it is already engulfed in flames.
If it is safe for you to enter the barn, evacuate horses one at a time starting with the most accessible horses. Be sure to put a halter and lead rope on each horse when you open the stall door. Be aware that horses tend to run back into burning barns out of fear and confusion.
Blindfold horses only if absolutely necessary. Many horses will balk at a blindfold, making evacuation more difficult and time consuming.
Move your horses to paddocks close enough to reach quickly but far enough from the barn that the horses will not be distressed by the fire and smoke. Never release horses in an area where they are able to return to the barn.
Following a fire, have all your horses checked by a veterinarian. Smoke inhalation can cause serious lung damage and respiratory complications. Horses are prone to stress and may colic after a fire.
Your local animal care and control agency, agricultural extension agent, or local emergency management agency may be able to provide you with information about your community's disaster response plans.
For more information about disaster preparedness, read Making Your Horse Barn Fire Safe.
More on barn fires and safety planning:


4 Barn Safety Tips


Extinguish the Threat of Barn Fires