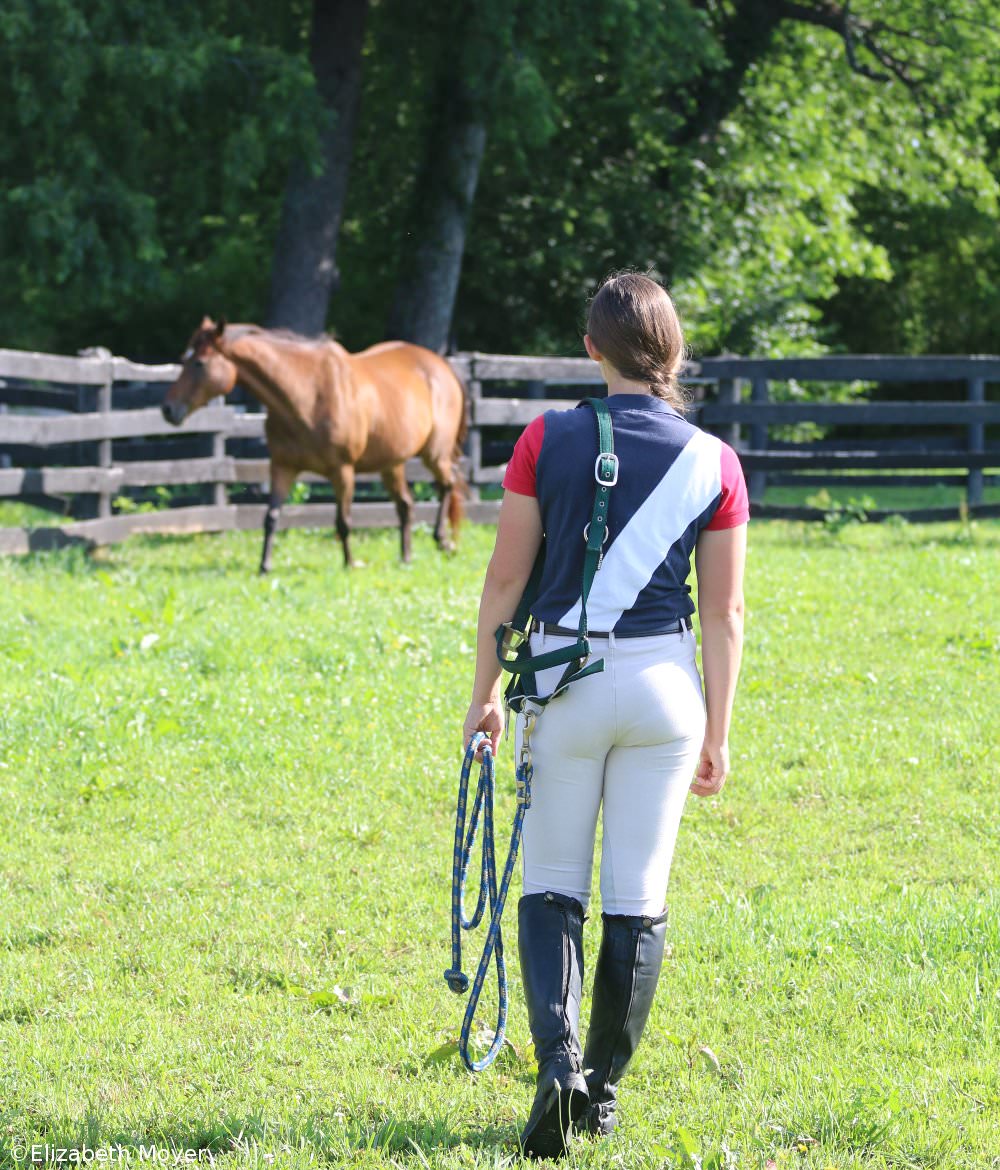 There's nothing more frustrating than standing in the paddock, halter in hand as you watch your horse run away from you. What's meant to be a relaxing time with your horse turns into minutes or hours trying to catch him.

We've asked two Certified Horsemanship Association instructors for their advice, and broken it down for different situations.

The Stall or Corral Technique
Valerie McCloskey is a trainer and instructor at her Whisper Wind Equestrian Center in Rome, N.Y. She is a United States Dressage Federation bronze and silver medalist. McCloskey has built her career helping people with "difficult" horses.

For a horse that's hard to catch, McCloskey recommends starting in a corral or stall with the horse by himself. First, wait until the horse turns to face you before entering (see "Safety First" below for additional guidelines).

"I often will just stand quietly against the stall wall," she explains. "What works best for me is to allow the horse to come me by making him curious. If the horse is in a small paddock (or corral), I just go in and don't even approach him. I find if I ignore the horse and stand with my back toward him, eventually his curiosity will overtake him and he will approach me."

At first, McCloskey continues to ignore the horse even when he approaches. After he's approached a few times and seems willing, she will softly stroke his neck.

"I may go out numerous times a day and do this over several days," she says. "When I finally catch the horse, I want to make sure it is pleasant for him. I usually will just give him a nice brushing if he enjoys it or bring him to his stall (if he was in a corral or paddock) to be fed and eat his grain. Over time, the horse will realize that positive things happen when he is caught."

Once your horse can be caught reliably, make sure you continue to go and catch him to spend time with him or bring him in for feed and not just for riding, the vet or farrier.

"This method has proven successful for me 100 percent of the time," McCloskey says. "Never lose your temper or become aggressive. If you find yourself getting frustrated, then it's best to just leave and try again later."

Also, make sure to allow plenty of time for training sessions so that you don't have the added pressure of being rushed.

Mega Acreage, No Problem
As the least populated state in the union, Wyoming is known for its vast expanses. It's not uncommon for horses to be kept on hundreds of acres.

Lanae McDonald teaches equine studies at Laramie Community College in Cheyenne, Wyo. She also coaches the college's equestrian team, a team that uses borrowed and leased horses. Some of the team's horses are kept on 600 acres. To catch these horses, McDonald has devised a few strategies.

First, she pays attention to the horses' daily routines and has found that they're usually at the watering trough in the mornings and evenings, which makes them easier to find and to catch.
McDonald and her students also offer a few honks of the horn to let the horses know they're arriving. Once they arrive, they make several mounds of hay and then have horse cookies to hand out.

"We feed them hay, have cookies or grain, and we go out and pet them and leave," McDonald says. "That way, whenever we come out there, they know we have food. We feed them every time."

Sometimes they catch them for riding, other times they just feed them and visit with them. The hay helps keep the horses from mobbing the humans, and when they give cookies, they stand with their backs to the truck or horse trailer to avoid having horses come up from all sides.

They also make sure all this takes place away from the pasture fencing to avoid crowding or any accidents.

Safety First
Whether your horse is stall, corral or pasture-kept, keep safety in mind when catching and releasing him. First, do not approach him from behind. It can be helpful to talk to the horse as you approach from the neck area.

"We put the lead rope around the horse's neck first and hold onto him while putting the halter on," says instructor Lanae McDonald.

"In a herd setting, be aware of all the other horses around you," says fellow Certified Horsemanship Association instructor Valerie McCloskey. "Be very careful not to get caught in between horses."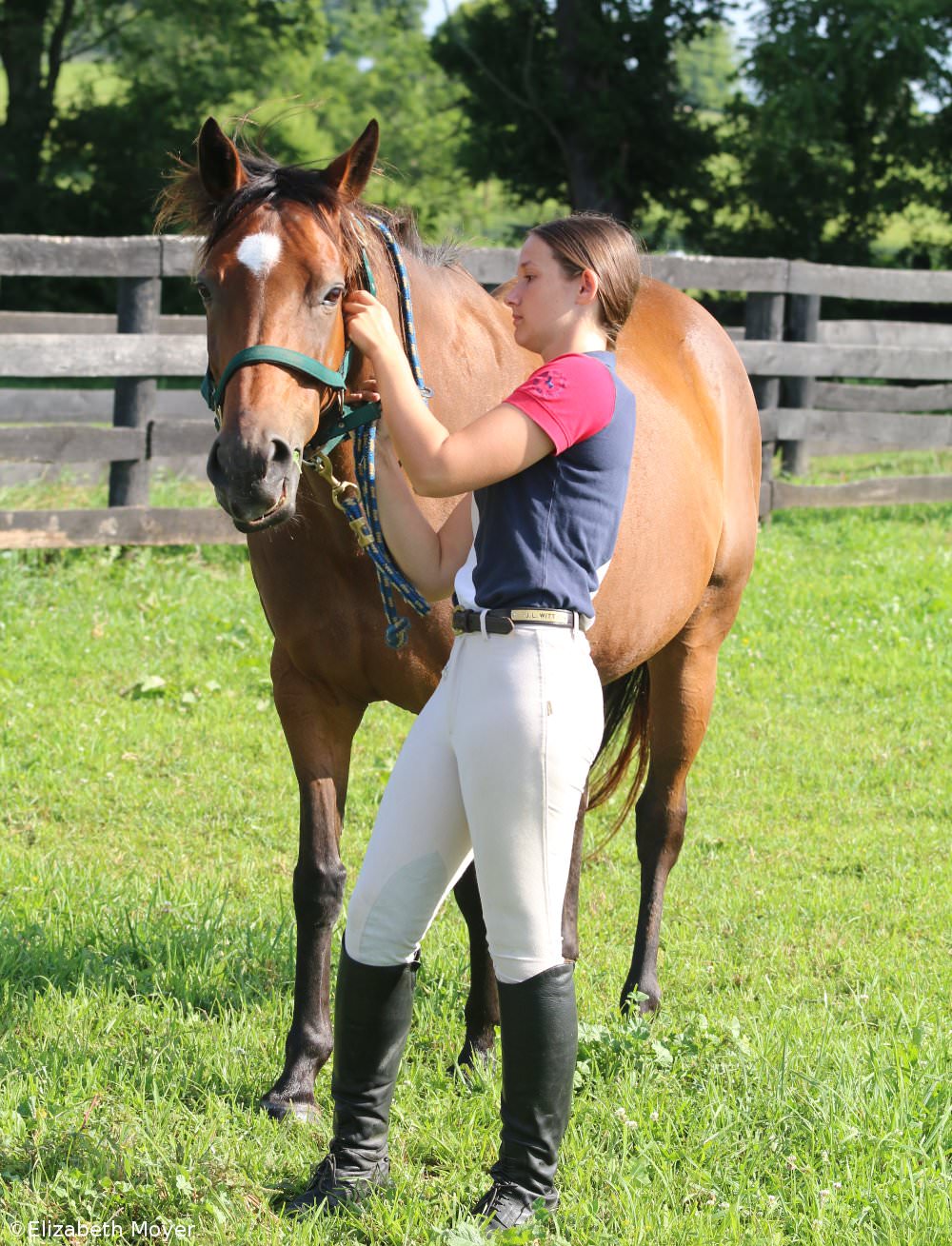 Remain calm and confident, McCloskey advises. "Once the halter is on, I make sure to praise the horse and stroke his neck so it's a positive experience."

Also exercise safety when letting the horse go after a ride. "We never open the gate, let them walk through and then release them as they're facing us because they'll often kick and run off," McDonald says. "We bring them into the pasture, hold onto them, shut the gate, and then we stand there and pet them. We play with the halter. We don't automatically take off the halter."

"Be sure to lead your horse away from the herd a bit so you have plenty of space around you both," says McCloskey.

If the horse gets excited on his way to the paddock, she will walk him back to his stall or the ring a few times until he settles down. McCloskey wants the horse focused on her before she turns him loose.

With patience and practice catching your horse for more than just riding, you'll soon have a willing partner.

Micaela Myers is the author of The Horse Illustrated Guide to Trail Riding and KNACK Leg and Hoof Care for Horses.
---
This article originally appeared in the September 2017 issue of Horse Illustrated magazine. Click here to subscribe!