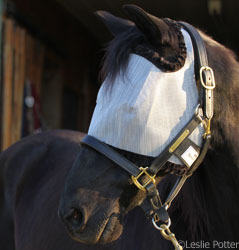 Fly masks offer protection from annoying insects, so horses across the country are outfitted in them during summer's winged onslaught. But fly masks can sometimes harm your horse if basic application guidelines aren't followed.
We asked equine veterinarian Jim Brendemuehl of the University of Illinois for some pointers on fly masks for our horses. Here's a summary of his recommendations:
Fly masks need to be removed at least once a day—twice is better—to check for any problems.
Remove fly masks at night unless there is a medical reason to keep them on.
Some fly masks can scratch your horse's eyes, leading to corneal ulcers, so choose a well-fitting style that features eye darts and is made of a non-abrasive material.
Properly clean fly masks on a regular basis. Dirt and debris that collect on a fly mask can land in your horse's eyes; "scurfy" fly masks can also lead to skin disease. Dr. Brendemuehl recommends keeping at least one spare fly mask on hand per horse so that you can regularly launder dirty ones.
Make sure the fly mask you choose is a good fit for your horse. Pressure points cause irritation and lead to sores. Dr. Brendemuehl recommends fly masks that feature soft linings on areas that touch your horse's head and face.