Eddie the Arab on his first day at his new boarding barn.
While I've been a horse owner most of my life, until just six months ago, I'd never been a boarder. Sure, there were stints when I had a horse in training for a few months, but afterwards, my horses always came home.
When I knew I was moving to California from Colorado, I also knew that Eddie, my dear, retired, 26-year-old Arab gelding, would be moving someplace, too. Fortunately, it worked out that I was able to bring Eddie to the west coast with me, after I found a privately owned ranch that could accommodate his need for soaked food and a bit of senior TLC.
It's been a big change, however, from keeping Eddie on my own property and taking complete care of his well-being, to boarding him and leaving his daily care in someone else's hands. To be honest? It's been tough, and there have been some 2:00 am awakenings with "what ifs" and "what was I thinking?"
If you're looking at transitioning from keeping horses at home to becoming a boarder, here are some things I've learned that may be helpful as you consider options.
Finding a Suitable Facility
Before you start looking for a boarding facility, spend some quiet time making a list of what's negotiable and what's not. Include both physical aspects—indoor arena, wash rack, heated barn, etc.—and training philosophy. If you're a pleasure trail rider, you might not feel at home in a barn that strives for success at national-level competitions, no matter the discipline. On a more subtle level, one barn's brand of "natural horsemanship" may feel like abuse to someone who works with their horses in a different way.
The right facility for your horse depends on what you need. For Eddie, it was pretty simple (but surprisingly not easy to find). My non-negotiable requirements were feeding soaked rations, a place he could eat in peace, land to walk around on (no small paddocks) and quiet equine friends.
Armed with your list, research the usual places—Craigslist, feed store ads, local equine websites and clubs—and build a list of prospective barns that meet the needs. Visit, ask for and check references, and also ask other horse people for places they would avoid—and then avoid those!
Also, be aware of the energy and feel of the place. Are the horses happy? Is there an overall feeling of tension or serenity? Is it respectful, even if it's bustling and busy? Are people kind to each other? Most importantly, are they kind to the horses?
Location
It's obvious, but the closer to home you can board your horse, the better. Being close means you can ride more often, monitor your horse's well-being more frequently, be available for any care or treatment needs and simply spend more time together.
Because of Eddie's special feeding arrangements, it was a bit challenging to find a place for him. The place I found is 40 miles away from where I live, which means that I'm only able to visit once or twice a week. This is sad for two souls who have been in each other's daily lives for 18 years, but for the time being I know he's safe and his needs are being met.
Loss of Daily Control
Even if you find a place to board your horse that is just five minutes from home, unless it's a self-care facility, the daily care of your beloved horse will be in someone else's hands. And even a place that provides the finest care will do so a bit differently from how you would do it yourself.
Accept that some things you did at home cannot be replicated in a boarding environment. For example, although Eddie could not rely on hay for the bulk of his calories (poor teeth meant he'd quid and spit out more hay than he swallowed), it was important to me to support Eddie's emotional and digestive well-being by providing free-choice hay in a slow feeder 24/7. The donkey and mare in his little herd ate hay as their primary diet, and Eddie enjoyed nibbling frequently during the day.
Moving him to a boarding facility anywhere likely meant that free-choice hay would not be an option, and especially not in California with its sky-high hay costs.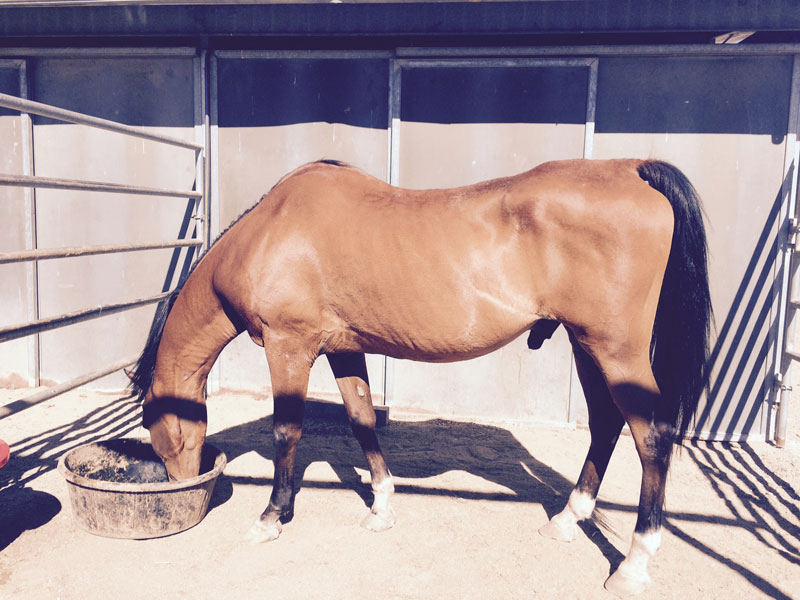 Feed Sources Will Change
If your horse eats only hay, it's a bit easier to transition from home care to boarding as long as your horse gets a sufficient quantity to keep him or her in good weight. However, feed sources will change and your horse may start eating feed that's drastically different, especially if you're moving to a different state.
The green timothy and meadow grass hays found in the Midwest and rocky mountain regions are replaced by Bermuda or coastal grass hay in many western states. If at all possible, pack some hay from your old home and gradually change from one source of forage to another.
Ask—and Look At—What's Being Fed
To be sure expectations are meshing on both sides of the feed tub, set up a feed-room meeting with the barn owner and look at what's being fed rather than assuming that "one scoop of pellets and a quarter scoop of oats" means the same thing to both of you.
In Colorado, Eddie's primary diet consisted of soaked molasses-free beet pulp pellets, alfalfa pellets and timothy or orchard grass pellets. In California, his ration includes molasses-free beet pulp shreds, alfalfa pellets and Bermuda grass pellets. It seems nearly identical, but there's a huge difference in the quantity of feed. For example, one scoop of beet pulp pellets weights many times what the same scoop of shreds weighs, and delivers a larger number of calories. Eddie was losing weight before I realized that he was getting beet pulp shreds instead of pellets, and therefore many fewer calories than he needed.
Your Horse's Well-Being Is Up to You
Boarding your horse means walking the fine line of being your horse's advocate without being the nightmare owner every barn owner dreads.
Be reasonable, understanding, and accommodating to a certain level without jeopardizing your horse's quality of life. While you absolutely should expect your horse to be fed quality food at least twice a day, you may not be able to demand feedings at 7:00 am and 3:30 pm.
You should expect safe fencing, clean water, sufficient shelter, adequate applications of fly spray, fly masks, blanketing in cold regions, and other daily care, but probably not that every manure ball is immediately whisked away.
Keep the lines of communication open. If you're concerned about your horse—he's losing weight, he seems stressed, he's on the receiving end of too many teeth marks from a dominant herd mate—speak up. Don't assume the barn owner sees the same things, and also don't assume they see it but don't care.
Respectfully share your concerns for your horse and talk about solutions, not placing blame. If the barn owner is a good horseperson, it's likely they'll want your horse to be as happy as you do.

It's OK to Move On
If things don't work out the way you hoped or expected, or if your needs change, simply find another place. This can be done cordially and without offending the barn owner. That said, if the barn ends up being an unhealthy or unsafe place for you or your horse, don't worry about hurting anyone's feelings by moving on. After all, your horse's comfort and well-being are worth more than anything.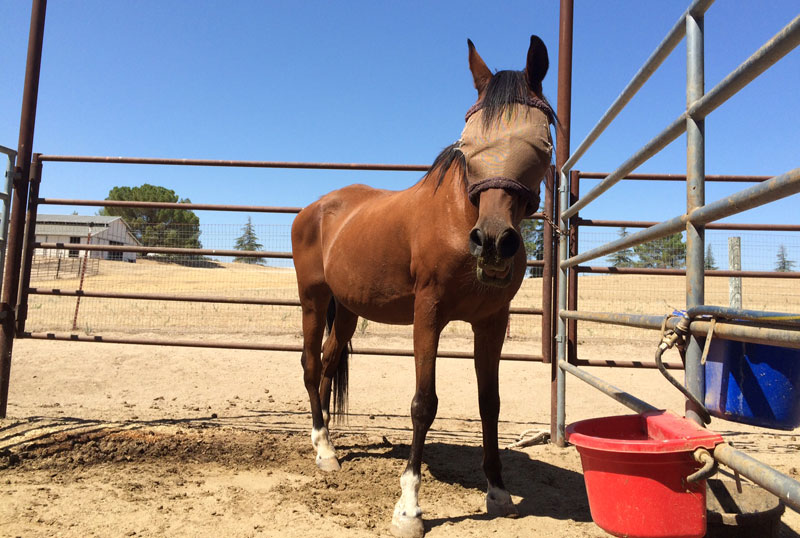 The Bottom Line
The hardest part of becoming a boarder is that no one cares about your horse like you do. It can feel like you're surrendering your horse's well-being because, for whatever reason, you're no longer caring for your horse at home.
Your horse doesn't have a choice of where he or she lives, so carefully consider your options. Do your very best to find a place and people that you can trust to act as surrogate caretakers for your equine friend… and then visit as often as you can.
Kara L. Stewart is a frequent contributor to Horse Illustrated and now resides in California with Eddie the Arab. www.kstewart.com Her book, "Advanced Western Riding," second edition April 2014, published by I-5 Publishing, is available through HorseChannel.com and amazon.com.