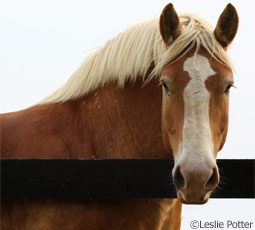 The average horse outweighs the average human almost 10 to one, which is why safety is such an important element in horse handling. Even the smallest horses can easily overpower a human with his sheer bulk, if he is so inclined. So imagine what an 18-hand, 2,500-pound draft horse can do. Fortunately, draft horses tend to be exceptionally gentle and easy to handle—no accident, since horsemen have always bred larger horses with this trait.
However, people who handle large horses still need to take precautions to ensure they're safe around these massive equines. First and foremost, watch your feet. If
a draft horse steps on you, he can easily crush the bones in your toes or foot, especially if he is wearing metal shoes. Always wear heavy-duty boots around draft horses to protect your feet should the horse accidentally come down on you but not steel toed boots—they can sever toes.
Although draft horses tend to be mellow individuals, you should always demand respect from any large horse you handle. Don't allow the horse to crowd you or to rub his head against your body. Teach your horse to stay out of your personal space, whether you are leading him, grooming him or approaching him in his stall.
If you are raising a young draft horse, teach him manners from a very young age. Don't allow nipping or any other rude behavior. While this might be cute or forgivable in a foal, don't forget your draft baby is going to grow up to weigh nearly a ton. You don't want a horse that big thinking he can push you around.
Audrey Pavia is the author of Horses for Dummies.