Many types of horse clothing are available. Some blankets are designed for use
while the horse is turned out, while others have specific uses in the stable or while
the horse is under supervision. Liz Russell, corporate communications specialist
for Dover Saddlery, offers the following guide to blanket styles.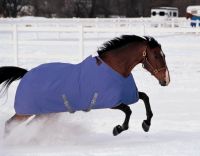 Turnout blanket
Turnout sheets and blankets
are made of rugged fabric that stands up to horseplay.
Turnouts are usually treated with waterproofing to protect the horse from rain, sleet,
snow or muddy conditions. They are styled to allow freedom of motion and may have
special features, such as gussets and shoulder darts, to enhance the flexibility of
design.
Turnout sheets are the lightest weight turnout available. Turnout sheets are
designed for horses to wear for protection from wet weather or mud during cool
temperatures. They are usually too warm for horses to wear during hot, summertime
temperatures, but they don't provide warmth in cold temperatures.
Turnout blankets are available in a range of weights, where the weight refers to
the amount of poly fill between the outer and inner layers. The fill adds warmth and
insulates the horse's body heat. It is measured in gram weights; the higher the number
of grams, the warmer and heavier the blanket.
Lightweight turnouts have approximately 100 grams of fill in the center. Read
product descriptions carefully, though as some manufacturers refer to their turnout
sheets with no fill as lightweights. Many people rely on lightweight turnout blankets
with 100 grams of fill for months when the weather is just starting to cool or warm up
in spring. They offer some level of warmth that turnout sheets without fill cannot
provide.
Neck cover
Midweight turnout blankets have 180 to 200 grams of fill. Many horses do well with
a medium or mid-weight blanket.
Heavyweight turnouts typically have 300 to 440 grams of fill. They may be critical
for use on a fully clipped horse and for extreme cold weather conditions. However, the
warmth they provide may be too much for some horses in some conditions.
Neck covers and hoods are available in turnout and stable styles. Both neck covers and hoods connect to the neck opening of some blankets. Coverage from neck covers, however, ends just behind the horse's head while hoods encase the horse's head and have openings for the horse to see through. Often, these covers are add-ons for a blanket and are not generally required for every horse. The decision to use a neck cover should be made on a case-by-case basis and with individual care as over-heating can occur. Neck covers and hoods are often used on horses in frigid climates that are full body clipped.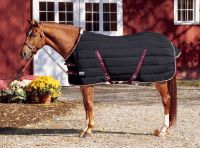 Stable blanket
Stable blankets are usually quilted for loft and come in a wide range of weights
from 100 to 400 grams of fill. They're usually not waterproof, but many are water
repellent or moisture-resistant to guard against urine or manure stains. The use of a
stable blanket allows you to replace a horse's heavier wet outerwear with a loftier
item that will keep him warm while he's confined in a stall. The cut of a stable
blanket is more fitted than the cut of a turnout blanket.
Stable sheets are a fitted garment intended only to help keep the horse clean and
dust free. They can be made from an array of lightweight fabrics, from cotton to nylon
to polypropelene, which is somewhat moisture-resistant.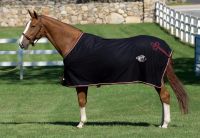 Dress sheet
Dress sheets are traditional, attractive horse clothing staples. They are typically
made of wool, though some are available in fleece, and come in a variety of colors and
plaids. They're often perfect for use as a cooler, blanket liner, or keeping a horse
comfortable during cool weather transport, too. Dress sheets usually have minimal
fastenings, such as a single chest buckle, a single belly surcingle and a tail cord.
Rain sheets are designed to keep both your horse and tack dry if you need to walk him from one location to another during inclement weather. Rain sheets are not intended for turnout as the minimal fastenings are ties that close the sheet to keep out wind and weather.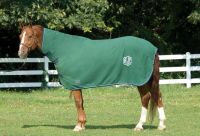 Horse cooler
Coolers are made of moisture-wicking fabrics to help your horse dry. The fabric
allows moisture to evaporate from your horse, drawing it from his hair and skin while
providing draft protection. Coolers are usually made of either traditional wool or
synthetic fabric. Coolers are similar to anti-sweat sheets in that they are placed on
sweaty or freshly bathed horses to keep chill away as the horse dries. You'll know
when to remove the cooler when you see a dew-like coating formed along the top
surface. Sometimes, a very wet or sweaty horse may require two changes of coolers in
the drying process.
Traditional cooler styles drape over the horse from jaw to tail. Those with limited
fastenings should not be left on an unattended horse. Some fitted coolers are cut like
a stable sheet, leaving the neck exposed, while others fit up the neck to the jaw line
and secure with hook and loop fastenings.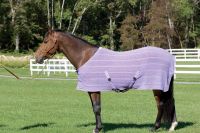 Anti-sweat sheet
Irish Knit Anti-Sweat Sheets are made of cotton or cotton blend mesh. They are
placed on a sweaty or freshly bathed horse to keep chill away while the horse's coat
dries. The holes in the mesh allow hot air from the horse's body to escape, while the
mesh itself prevents the horse from drafts. Anti-sweat sheets should be monitored
during use as the fibers can become saturated if a horse is extremely wet. Once this
happens, the sheet should be replaced with another anti-sweat sheet or a cooler if the
horse isn't dry. In very cold temperatures, you may want to layer a cooler on top of
an anti-sweat sheet. This type of sheet usually has minimal fastenings, such as a
single chest buckle, a single belly surcingle and a tail cord.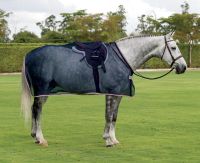 Scrim sheet
Scrim sheets are made of lightweight mesh. They are designed to keep your horse
clean while waiting ringside at a show. This type of sheet has minimal fastenings,
with a single chest buckle and a tail cord, so it should not be left on an unattended
horse.
Field Guide to Horse Blanket Fit
Field Guide to Horse Blanket Fabrics
Back to Blanket Central >>