Whether you're installing new fencing or replacing the old, there are many options on the market today. All fence products are not created equal; each type has advantages and disadvantages that should be weighed in terms of the specific needs of your horses and your property.
After you're familiar with

a variety of fence options
, make a choice based upon safety, cost, maintenance and appearance. If you plan to build the fence yourself, ease of installation is also a key factor.
While safety is always the most important requirement for any fence, how safe it is depends upon its suitability for the specific horses it will contain. An electric-tape fence is safe for a quiet herd that respects it, yet is not secure enough for playful youngsters, stallions, or groups that tend to bully newcomers. Active or aggressive horses are better off behind solid rail and a hot wire.
Also, try to anticipate what future needs might be when planning your fence. Perhaps you envision starting a breeding program a few years down the road or wish to fence part of your property now and add to it later to spread out capital investment costs. Or, you may need to separate two horses who simply can't abide each other. Long-range planning can save you money.
While cost will always figure into any final decision you make about your fence, it shouldn't be the determining factor.
Eight types of fence dominate today's market, each with specific features and benefits.
Wood Rail
Wood rail has traditionally been considered the ultimate horse fence, as evidenced by miles of it showcasing Kentucky's bluegrass horse country. Wood is sturdy and highly visible to horses. It's a traditional, attractive look for equestrian property. However, regular maintenance is required, including repainting and repairing broken boards and protruding nails. Wood breaks and splinters upon significant impact, potentially causing injury to a horse.
Wood fence is typically built by contractors, as it is not simple construction for amateurs. Cost estimates require on-site inspection that most contractors offer for free. You should expect the estimate to include costs for post-hole digging, posts, post anchoring, fencing materials and all construction supplies required for your specific project. If you have a complex layout or want the fence installed during peak seasons, labor costs will reflect that. If your project requires removal and disposal of existing fence, site grading or improvement, and gate construction, expect added charges.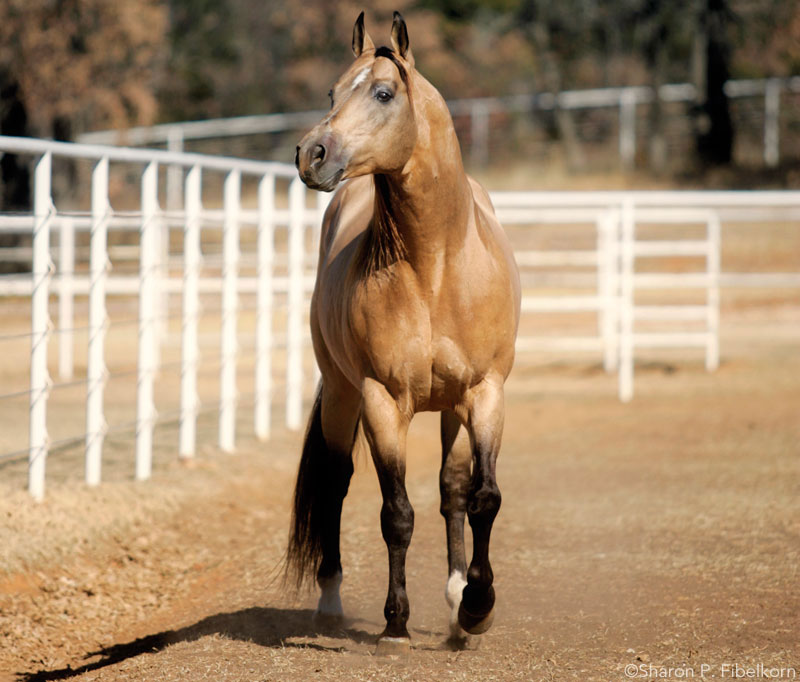 Because it has no give upon impact, pipe fence is best for smaller enclosures.
Pipe
Pipe fence is durable and maintenance-free, yet it has no "give" upon contact. Because horses tend to run when frightened, jockey for dominance, play aggressively, and sometimes bully new herd members, this type of rock-solid fence may be more suitable for small individual pens than pastures.
Small-mesh fence combined with a sight board is a safe option for all horses, especially foals.
Woven Wire Mesh
Mesh fencing designed for horses is one of the safest options. This type of fence is manufactured with either a woven "v" pattern or mini rectangles too small for a hoof to pass through—not to be confused with the larger square field fencing for cattle. Barbed wire is also designed for cattle and can cause serious injury to horses, so it should never be used as equine fencing.
Mesh horse fence is often combined with an electrified top rail or wood plank to serve as a sight line and lean deterrent. Because it goes all the way to the ground, it's one of the best options to contain foals. In addition to keeping horses in, it also keeps unwanted critters out.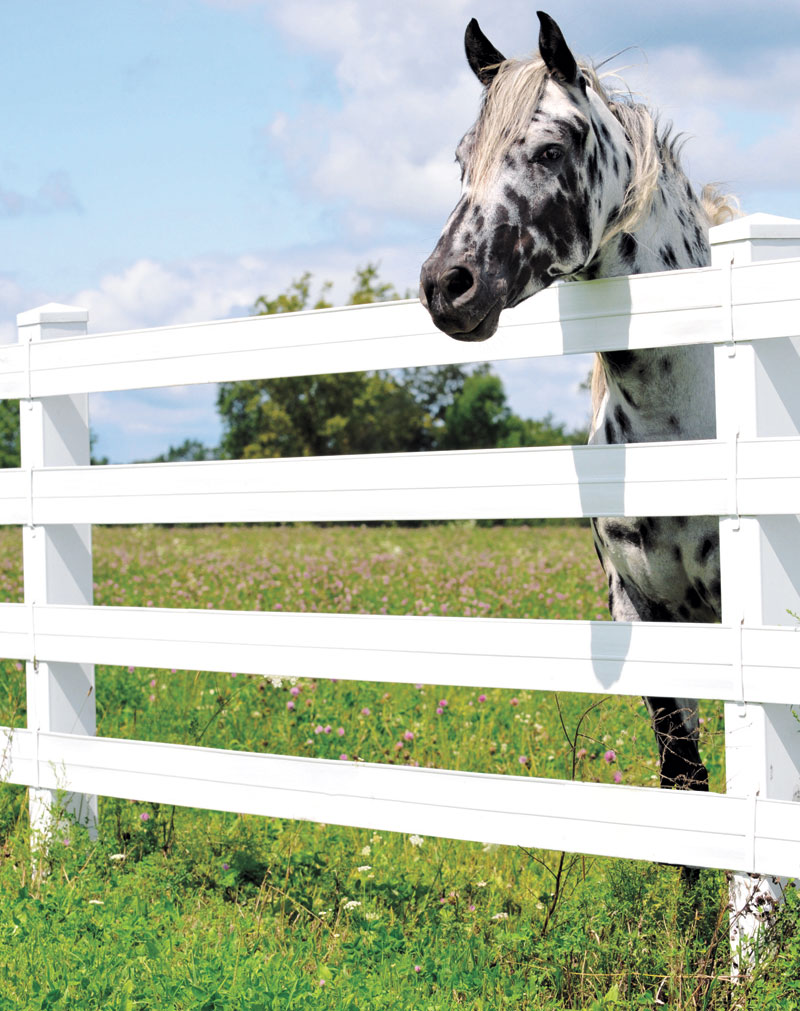 Flex-rail fence yields upon impact and is low-maintenance. Photo courtesy RAMM Fence
Flex-Rail
Flex-rail is polymer bonded to two or three strands of high-tensile wire to create a rail that yields upon impact. Available in different widths and colors, properly installed flex-rail has the forgiving properties you need for the inevitable contact of active horses, and the strength to contain them. Flex-rail is a low-maintenance fence and increasingly easy to install.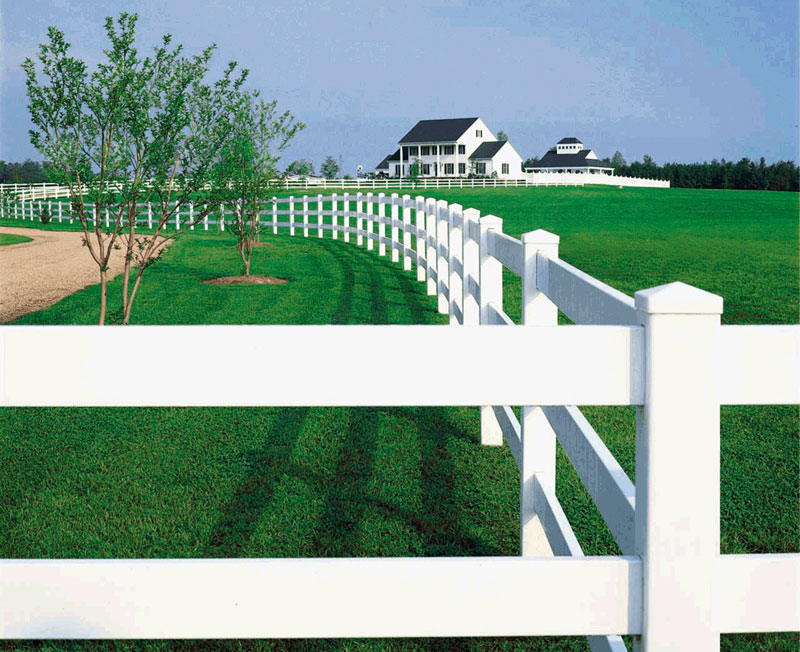 PVC Fencing looks similar to wood, but requires less maintenance. Photo courtesy RAMM Fence
Rigid PVC
Rigid PVC (polyvinyl chloride) rail fence is an increasingly popular alternative to wood because it looks similar, but requires less maintenance. Installed correctly, high-quality rigid PVC is up to five times stronger than wood.
Research the quality of the rail by examining the inside of the rail and connectors when shopping for this type of fence to determine strength. Hollow rails are much weaker than rails with interior crossbars.
UV protection is also essential to preserve colorfastness. Many horse owners consider rigid PVC more ornamental than utilitarian, so it often graces entrance and gate areas. When this fence breaks, it is extremely hazardous, as it can splinter into sharp shards.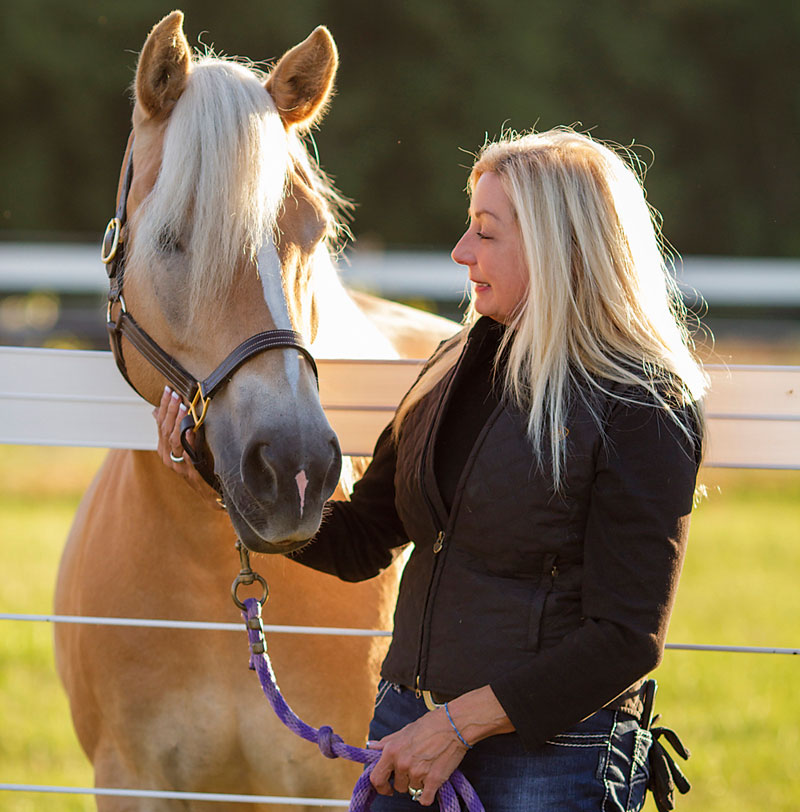 High-tensile wire is usually coated with PVC and combined with a rail for increased visibility. Photo courtesy RAMM Fence

Coated High-Tensile Wire
Smooth wire fencing is inexpensive and easy to install. Because it can be difficult for horses to see, it is typically coated in white PVC to increase visibility; even so, high-tensile wire is often combined with rails of a more visible fence type. Electrified versions add extra security.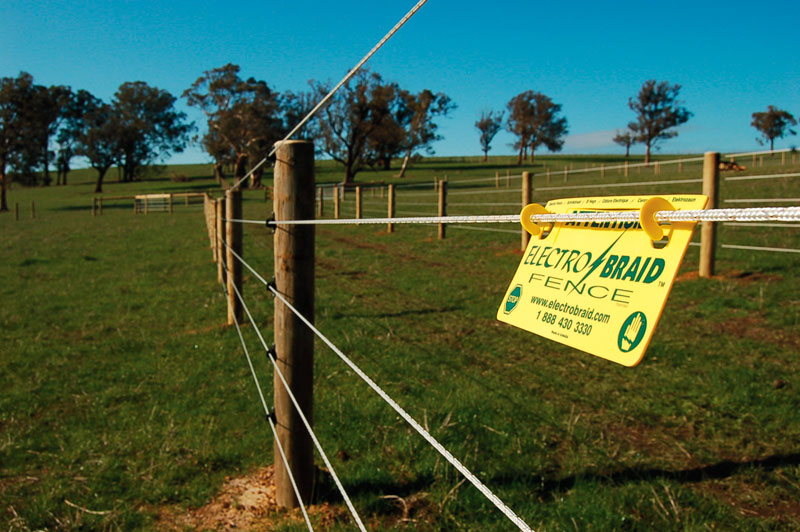 Electric rope or braid is safe, strong and easily installed. Photo courtesy Electrobraid
Electric Rope
Electric rope or braid is woven from polyester or polyethylene fiber and interspersed with either copper or stainless steel wire. Available under several different brands, electric rope is safe, strong, and easy for do-it-yourself installation.
Electric Tape
Available in several widths and color combinations, electric tape is extremely economical, very safe, easy to install, and tightens by hand. The key to this fence is to ensure the electric component is properly grounded and the current is always strong enough to repel horses.
One of the pluses of electric tape fence can also be a mixed blessing: while the distance between posts can be extended up to 15 feet, the fence tends to bounce in moderate wind. The problem can be lessened by installing posts closer together; however, in high-wind areas, coated wire or electric braid is a better option.
Ultimately, no fence is 100 percent foolproof to every horse. Some horses are veritable Houdinis; others won't test a single strand. The ultimate goal is to have a nice looking, easy to maintain fence that is secure, yet won't injure your horses if they go through it.
How Much Will New Fencing Cost?
Building a fence is one of the costliest improvements horse owners face. Cost varies widely depending on the type and quality of the materials you choose, where your property is located, topography, labor costs, and the linear foot total of the areas to be fenced.
Labor costs range from $20 to $55 per hour. Most fence laborers will charge $2 to $12 per foot.
LOUANN CHAUDIER is a freelance writer based in Wisconsin.
---
This article originally appeared in the March 2015 issue of Horse Illustrated magazine. Click here to subscribe!