For many city dwellers, the dream of moving to the country and keeping horses at home might have to remain a dream. But there are still pockets of horse property available here and there in suburban settings.
While much different than rural living, buying a small horse property in an equestrian community can bridge the gap between buying a big spread and boarding your horse. The trick is to know how to begin your search, and determine what works best for your needs and your budget.
Horse Property Basics
Your first step is to find a qualified real estate agent to help in your search for the right place. Retaining the services of someone who knows the ins and outs of buying horse property in your area of choice is an absolute must. Shannon Kessler, a Realtor with Prudential Hunter Realty in Arroyo Grande, Calif., says, "A knowledgeable Realtor will save you a lot of effort. Horse property specialists know the needs of horse people as well as the land and access to trails, neighborhood support, et cetera."
Once you secure an agent's services, take the time to think about exactly what you want in your dream place. "Determine what you want to do with your property," says Shannon. "Do you need an arena, a barn or just a shed row? Will you be hauling out or riding to get to the trails? Visit small horse facilities you admire, and knock on doors in the area. This is also a great way to get to know your potential neighbors."
Wendy Kaufmann, a horse property specialist with Prudential California Realty in Orange, Calif., recommends researching and ferreting out horse-oriented areas where you might want to live before you even start house shopping. "Locate areas that are vibrantly and actively horse-oriented," she says. "Make sure the area offers the amenities that you particularly desire, whether it be a community arena, a local parade or drill team group, Pony Club, 4-H, trainers, good trails, et cetera."
Do-It-Yourself Horsekeeping
Before embarking on the purchase of small horse property, consider the following:
Stall cleaning: You must clean your horses' stalls at least once a day, preferably twice if your horses spend a lot of time inside. Failing to do so will result in unhealthy conditions for your horses, a plethora of flies and a lot of angry neighbors.
Feeding: Horses should be fed anywhere from two to three times a day. If you or a family member can't be home to do it at roughly the same time each day, you'll need to hire someone to do it for you.
Exercise: Horses that live in box stalls or small paddocks should be exercised on a daily basis. Leaving a horse standing in his stall for days on end without exercise is unhealthy and often results in a potentially unsafe horse with pent-up energy.
Property Maintenance: Horses are tough on their surroundings. You'll need to stay on top of repairs to fencing, waterers, stall footing and other areas where horses live.
Manure disposal: If your community doesn't provide manure pickup service, you'll need to find a way to dispose of your horse's waste yourself. This may mean composting and finding a place where you can donate it, such as a nursery or other facility.
Start Shopping
Next, look at as many properties as you can in your price range, and use a critical eye when you consider each one.
"When evaluating a property, focus on the actual usable area of the lot," says Alicia Thompson, a Realtor with Coldwell Banker Pinnacle Peak Realty in Scottsdale, Ariz. "Is there an arena? Sufficient turnout area, or large pens or stalls? If the property has an existing horse facility, is it workable for your use? If it requires renovation, how much? What would be the costs? Sometimes you are better off with a property that has no horse facilities in place and building your own."
Wendy Kaufmann recommends evaluating the home's land to determine if you can achieve your horsekeeping goals within the confines of the topography. "People sometimes have unrealistic expectations as to what they can do with their land," she says. "Some things to think about include how much of the land is usable, and whether there are steep slopes and areas that would not drain well in winter months. If the land does not have existing horse improvements on it, see if there is sufficient room to set up enough stalls for your needs and still have an arena and turn out areas for your horses."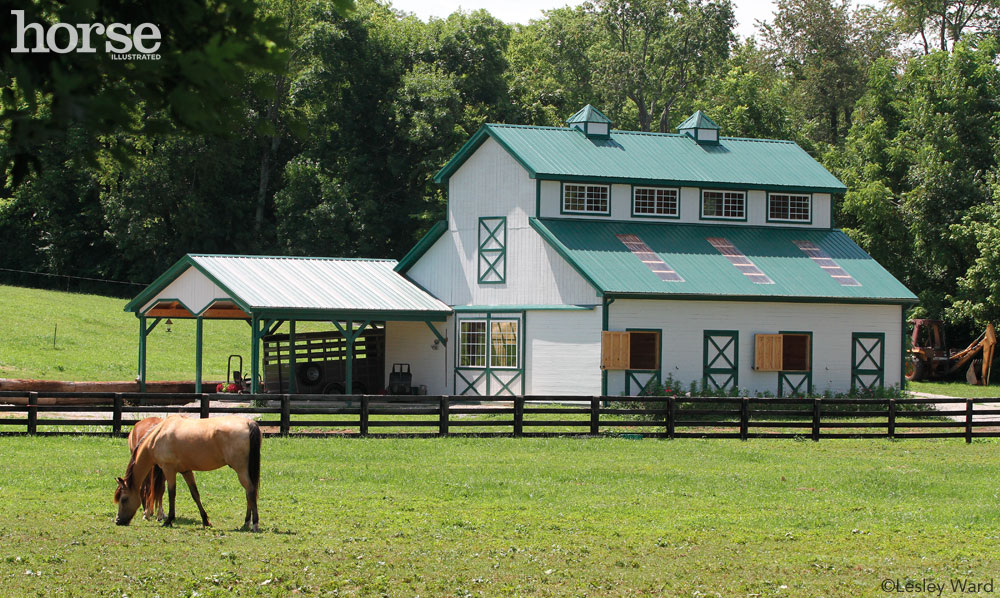 In addition, Lee Allen, horse property specialist for Realty Executives of San Antonio, Texas,  also recommends you research the details on the trails, zoning and other specifics in the area, including how many horses are allowed on a certain size lot. "Find out about the particular restrictions for the neighborhood, if there are any," she says. "And find out if there are accessible riding trails too."
Shannon Kessler agrees it is important to look at the neighborhood association rules and regulations (known as CC & Rs) for the homes in the area, as this will tell you how many horses are allowed per acre, what the scope of preservation of existing trails is, et cetera. "Many neighborhoods are zoned for horses, but are not friendly toward them," she says. "Look at what your potential neighbors are doing with their properties. If most of them do not have horses, chances are they are going to complain about the dust and smell."
Avoidable Mistakes
Horse property agents have seen first-time horse property buyers make a slew of mistakes, most of which were avoidable. One of the biggest errors buyers seem to make is not purchasing enough land for what they ultimately want.
"The biggest mistake people make is not looking toward the future," says Shannon Kessler. "You must ask yourself, 'how many horses do I plan to have in 10 or 15 years?' "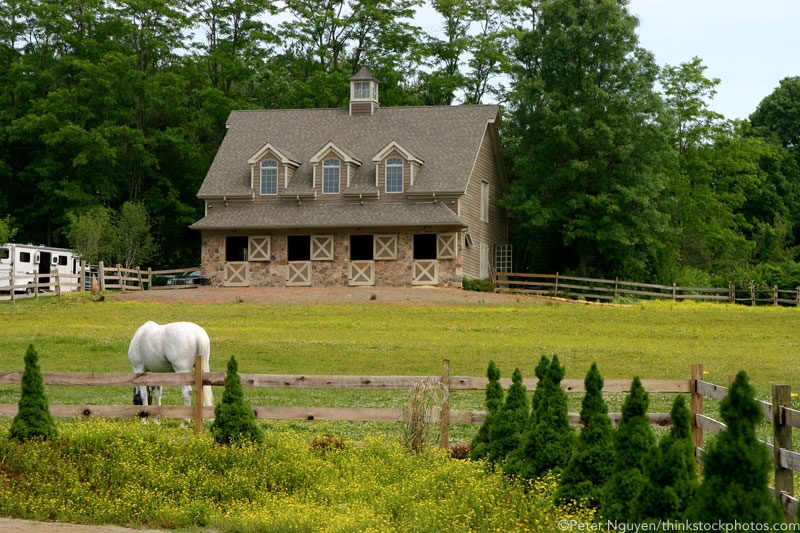 Not thinking about the details of what you'll need besides corral space is another problem. "Buyers often overlook things like the need for hay storage, tack storage, shavings and straw storage, manure disposal, farrier facilities, and trailer and truck storage," says Bill Kraatz of Bill Kraatz Real Estate Services Inc./Huff Realty Inc. in Florence, Ky.
"I've seen people make mistakes by not thoroughly checking the covenants, conditions and restrictions [CC & Rs] for the area where they are buying," says Lee Allen. "I've also seen people overstock their property with too many horses as well as buy a place without suitable fencing for their horses."
"Amazingly enough, in our equestrian property consulting business, the one item most often overlooked by clients is manure disposal," says Bill Kraatz.
Shannon Kessler agrees that not planning for manure disposal is a big problem with many first-time horse property buyers. "Your neighborhood may have curbside pick up of manure, but if not you must plan to compost it and perhaps deliver it to local garden clubs or nurseries as fertilizer."
Although buying the right small horse property takes a lot of effort and hard work, the rewards are many.
"After boarding in either a large public facility or in someone else's backyard, many people eventually experience the desire to purchase a home and put their horses in their own backyard and try it for themselves," says Wendy Kaufmann. "Ultimately, most who do it decide that it is the best move they ever made."
Further Reading
Modular Barns
Work Areas in the Barn
---
This article originally appeared in the September 2004 issue of Horse Illustrated. Click here to subscribe.