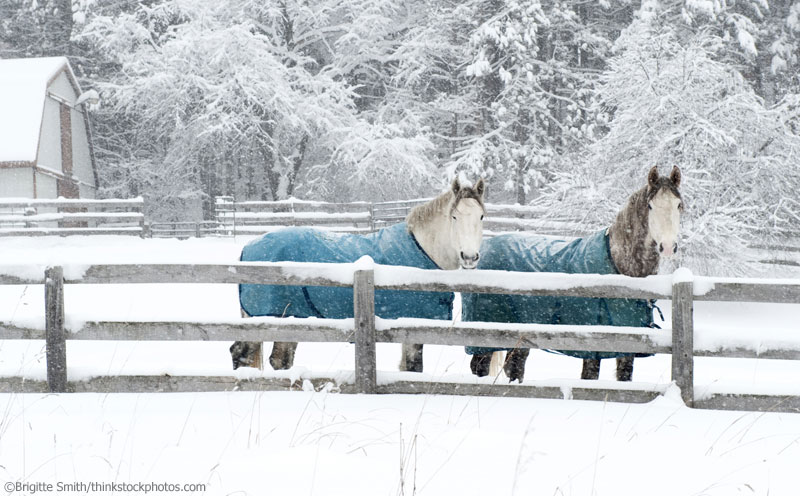 Assuming he is in good health, has appropriate shelter from wind and rain, is not clipped, receives free-choice high-quality forage and has access to clean water that is never frozen, he probably doesn't need a blanket, says Dr. Benjamin Darien, DVM, University of Wisconsin-Madison, School of Veterinary Medicine.
But Dr. Darien advises that human intervention—clipping, life under barn lights (light inhibits coat growth), and diets that don't allow for continual chewing and digestion to keep core body temperature up—can mandate blanketing even for healthy horses.
Dr. Darien suggests these general "what to wear" guidelines for healthy horses whose lifestyles might require a little extra warmth.
Above 60o
Everyone goes naked! (unless wind is a factor)
50o-60o F
Not clipped: sheet only
Clipped; midweight insulated blanket
40o-50o F
Not clipped; sheet and lightweight liner
Clipped: midweight insulated blanket
30o-40o F
Not clipped: midweight insulated blanket
Clipped: heavy blanket
20o-30o F
Not clipped: heavy blanket
Clipped: heavy blanket with fleece liner
Below 20o F
Heavy blankets and liners for all; bring on the polar fleece for clipped horses.
This article was originally published in the October 2005 issue of Horse Illustrated. Click here to subscribe.
Back to Blanket Central >>