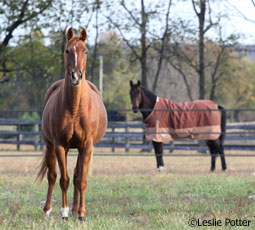 Pastures are like laundry—they're never "done" and need to be kept up with. What may be intact in the spring may need repair by fall, so regular inspections should be part of your barn chores. And, even though your pasture may appear safe, it can harbor many hazards. Remember, if there's one out there, your horse will find it.
1. Check your gates.
This is THE biggest safety concern. Never leave a gate unlatched thinking you'll shut it later, or you'll "be right back." No horse is safe if he manages to get out of his pasture. If the gate is open, or is closed but not secured, your horse will gravitate toward it like iron to a magnet. Always double check.
2. Either remove halters or use "breakaways."
If you keep halters on your horses when they are turned out, be sure they are leather or "breakaways." You can buy them either ready made from a retailer, or make your own by cutting the halter's buckle strap, boring a hole in the nylon which you cauterize with a match, and threading leather shoelaces through it and tying a tight knot.
3. Make a fencing hazard checklist and attend to any of the following:
Leaning posts or posts that have broken off at the base.
Hot wire that has shorted out until it breaks. Also look for newly exposed, previously buried electric wire under gates.
Weeds entangling lower electric fence rail (thus lowering or eliminating voltage).
Fencing that can't be easily seen, such as white electrical tape on snow, black or brown tape at night (tie on flag tape for better visibility).
Any downed fence or weak endposts.
Hazardous objects that work their way up to the ground surface such as nails, glass or sharp-edged metal.
Protruding objects—nails that work their way out of posts, broken tree limbs, et cetera.
Uncovered T-post tops.
Animal burrows.
Toxic weeds or leaves that blow into the pasture.
Further Reading
Pasture Maintenance
Summer Pasture Rehab
Fencing Mistakes
Louann Chaudier lives on a small farm in Wisconsin with her husbanc, three horses, two goats and six cats.