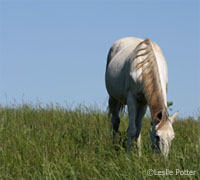 The time to retire a senior horse can become a combination of finances and the horse's welfare. There are monetary obligations involved in keeping a senior horse with osteoarthritis going. Most seniors will likely require injections of at least two joints to keep performing soundly. This alone could range at least $600 to $1,200 per year, says Travis Wright, DVM, of Hill Country Equine in Boerne, Texas.
Supplements to support joint health, including glucosamine, chondroitin sulfate, et cetera, are also advisable but can be costly. And systemic chondroprotective agents such as Adequan and Legend can set the owner back about $1,800 per year, depending on frequency of use.
"When these drugs and supplements stop being effective at maintaining the comfort of the horse, then it is time to consider retiring him," says Wright. "Many times, reducing his activity down to only pleasure riding and pasture turnout can make his joints more comfortable, and drugs that did not work before may work again simply due to reducing the trauma and wear and tear on the joints."
Finding the right place to retire your horse depends on his needs, ability to continue exercise and your budget. There are also retirement facilities that work like nursing homes for equines, but you'll still be paying similar fees to a boarding facility.
Your senior might be limited in what he can do for you, but he might have much to give a different type rider. Consider leasing him to a riding for the disabled school that is looking for gentle equine teachers for their students; that way, you can still check in on him while knowing he has a suitable job.