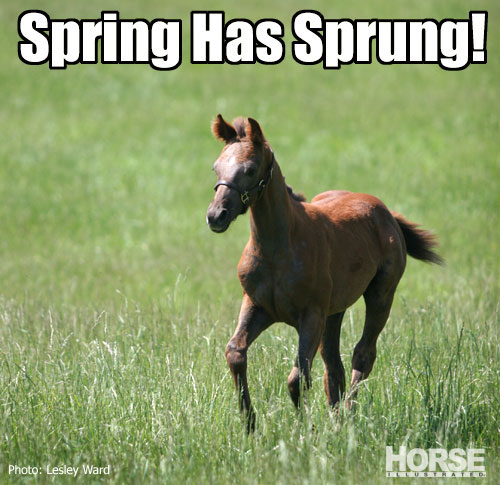 Farewell frigid temperatures, frozen water buckets, winter blankets, gray skies and brown pastures. Hello, spring! It's what we've all been waiting for. Here are 20 things to kick-start the riding season.
For you:
1.
Take advantage of spring sunshine and daylight saving time to go on longer rides.
2. Stress less! Get in the saddle, or brush away your worries with a soothing grooming session.
3. Schedule some lessons to get back into the riding groove.
4. If you spent a little too much time on the couch this winter, it's time to get fit to ride. Get inspired with HorseChannel's Guide to Equestrian Fitness.
5. Organize a trail ride with some friends. Pack lunches and venture into nature. (Tailor your ride to accommodate your horses' fitness levels in the early season.)
6. If trail riding is your thing, look for new trails to ride, or consider giving sports such as competitive trail, endurance or mounted orienteering a try (www.natrc.org; www.aerc.org; www.nacmo.org).
7. Check for last-minute deals on that riding vacation you've been dreaming of.
8. Plan your show season, whether it's a few local shows or a fully loaded circuit. Note the closing dates for entries and start working toward your competition goals.
9. Try on your show clothes from last season, and make sure everything fits and is in good repair.
10. Take a minute to lean over the fence rail and admire your horse in springtime!
For your horse:
11. Do a little spring cleaning. Go through your tack room and toss anything that's past its prime, expired or hopelessly beyond repair.
12. Finish shedding: Get out your weapon of choice—curry comb, shedding blade/block/comb—and apply some elbow grease. Say goodbye to the last of that scruffy winter coat!
13. Purchase warm-weather supplies: fly spray, shampoo, et cetera. Review and re-stock your first aid kit, too.
14. Schedule your spring vaccinations if you haven't already. This is also the perfect time to review your horse's deworming program and feeding plan with your vet, and implement any changes.
15. Stay on track with deworming: Write down when you deworm and which product you use. Use our handy downloadable chart to keep your horse's deworming history organized.
16. Monitor early spring grazing to avoid laminitis. A grazing muzzle or dry lot is advisable for high-risk horses (easy keepers, overweight or insulin-resistant horses).
17. Clean, repair and store your horse's winter blankets. Jumbo plastic storage bags with a zip seal are one handy solution. Be sure your stored blankets are safe from moisture and mice, or you'll have an unpleasant surprise in the fall.
18. Manage mud to avoid skin crud; spring is soggy in some parts of the country. Hose your horse off if it's warm enough, or let mud dry before brushing it off. Brushing wet mud can cause skin irritation.
19. Make an exercise plan for your horse. You want to gradually work him back into shape. (See "Safe Conditioning," for tips from a vet.)
20. Give your horse a makeover. Clip his bridle path, fetlocks, muzzle and anything else that's a bit fuzzy or overgrown.
Further Reading
Spring Cleaning around the Barn
Spring Tune-up
Seasonal Horse Care Checklists
---
This article originally appeared in the May 2009 issue of Horse Illustrated. Click here to subscribe.