Horse Illustrated Reader Wins Dream Trip to the 2014 Kentucky Derby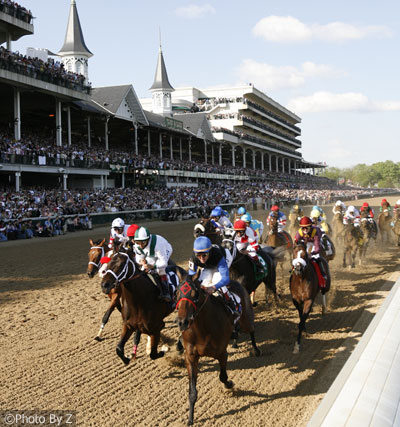 Michelle Hess knew that winning the Ride to the Roses Sweepstakes would be a long shot. The contest awarding a lucky winner an all-expenses-paid package to this year's 140th running of the Kentucky Derby was sure to bring in a slew of entries. And she was right. Over 16,000 entries poured in via Horse Illustrated's website, HorseChannel.com. But the odds played out in her favor.
"This is the most amazing thing ever!" said a shocked Hess after getting the call of congratulations on her winning entry. "I've never won anything like this in my life. What a fabulous prize! My husband and I have always wanted to go to the Kentucky Derby. I can't tell you how incredible it is to have been the lucky one!"
Sponsored by Horse Health™ Products, makers of Red Cell® Iron Rich Supplement, in conjunction with Horse Illustrated magazine, the Ride to the Roses Sweepstakes ran from January 27, 2014 to March 7, 2014.
As the winner of the Ride to the Roses Sweepstakes, Hess will receive the following:
Two tickets to the Kentucky Oaks and the 140th running of the Kentucky Derby
A Thoroughbred farm tour and a visit to the Kentucky Horse Park
Coach airfare for two
Hotel room accommodations for two, April 30 – May 3, 2014
$250 spending money
Horses are a family affair for the Wyoming resident, whose husband and three children all ride. They currently have 15 horses, and polo is a favorite activity they enjoy. Hess has also recently taken on the role of director for the Cheyenne Frontier Days Dandies, an elite equestrian drill team.
"I have had horses my whole life and have been blessed," says Hess, who saw the contest in Horse Illustrated. "We are so thankful to everyone involved in giving us such a gift as Ride to the Roses!"
"The Ride to the Roses Sweepstakes was extremely successful, far exceeding our expectations on the number of entries," states Alyssa Barngrover, brand manager for Horse Health™ Products. "We are glad that Horse Health™ Products could partner with Horse Illustrated to provide Michelle Hess with this once-in-a-lifetime opportunity, and want to thank everyone who entered."
"It was a thrill to offer this contest together with Horse Health™ Products and make one lucky horse lover's Derby dreams come true," says Elizabeth Moyer, editor of Horse Illustrated. "We are excited to welcome Michelle and her husband to Kentucky's beautiful horse country and hope they enjoy every moment of their trip."
The 140th running of the Kentucky Derby will be held on May 3, 2014, at historic Churchill Downs in Louisville, Ky.