Parasite control isn't the most exciting topic, but it has a fascinating—and sometimes horrifying—history. For example, horse experts during the Renaissance period believed parasites could be obliterated if you drained some of your horse's blood and fed it back to him. Yikes.
Horse Illustrated hasn't been around since the blood-letting days, but we have seen significant changes in parasite control during our four decades.
Anthelmintic Antics
An article from the May/June 1981 issue showed a glimpse of a now-outdated practice wherein a vet administered anthelmintics (deworming drugs) through a nasogastric tube. If your horse isn't a fan of taking paste dewormer, show him this photo and let him know it could be worse.
That article, "Comparing Anthelmintics," examined the effects of different deworming agents of the time. Today's horse owners will notice one interesting omission: the ubiquitous ivermectin isn't included in the testing. That's because it wasn't approved for equines by the FDA until later in the 1980s.
In October 1983, our veterinary column included an injectable form of ivermectin called Eqvalan. In October 1984, we announced that the manufacturer was discontinuing the injectable form in favor of the newly approved paste form.
Counting our Eggs
Going back to the 1981 "Comparing Anthelmintics" article, it's interesting to note that fecal egg counts were the way the chemical classes were tested. Back then, the procedure was apparently only used by the veterinary research community, but today it's the modern standard for parasite control and is available to all horse owners.
In fact, it's not just available, but highly recommended for today's custom-tailored deworming plans. And you can throw away that rotational deworming chart we were still running at the dawn of the new millennium, too.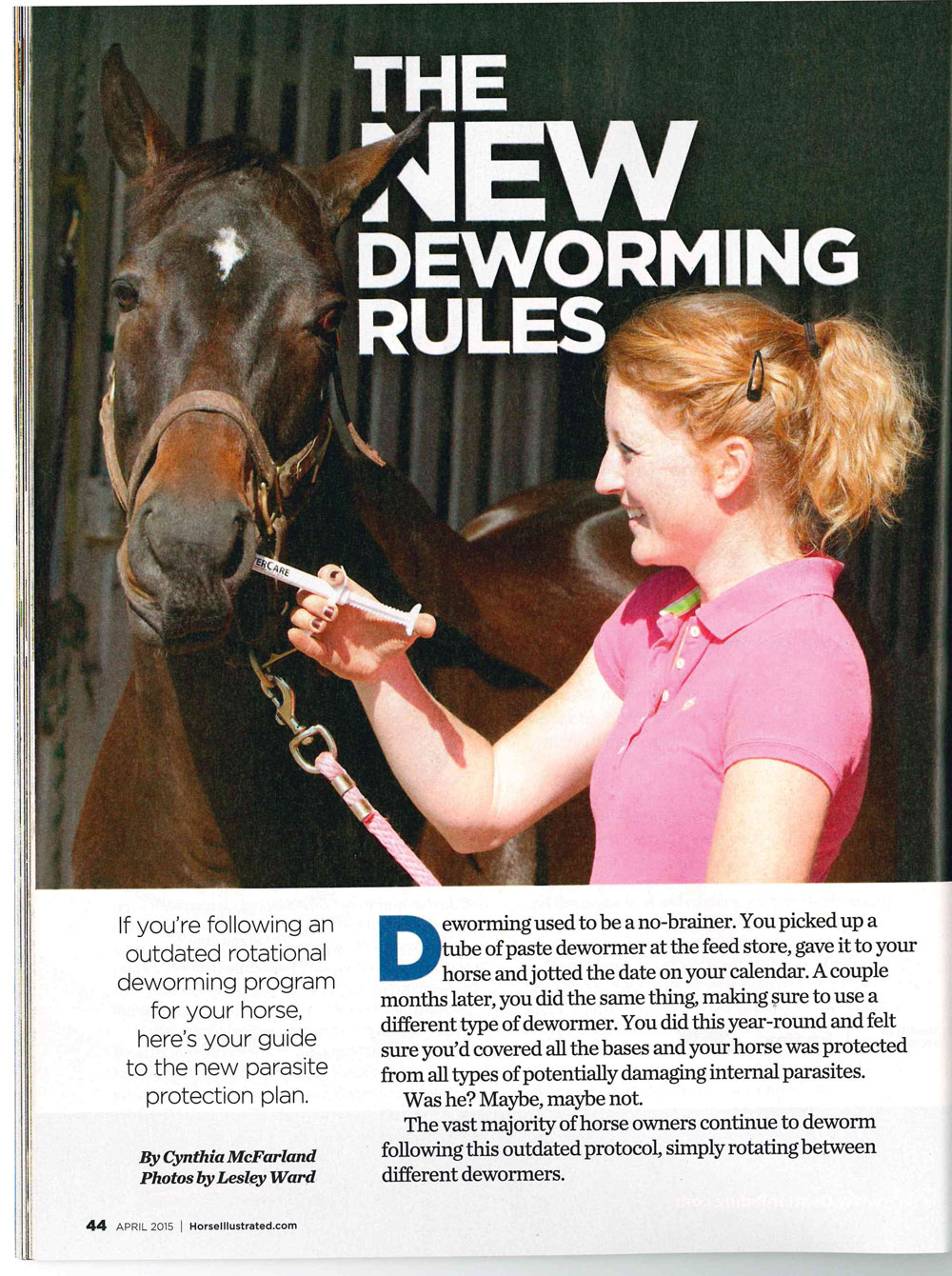 Resistance is Futile
While dewormer resistance seems like a vintage #HorseOwnerProblem from the pre-ivermectin days, veterinarians are becoming increasingly concerned that we've been over-deworming and the worms are getting resistant to our available deworming chemicals. That's why we've been spreading the gospel of fecal testing quite a bit in recent years, including a feature in the April 2015 issue.
As long as there are horses, there will be parasites, but it's reassuring to know that researchers are working to stay ahead of them.

Continue on through our time warp with more columns celebrating our 40th year:

Horse Sports of the Future

40 Years of Horse World Tech
40 Years of Hot-Button Issues
Leslie Potter is Managing Editor of HorseChannel.com. Follow her on Twitter: @LeslieInLex.
---
This article originally appeared in the July 2016 issue of Horse Illustrated magazine. Click here to subscribe!