Horse Illustrated is entering its 40th year of publication, and to mark the occasion, we're looking back at some of the highlights from our past.
We thought it would be fitting to start by opening the pages of our very first issue. While a '70s vibe was definitely apparent in the tack, clothes and hairstyles pictured in our pages, horsemanship isn't quite so prone to those decade-defining trends. In fact, some of the reader questions in the first issue would fit in just fine in 2016, and their answers now would probably be similar to what our experts offered back then.
Is it better to start a young horse in a snaffle or a bosal? (Either one is fine.) How do I help build my horse's muscles? (Trail riding and gentle hill work.) How do I get my horse to walk faster on group trail rides? (Practice dressage work in the arena to make his gaits more adjustable.)
The featured articles were also not as dated as one might have thought. One article explained how to incorporate cavalletti into your training routine. Another outlined how to take care of leather tack. There's even a feature on the fate of the American Mustang (I wonder if that first group of editors knew we'd still be discussing the issue in 2016.)
Of course, there are some things that have changed. "I Learned About Horses from That" was the clunky title we gave to a column that featured readers' stories. The first was a harrowing tale of a rider who lost his horse in the Mojave Desert during a cross-continent ride (as you do). The "Blue Ribbon Winner" column celebrated a young rider who kept her show horse in training 350 miles from home, only riding the mare at horse shows, where she would take home armloads of blue ribbons. We're pretty sure we know how our readers would react to this kind of story today.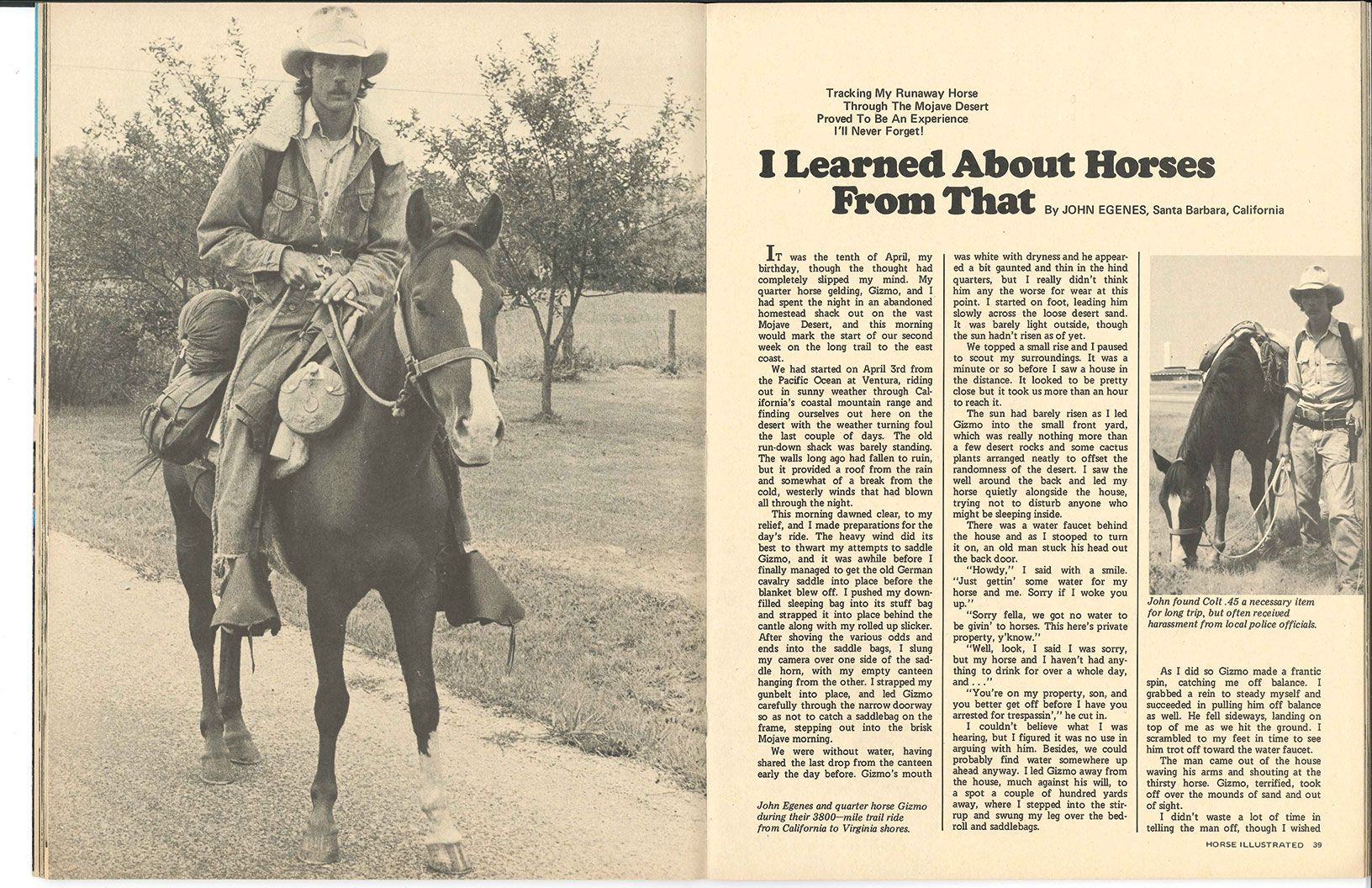 There are no color photos; most of the riders pictured are bare­headed and the majority of the English show riders are wearing the flimsy, non-protective hunt caps of the day.
Nevertheless, it's clear that the first Horse Illustrated editorial team cared about horses and good horsemanship as much as we do today.
Over the course of our 40th year, we'll take a look at how things have changed in the horse world and in the pages of Horse Illustrated since the 1970s, from training techniques to equestrian fashion and celebrity horses and riders.
Leslie Potter is Sr. Associate Web Editor of HorseChannel.com.
---
This article originally appeared in the January 2016 issue of Horse Illustrated magazine. Click here to subscribe!