No horse was more wanted than my horse Teddy. I had waited a long time for a horse to call my own, particularly this one. Many of you share similar stories with us—waiting for a horse of your own, and the great adventure of realizing your dream.
As 
responsible horse owners
whose horses are loved, wanted and cherished—perhaps even pampered—it's difficult to fathom sending a horse off to auction or another uncertain ending. Yet it happens. Is it denial, desperation, a shocking lack of compassion, or greed and selfishness that cause an owner to send a horse down that road?
The fate of many unwanted horses seems inextricably tied to the politics of equine slaughter. Right now, with U.S. horse slaughter plants closed, this involves a grueling trailer ride to that final end in Mexico or Canada.
While the actual numbers of unwanted horses are still undocumented, the fact seems to be that there are more horses than homes right now. HI contributing editor Toni McAllister takes a look at the situation in our special report, "The Unwanted Horse Problem," assessing the current status of the issue. Next month, part two will explore possible solutions.
Many rescues are doing wonderful work. However, rescue resources are limited. Humane euthanasia and removal can be costly—although not as costly when compared to the expense of keeping a horse—and some people seem to have a hard time accepting it as a viable alternative.
Horses are a big commitment, and with a 20- to 30-year life span, they are a commitment for the long haul. When we take on ownership of a horse, and especially if we bring one into the world, we have a responsibility. If we can no longer honor that responsibility, it is our charge to find an honorable solution for our horse.
There are some things we can do to help on an individual level:
Support a local horse rescue.
Reduce breeding, and breed only quality, proven horses. Also, consider the marketability of the offspring.
Invest time and/or money in training—a useful equine citizen is much easier to place should you ever need to rehome him.
If you have the means, adopt a horse in need.
Lend your experience to help make a horse more adoptable. For example, retraining an ex-racehorse or starting an unbroke horse, if you are skilled in these areas.
Let us know your thoughts on the unwanted horse problem. As horse lovers, we're in this together.
This Month, HI Wants You To…
Go Green!
With all due respect to Kermit the frog, it's easier than ever to be green these days—even at the barn. Contributing editor Sharon Biggs found four simple fixes for more environmentally sound horsekeeping. Read "A Greener Stable" and get started today. Check out our Online Extra, Ten Tips for Greener Horsekeeping.
Look for the Go Green logo to find additional earth-friendly equine tips in future issues of HI.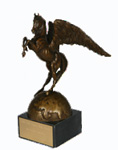 Check Out Our Award-Winners
HorseChannel.com was recognized as the best equine website of 2008 by the United States Equestrian Federation's Pegasus Media Awards. The online home of Horse Illustrated brings you news, an extensive archive of horse care information and training tips, plus forums, a rewards program and horse-related entertainment.
Our annual specialty publication, Horses USA, also took home a Pegasus Award in its category. This essential guide to buying and caring for a horse is a valuable reference, especially for first-time horse owners. Find it on newsstands or go to ShopAnimalNetwork.com