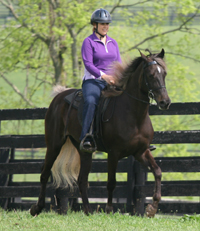 I got my first riding and horsemanship lessons with the Girl Scouts, whose motto, as you might know, is "Be Prepared." I still follow that good advice today-I'm usually the one with the Kleenex or safety pin handy when a minor crisis occurs. However, as a trail rider, your multi-use tool, duct tape or GPS is likely to be of more use than a safety pin.
For the knowledge you need to be prepared on the trail, take advantage of the thousands of miles our trail expert Jennifer Nice has traveled, as she shares her best advice in this month's "Trail Survival Guide," Having a plan and knowing what to do in a tricky situation is crucial for adventurous riders who think outside the arena.
The great thing about trail riding is that it can be enjoyed in any type of saddle, with any breed or type of horse. However, when logging long hours in the saddle over miles of terrain, many riders have discovered the distinct comfort and advantage of a smooth-riding, naturally gaited horse.
This month, discover some of the smoothest breeds around in "Easy Riders": the Tennessee Walking Horse, Missouri Fox Trotter, Paso Fino, Peruvian Horse and Mountain Horse breeds. Since HI's editorial office is located in the heart of Mountain Horse country—the Rocky Mountain Horse, Kentucky Mountain Saddle Horse and Mountain Pleasure Horse all have a strong presence here in Kentucky—we set out to meet some of our neighbors.
We visited Fairwinds, a beautiful Lexington-area farm owned by Myra and Bruce Addington, to meet some Rocky Mountain Horses and experience their gaits firsthand. One of the farm's stallions, Sam's Sooner Warning, demonstrated for us. With trainer Michael Bowen up, we watched Sammy perform the breed's signature four-beat gait (to see him go, check out the video Assistant Web Editor Leslie Potter shot at HorseChannel.com/Video). Sammy is quite an accomplished gentleman, with numerous high point awards and a Kentucky State 3-year-old Championship to his credit as a Classic Pleasure horse. You can see that he enjoys strutting his stuff with an animated, showy version of the gait.
After watching Sammy's performance, I got the chance to sit on a Rocky Mountain Horse myself. I discovered that you can't help but smile as you rock along on one of these horses. In fact, the hardest thing to do was sit there and do…practically nothing, except enjoy myself! I rode a sweet little mare named Stormy, who is a trail horse extraordinaire and the ultimate easy ride. And now that four-beat rhythm is in my soul—the perfect rhythm for a trail ride.
Wherever your trails take you this summer, may they be smooth and trouble-free.
Go to HorseChannel.com/NearSide and check out our new online editors' blog for the inside scoop behind the scenes of Horse Illustrated.