This is a story about a horse and a young girl – both of whom have overcome incredible life threatening obstacles in order to achieve a life of balance and health.
Temecula Toy Boy, foaled in 1995, was bred to be a reining horse. Around the age of 2, Toy ran head first into a feed bin, severely damaging his right eye. Surgery was unable to save Toy's eye, and it was removed. A few years later, Toy had a bout with colic and endured another surgery to correct this latest life threatening illness. Upon recovering, Toy was used as a school horse teaching people the sport of reining. He was finally retired to a home in the mountains of Southern California in 2005. But, Toy was not done, not yet.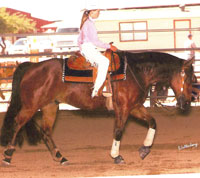 While Toy was recovering from having his eye removed, Tara was recovering from multiple surgeries to save her kidneys. By the time Toy colicked, Tara was suffering from high blood pressure, kidney disease and scoliosis. The scoliosis can not be corrected due to the kidney disease and the long surgery it would take would be too hard on her small body.
Toy and Tara were fixtures at the barn. Everyone knew the "one-eyed" horse and the small, determined rider. When Toy left in early 2005 to be retired, everyone was sad. Tara had spent six months learning the rules of reining on Toy. In June of 2005, Toy's current owners were offered the opportunity to buy Toy. Toy was now 10 years old and Tara 13.
Tara and Toy began an incredible journey and a bond that is uncanny to see. In the year since Tara got Toy, both horse and child transformed. The year prior to owning Toy, Tara had missed 30 days of school, was having frequent migraine headaches brought on by her hypertension. She was on many medications; both oral and shots. She headed toward kidney transplant. Her scoliosis was at 33 percent.
Tara's blood pressure has since stabilized requiring half the medication she normally took. Her kidney failure stabilized at stage three, thus prolonging the time until transplant. Her scoliosis, which had required bracing, stopped bothering her and she no longer wears the brace.
Toy has turned all his trust to Tara. He spins toward his blind side without hesitation. His stops are awe inspiring. The horse and his young rider have won many championships, including the NRHA Western Affiliate Finals this past September. This is a union of two "special beings", which have truly bonded as one.